At dentsu, we believe that our differences make us stronger. Our mission is to be a champion for meaningful progress and a force good – with and for our people, clients, consumers and communities. To achieve this, we embed diversity in our mindset, in our solutions and in our teams to empower an inclusive, equitable culture. By building equity within our teams, we aim to become better collaborators with each other and with our clients, driving better outcomes for all.
We are proud to share dentsu's 2022 Global diversity, Equity & Inclusion (DEI) report.
This report shares a view of our global progress, with initiatives and stories from across Dentsu Group. The report is a 360-degree view of our progress as we have continued to embed DEI into each region.
Diversity, equity, and inclusion sits at the heart of our social impact strategy – our fully integrated sustainability strategy which includes our ambition to build a fair and more equal society, where everyone is equipped to thrive.
Read the report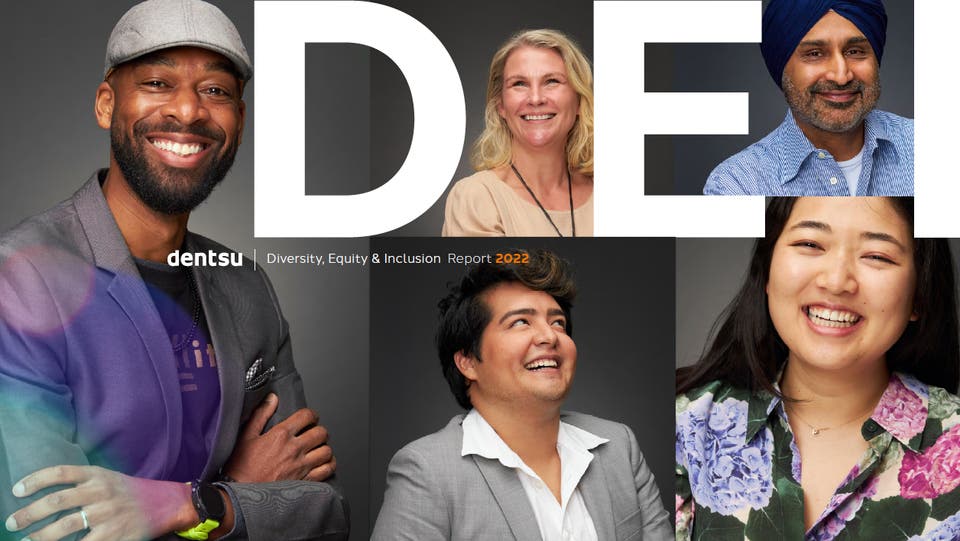 Grounded in commitment and action
We are committed to long-term sustainable change in society and creating a culture of fairness, equity and equality for all.
We have a clear set of global principles that govern how we operate as a business, with accountability to drive concrete action and tangible change. They are unequivocal and will ensure that racism and discrimination in any form is not tolerated in any of our markets.
Our aim is to build a diverse workforce and create a culture of opportunity. This means investing in the right places, reviewing our practices, and developing data-driven plans to help get us there.
No matter what your role is at dentsu, we all have a collective and individual responsibility to drive change and create a workplace which we're all proud to be a part of.
Our focus in Australia
Gender Equity
Ensuring women's effective participation at all levels of decision making will help us build a more successful and sustainable business. We are holding ourselves accountable to achieving greater gender balance across our business, which includes aiming for 50% of our senior leaders to be female by 2025.
Cultural Equity
Australia is home to the world's oldest continuous cultures, as well as people who identify with more than 270 ancestries. We celebrate the diversity of Australian culture within our business.
Rainbow
We are committed to celebrating and empowering the voices of our LGBTQI+ community. Our work aims to create a safe and inclusive workplace and through our partnerships, we're opening up more doors and pathways for LGBTQI+ people into Australia's creative industry.
Mental Health
1 in every 5 Australians suffer from a mental illness in a given year. Our aim is to remove the stigma associated with mental health through raising awareness and providing the tools for our people to get support when they need it most.
Neurodiversity
We recognise and celebrate all our differences and are committed to putting the right mechanisms in place to ensure any of our people who are neurodivergent have the right level of support to thrive in their role.
Accessibility
Whether it's the reviewing the way our offices are designed, or identifying new ways for information to be shared across our business, our aim is for dentsu to be workplace that is accessible for as many people as possible.