End-to-end solutions spanning retail consulting, merchandising, storefront & content building, eCommerce media buying and closed-loop measurement across the largest and fastest-growing marketplaces, such as Amazon, Walmart, Loblaw, and Google Shopping. We help our clients build their Marketplace presence, grow their existing practice, or transform their approach and relationship with the largest players in the market.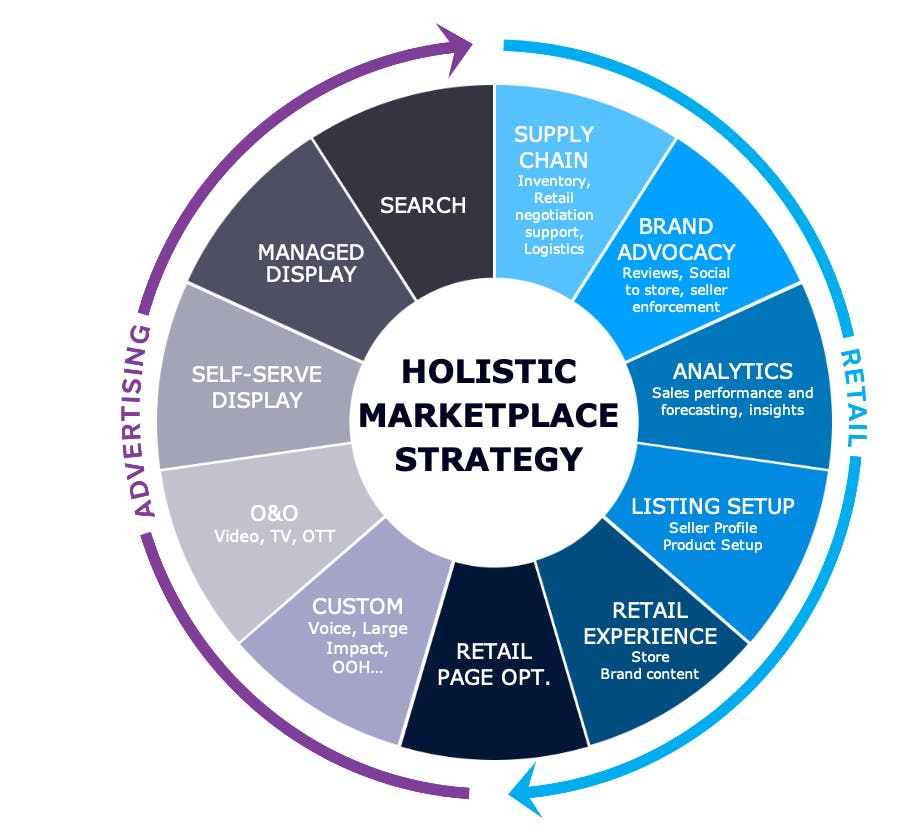 Designing a connected marketplace ecosystem
Amazon
Access expertise from 170+ Amazon certified team members, across Retail, Planning & Media.
Walmart
Grow your Walmart omni-channel marketing practice, with a specfic focus on their new digital solutions.
Loblaw
Grocery shopping is the fastest growing ecommerce industry. Our experts will help you stand out to win.
Bringing to life a marketplace roadmap
Discovery Audit
Detailed Analysis across multiple criteria spanning media, content, retail, Product Detail Pages, etc. 
Implement
Actionable project plan complete with timelines and resources needed, work with internal teams to prioritize and execute.
Knowledge Assessment
Assess your team's skills gaps and structure, and advise on knowledge sharing programs as appropriate. 
Get real with media testing
A custom media solution with dentsu to cover all consumer touchpoints across the selected marketplace journey to inform the best experience for your consumers and how they interact with your brand and products.
Get in touch with our team!