Cultural Shift: The Rise of "Cheesy" Culture | dentsu Z
Published on:
Chinese youths' rebelliousness against the "luxuriousness" of previously aspirational content and lifestyles online.

"
dentsu Z team, as DENTSU CREATIVE's pioneering force of Gen Z creatives, proactively make strategic plans and propose solutions for clients, explore innovative ideas by putting cutting-edge technology into practice and create profound cultural experiences. As both consumers of generation Z and young creatives, dentsu Z deliver direct insights, create connections between the brand and the consumers of the next generation.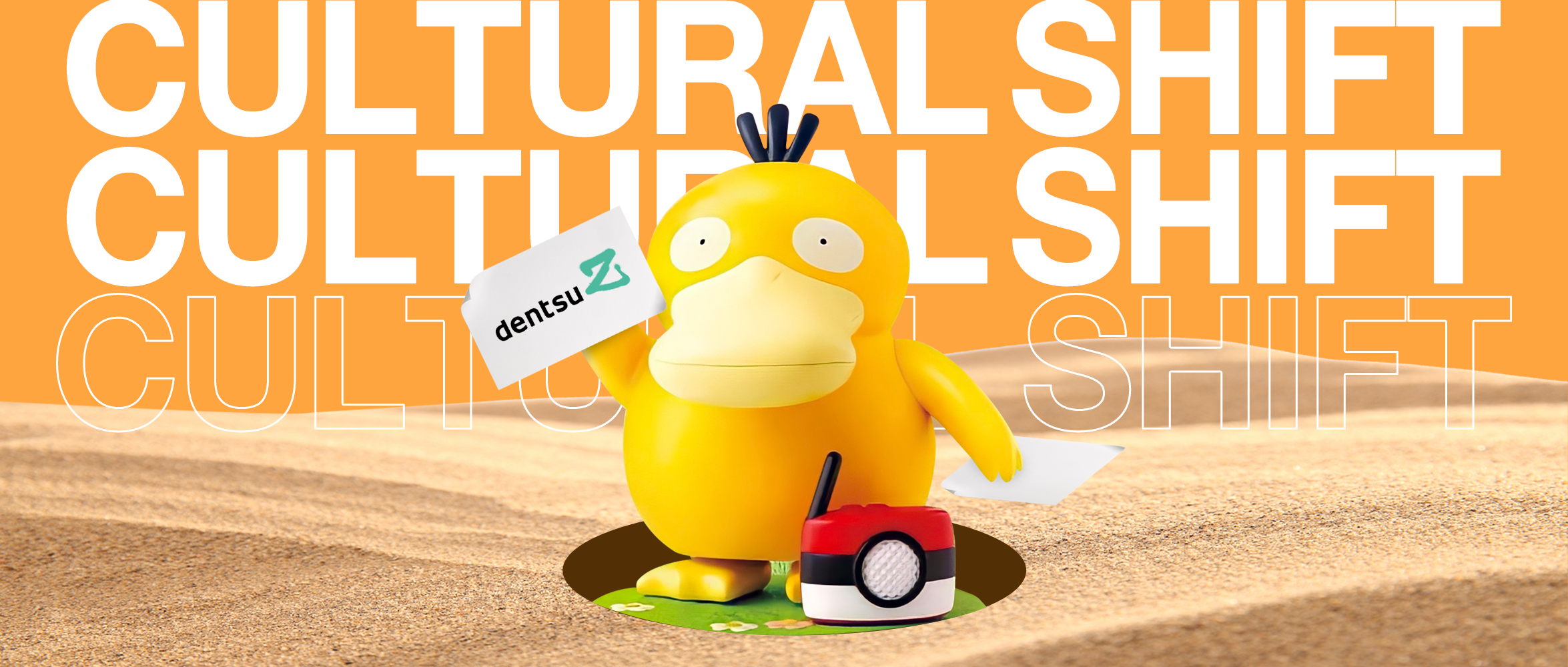 Who was the most popular toy on the last Children's Day? Psyduck! A dancing duck toy with catchy tune has hit the internet and captured the hearts of many adults, including the dentsu Z team. We are crazy about it and are trying all possible ways to get this rare edition.

So why on earth would young adults love this childish and "cheesy" toy so much?
WHAT IS "CHEESY" CULTURE?
In the early years, Chinese young people were following the aesthetic trends from the west, Japan and Korea, then the Hong Kong and Taiwan areas. But lately we've been seeing the rise of Beijing, Shanghai, and Guangzhou as new trend setters for the youth. Since 2017, as the wave of short videos arose, Douyin (Tiktok) and Kuaishou became popular platforms where more and more people from smaller towns could share their daily lives. Content with a strong local angle that reflects the real life of local neighborhoods is increasingly popular with the online communities, so are the short-form videos sharing the perspectives of "ordinary people". There forms the cheesy culture.
With the participation of more professional organisations such as MCNs, cheesy culture has been getting closer to the dominant culture in terms of content and creative techniques. It's been accepted and applied by the public. From small-town youths to urban, then to all Chinese people and communities, including entertainment and marketing industries, and spreading to global youths, the four stages of how cheesy culture got popularity showed a cultural shift that started in the rural areas and spread to the cities.
THE RISE OF LOCAL CELEBRITY
The new wave of internet celebrities from locals indicates how young people are pursuing a simpler form of entertainment closer to home.
Craftsman Geng is famous for inventing all kinds of stainless steel products with a distinctive style that is bold, rare, fun and creative. His videos and contents have garnered him over 18 million fans across platforms. This so-called local Edison, once a nobody in his village, has been reported and interviewed by CCTV and The Washington Post.
Another short video creator, Da Shuo, who live streams with a strong regional accent, made his small hometown famous and was imitated by many. His hometown-related videos receive up to 480 million views.
OUR WORK…
KFC UNHAPPY MEAL
Brand: KFC
Creative Agency: DENTSU CREATIVE
Introducing KFC Unhappy Meal, a kids meal promotion came with a Psyduck toy. To cheer up all stay-at-home, KFC put stickers on the dancing Psyduck's moving hands with funny or motivating messages that allowed all to unlock their creativities as well as happiness.
The naive style, the simple funny dance, the earworm, and the Psyduck toy became a focal point for young people's passion for recreation. We've seen various videos and GIFs: the Psyduck dancing with items such as cards taped to its hands, or imitating its arm dancing, wearing a wig for the toy… Psyduck hit the number one social topic, while the toys are sold out either in stores or deliveries. Even KFC might have never anticipated that their KPI was actually achieved by all the social media users.
Whether it is the Psyduck craze or the meme "GET🤺BACK🤺I🤺SAID🤺GET🤺BACK🤺", cheesy culture has become a creative cultural landscape where everyone can take part.
Without super editing skills or perfect storytelling, everyone can shoot and send the original video with one click or follow the meme to imitate. The low production cost drives small-town youth to be more active in joining while unleashing their imitation desire.
With many more opportunities for ordinary people to express themselves, cheesy culture has attracted more and more participants and followers, which has made it popular among Gen Z, who in particular love imitating and making fun of cheesy videos.
WHAT IT MEANS FOR BRANDS…
Life itself is the power of art.
People would ask: has the Chinese young people lost their sense of beauty? Why do they like cheesy culture so much?
When we grow up with overdecorated lives in a perfect look, Gen Z dials up the irony to mock online videos and the general tackiness of the online world. With the rise of short videos, it's even easier for everyone to be a video producer with free platforms available.
The rise of cheesy content and local celebrities implies the younger generation's interest in human nature, the power of expression and personalities, as well as the pursuit of simple happiness. That they see these cheesy but real styles as the Chinese youths' ultimate rebellion against the "luxury" of online content and lifestyles that used to be aspirational, while the life itself is the power of art.
For brands who have done so many beautiful and perfect campaigns, embracing cheesy culture and creating some down-to-earth content can be another innovation. We'll expect another internet celebrity like Psyduck to rise.
Author: dentsu Z