We are proud to release dentsu's 2022 Global Diversity, Equity & Inclusion (DEI) report. Last year, dentsu Americas released the industry's first dedicated DEI report, setting the standard for transparency and accountability with a comprehensive 360-degree study of DEI progress and activations. This year we have expanded our DEI report to share a wider view of global progress, with initiatives and stories from across Dentsu Group. The report is a 360-degree view of our progress as we have continued to embed DEI into each region.
Diversity, equity, and inclusion sits at the heart of dentsu's Social Impact strategy– our fully integrated sustainability strategy which includes our ambition to build a fair and more equal society, where everyone is equipped to thrive.
Download report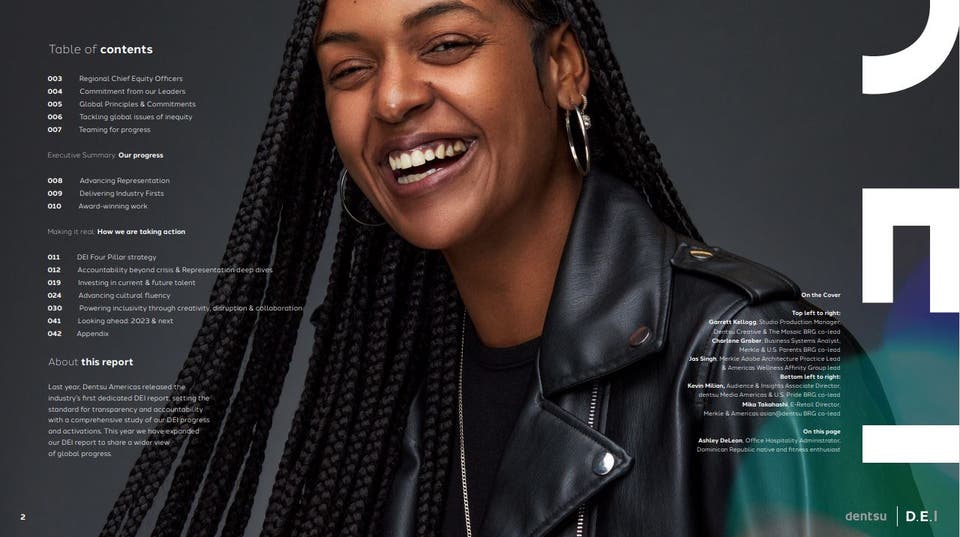 0
Women globally (dentsu international)
0
Women in Executive levels (dentsu international)
0
BIPOC in Executive levels (U.S.)
Industry Firsts
We continue to deliver the never before, doing things differently to forge opportunity at dentsu and within our industry.
Regional Chief Equity Officer Structure
Only major company with a Regional Chief Equity Officer structure, a unified leadership team capitalizing on regional nuances​ and opportunities while operating from one connected and consistent DEI framework, advancing progress toward dentsu's Social Impact commitments.
Inclusive Business Advisory Council
Headed by Americas Head of Supplier Diversity Angela Guzman, dentsu has formed the industry's only Inclusive Business Advisory Council (IBAC) dedicated to creating a holistic approach to inclusive business practices in the workplace and marketplace. 
More than That with Gia Peppers audio series
Dentsu created the first-of-its-kind, multi-award-winning More Than That with Gia Peppers audio series. The project features a 100% Black-owned supply chain and pioneered a new and equitable way for brands to engage with diverse audiences.  
dentsu x Meta DEI partnership
dentsu has forged a best-in-class DEI partnership with Meta, accelerating progress mutually and across the industry. The collaboration has a three-pronged focus: Education, Talent, and Creativity.
WEF Partnering for Racial Justice in Business
Dentsu International and 55 other founding members, representing more than 6.5 million employees, covering 13 industries with headquarters across three continents joined the World Economic Forum's Partnering for Racial Justice in Business initiative in early 2021. Americas Chief Equity Officer Christena Pyle sits on the Global Steering Committee.
Commitment from our leaders
Diversity, equity and inclusion sits at the heart of dentsu's Social Impact strategy, driving our ambition to build a fair and more equal society, where everyone is equipped to thrive. This commitment and responsibility for driving progress lives with our leaders.
Hiroshi Igarashi - President & CEO, Dentsu Group Inc. 
"At dentsu we believe we must be a force for good. Through our commitment to diversity, equity and inclusion, we pledge to seek out diverse perspectives, celebrate differences, and build an inclusive culture where everyone is empowered to bring their authentic self to work."
Jacki Kelley - Americas CEO, dentsu international 
"I am proud of our continued commitment to drive progress. It is not enough to talk about this—it has to be about accountability and actions and evidence. A company that has DEI at its heart, widens the aperture of the workplace and the resulting work creates culture, shapes society, and invents the future. That's when we're really having the action and the outcomes that we want." 
Christena Pyle - Americas Chief Equity Officer, dentsu international 
"In last year's inaugural Americas DEI Report, we set the industry standard for what a transparent, comprehensive, and brilliantly creative deep dive on progress looks like. In this second report, we are taking it global, continuing to raise the bar for ourselves and our industry. I remain truly grateful for the incredible work and collaboration across our DEI team, our people, our leaders, our clients, and partners."
Pauline Miller - EMEA Chief Equity Officer, dentsu international  
"One of the most meaningful moments over the past year, and since I've joined dentsu, is that I can say 'we made a promise, we delivered on it, and we demonstrated this to our people.' Dentsu places DEI at the executive table where you have access to the right leaders, decision-making power, and then to do that alongside a trio of Chief Equity Officers makes me feel whole."
Rashmi Vikram  - APAC Chief Equity Officer, dentsu international 
"The best part of my role is to see people thrive in contributing to a cause that they are passionate about. I am passionate about connecting folx with similar interests where they can come together and create magic. I truly believe our work in the space of diversity, equity and inclusion enables this."
Yuko Kitakaze - Chief Diversity Officer and Executive Officer, dentsu japan network, and Non-executive Director, Dentsu Solari Inc. 
"We pursue diverse perspectives, celebrate differences, and seek to build a culture in which everyone can demonstrate their true self. Tapping into the power of diversity drives our business and powers our ambitions to transform society."
We promised accountability beyond crisis
We are continuing to invest in our people and in talent partnerships, are building empowered communities, are evaluating our policies and practices, and are working to advance cultural fluency. These are all efforts that are driving results, and are advancing representation.
Learn about our representation progress.
A critical part of our commitment to progress is having an accountable and measurable approach, and one where leadership responsibility is solidified. We focus on embedding ownership into the business and applying ourselves to better understand both the qualitative and quantitative KPIs which measure and help drive progress.
Our Approach
Global Commitments
At dentsu, we are committed to creating long-term sustainable change in society and within our company.
As outlined in our inaugural 2021 DEI report, we remain committed to the following four pillars as our theory of change across dentsu international. They are the starting point for strategies within each market and service line, enabling both consistency and nuance.
Four pillars as our theory of change
Delivering accountability beyond crisis
Make ourselves vulnerable and transparent to be accountable for our actions. Understand both the qualitative and quantitative KPIs that measure and help drive progress. 
Investing in current and future talent
Build a more diverse and inclusive workforce, creating a more equal workplace for all, and further enable us to be champions for meaningful progress. 
Advancing cultural fluency
Employ a multi-pronged approach to making cultural fluency the new business currency. Upskill our leaders and all people to learn and unlearn and create a culture of upstanders.   
Powering inclusive collaboration
Be a force for good and growth by partnering with our clients, industry, and communities. Drive change through creativity, disruption and innovation.   
Tackling Global Issues
Each of our 145 markets has its own unique set of challenges and opportunities.  We continue to engage in conversation and drive positive action in local markets through our business practices, collaboration inside and outside of dentsu, and our employee resource groups.  Together, we continue to make positive change in several areas year over year, with future collective efforts like age and socioeconomic factors being further elevated to global focus areas.
Our People Championing Progress
Rachel Ooi launches "#Unshaken" book
Rachel Ooi, Merkle APAC Chief Growth Officer and member of dentsu's Global Google Practice Leadership Team, has written a book on helping women—and all people--understand how to pivot, grow and thrive purposefully in today's digital age. Rachel launched her book on International Women's Day 2022 and joined APAC Chief Equity Officer Rashmi Vikram for a conversation on why we should care about the sustainability of humanity, especially the next generation stewards and leaders, and what it looks like to reframe success and to thrive. Learn more about Rachel's book.
Chad Cochran supports Veterans & service members
Chad Cochran is a Solution Manager within the Nonprofit Data Management team that is a part of Merkle's CRM Technology Delivery Group. As a retired First Sergeant who served 23 years in the United State Army, he also co-leads the Military BRG, providing a community for our veteran, activity duty personnel, and family and friends of those in the military. Chad also leads a professional development and life coaching program in his local community for Veterans to re-integrate into civilian life and navigate PTSD and other service-related issues. 
Mariana Padilha named to "Women in IT" awards
Mariana Padliha has given of her time as a mentor, is longest-standing member of the Brazil Diversity Committee, and manages a diverse team as the leader of Business Platforms for Argentina, Brazil, Chile, Colombia and Mexico. In 2022, Mariana was nominated as a Digital Transformation Leader of the Year by "Women in IT." A quickly accelerating leader within LATAM, she has also participated in several of dentsu's high potential talent programs, currently in Game Changing Talent and McKinsey's Connected Leaders Academy. Learn more about the awards.
Yatu Widders-Hunt drives Aboriginal advocacy in Australia
Yatu Widders-Hunt is General Manager at Cox Inall Ridgeway, dentsu Australia, a majority Aboriginal-owned social change agency part of dentsu Creative. Yatu is a Dunghutti and Anaiwan person and has always had a passion for social justice. She champions progress for Aboriginal peoples in Australia through her work at dentsu at Cox Inall Ridgeway and as an APAC DEI champion, at outside of dentsu through her Instagram page "Australian Indigenous Fashion" that celebrates First Nations peoples and designers, and their sustainable fashion traditions. Learn about Yatu's work.
Lee Mabey calls out issues of classism and low social mob...
Lee Mabey is Managing Partner, dentsu X and dentsu UK Media DEI lead. Lee is passionate about supporting people of all backgrounds and has served as a Pride Champion for dentsu UK community and is speaks out to advance social mobility. In an IPA award-winning speech, Lee calls out the ways that stereotypes in marketing not only harm opportunities for future talent of our industry, but limits opportunities for our clients. Watch Lee's speech.
Kamla Alexander's 'Leaders at the Front' Pledge
Dentsu Americas General Counsel Kamla Alexander champions change and creates opportunities for underrepresented talent in and outside of dentsu. Kamla is a part of the Legal Council on Legal Diversity and is leading by example through her "Leaders at the Front" pledge for how she's taking action to further diversity, equity and inclusion. Read Kamla's pledge. 
Fabiana Armengou impacts youth in Argentina
Fabiana Armengou, HR Manager in Argentina, has been a key figure in dentsu Argentina's partnership with Google since 2017, providing young people with access to job training and professional development programs to launch a successful career. In the 2022 Crecé con Google program, a partnership between Google and Junior Achievement, dentsu provided multiple trainings for the 64 participants, focused on media and digital advertising, general business policies and procedures, and mock interviews with HR. Learn more about the program.
Balpreet Mangat named to IPA's iList
Balpreet Mangat, Managing Director and DEI Lead Dentsu Creative UK has championed change through her work as a Creative, transforming the creative process and embedding inclusion from a new briefing template to more diversity in names, prompts images in creative stimulus, and she has also driven progress in supplier diversity of creative partners. Her work has transformed work with several clients, such as American Express, and earned her a spot on IPA's prestigious iList in 2022 for people making an impact in DEI. 
Angela Guzman inducted into 2022 AAF Hall of Achievement
Americas Head of Supplier Diversity Angela Guzman becomes first Supplier Diversity professional to be inducted into American Advertising Federation Hall of Achievement, broadening the scope of professions chosen for the award. Angela is Board Chair, NJ&NY Minority Supplier Development Council and an Aspen Institute Latinos & Society Program Alum. At dentsu, Angela has pioneered the industry's first Inclusive Advisory Business Council. Read more about Angela's impact. 
Scott Sallee named to IPA's iList
Scott Sallee is dentsu UK's Social Impact Manager and also serves as the UK Wellbeing Co-lead, formerly a lead of the UK Pride employee network and served as team leader of the dentsu UK Coming Out Guide. Scott is also driving dentsu's new "Access All Areas" program which brings together dentsu's The Code, local apprenticeship program and other talent partners as part of dentsu's inclusive recruitment strategy and is driving results in increasing hiring from various socioeconomic backgrounds. Scott was nominated to the IPA's iList in 2022 for his advocacy and impact in many areas. 
Care packages for a deployed dentsu employee and their unit
Earlier this year, when one of dentsu's employees, Kenny Thomas, Sr. Desktop Administrator at dentsu and iProspect, was deployed overseas with the U.S. Army, his team came together to support him. Along with support from the Fort Worth office leadership and employee base, and the Military BRG, the team put together a care package with encouraging notes and items from donations of more than $1,200, resulting in a total of 35 boxes, with dentsu covering all shipping costs.  Read more about the team's efforts. 
Jorge Saldarriaga breaks down barriers through community
Jorge Saldarriaga, Senior Account Executive at Dentsu Creative, serves as the co-lead for the Somos, a Latinx identity group within the Americas Multicultural BRG, and has been instrumental in creating resources such as the Cultural Fluency Guide for Hispanic Heritage Month. Born and raised in Chicago, Jorge also gives back to his community outside of dentsu through his non-profit the Grocery Run Club (GRC). 
Miri Miller, She Runs It 2022 Working Mother of the Year,...
Miri Miller, Dentsu Americas Deputy General Counsel, started a pro bono channel within dentsu in 2017. Her work has resulted in dentsu attorneys partnering with law firms and nonprofits to take on cases relating to contracts, employment, compliance, intellectual property, privacy, immigration and corporate law, and has spearheaded partnerships with Microsoft, Baker & Kinsey, and ABLE (Active Bystandership for Law Enforcement).  
Her commitment to helping others led to her being named a 2022 Working Mother of the Year by She Runs It after being nominated by her colleagues. Learn more about Miri's work. 
Jas Singh champions daily wellness and wins "DEI Champion...
Jas Singh leads Merkle's Adobe AEP Practice and is also the founder of the Wellness BRG at dentsu Americas. Jas leads weekly "Motivation Monday" sessions to help employees in the U.S. and Canada start the week fresh with inspiring quotes, affirmations, and guided meditation. Jas is certified in Mindfulness, Chopra Meditation, Health, Positive Psychology & Resilience and is a certified Wellbeing Coach trained in transformation coaching. As a mentor and coach, Jas offers 12-week programs to create a well-being plan by one's clarifying purpose, setting intentions, recognizing limiting beliefs and clear internal blocks. Explore Jas' website. 
Kate Noppakate shares her perspective for Pride Month
Noppakate Tawun-unnop, better known as Kate, is General Manager, Creative, dentsu International Thailand and a champion in the dentsu APAC Pride community. During Pride Month 2021, Kate shared about her gender transition journey and her work as a Creative, helping to pave the way for others. Read Kate's perspective.
Investing In Our People & The Future
We invest in our people through career development programs, a robust ongoing library of resources, and develop partnerships to invest in the workforce of the future.
Creativity powering inclusivity
Our work in marketing and advertising has the power to change hearts and minds, to disrupt and create new societal norms. Through creativity and innovation, we seek to transform brands and businesses with the power of modern creativity.
We put work into the world that creates culture, changes society, and invents the future. We measure ourselves against this philosophy of modern creativity, infusing both vertical and horizontal creativity into every part of the business.
Disruption & Innovation: Un-biasing marketing
Disruption is a powerful force for change and coupled with innovation drives lasting change. We are continuing to create new and equitable ways for brands to engage with consumers in meaningful and authentic ways.​
Ethical By Design
Across the U.S. and Canada, Merkle's Insights experts are diving deeper into potential bias in customer segmentation and planning methods. This includes an "ethical by design" approach--moving away from standard advertising industry demographic data and moving towards use of psychographic data. The team has introduced checks and balances to make their AI more explainable and to mitigate any unintended bias. In addition, they are educating clients and the industry at large on the machine learning approaches and the potential for unintended bias.
Learn more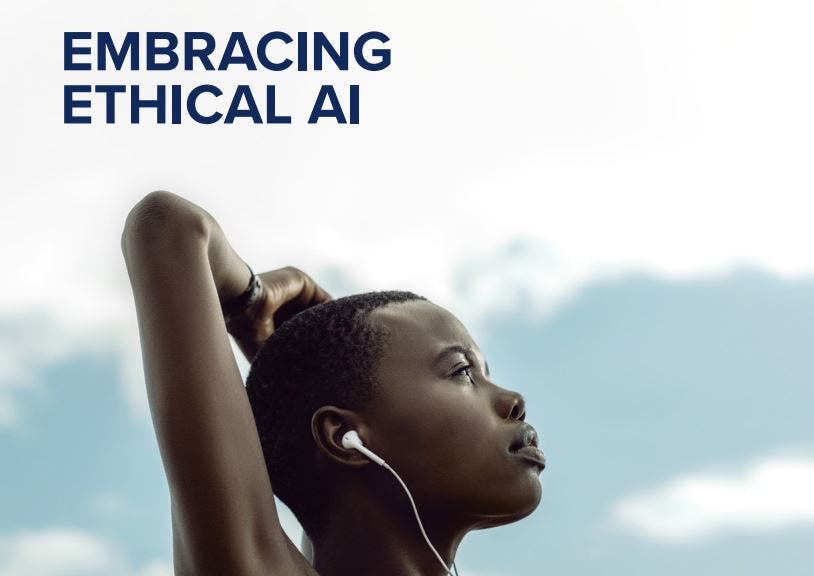 Equity in the Metaverse
The metaverse will transform the way we connect, create, shop, and build community. And given it will take years for the metaverse to be fully realized, we have an opportunity to envision the future we want to create and build it with diversity, equity, and inclusion (DEI) from its inception. An inclusive metaverse benefits everyone, but what inclusivity in the metaverse will look like is a difficult question with no easy answers. As with any transformative technology, it will evolve over time, as it's shaped by consumers, technology advances, businesses and policies.  However, the time is now to engage with partners and experts in ongoing conversations about what it truly means to build the metaverse responsibly.
Learn more