Team for the day: Emma, Maedbh, Max, Mona, Richie
We know our people want to make a difference to the communities in which they live and work, so we encourage them to take up to two working days a year to volunteer. This year, our Societal Impact Committee has brought another opportunity for us all at dentsu Ireland to have a positive impact on our local communities by introducing us to FoodCloud, a social enterprise with a mission to ensure no good food go to waste.
Over the course of the next two months, eight teams will roll up their sleeves to help in the FoodCloud Warehouse. Kicking off the initiative, our first hardworking and enthusiastic team, Maedbh, Richie, Max, Emma, and Mona, got to work last Thursday, and here's what they got up to…
Why did you volunteer?
After FoodCloud presented to the company in a townhall, I was intrigued by what they did and eager to get involved – Maedbh
I had wanted to volunteer somewhere this year but wasn't sure where to do it. I am aware of the food waste issue globally, but I wasn't aware of FoodCloud and thought it was a great idea when I heard about it – Richie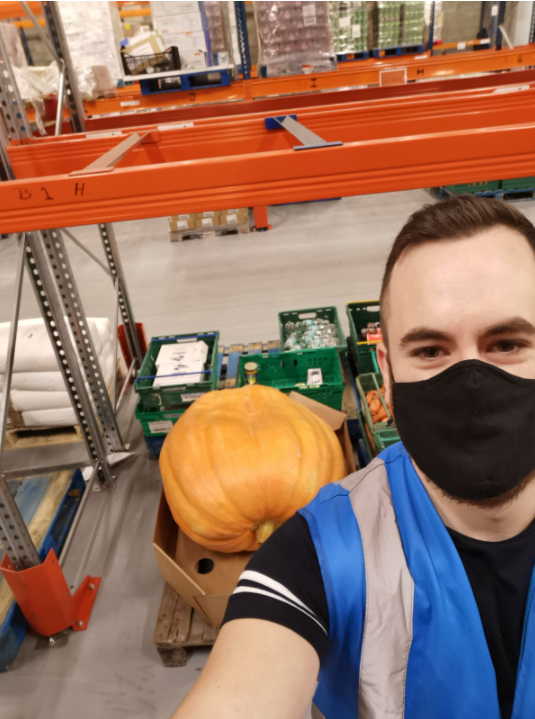 What was the day like?
From the moment we arrived the staff were very welcoming and gave us an in-depth induction that covered the history of the charity to the tasks we would be covering on the day. After induction, we split into two teams to cover both food labelling and food packing – Emma
My job for the day was packaging the food. We had to prepare orders, which meant going through the warehouse, stacking crates of food (that included everything from baked beans to granulated sugar, tea, cereal etc.) on pallets, taking note of expiry dates and putting the pallets in the right places in the warehouse – Max
The day we volunteered, FoodCloud received a giant shipment of healthy branded treats that were packaged in German. Before sending them out, the ingredients list must be changed to English. Our job was to open each box and cover the German ingredients list with a sticker that had the ingredients printed in English. We then repacked the box and moved on to the next. There were hundreds of boxes to get through but the three of us made surprisingly quick progress – it was home time before we knew it – Maedbh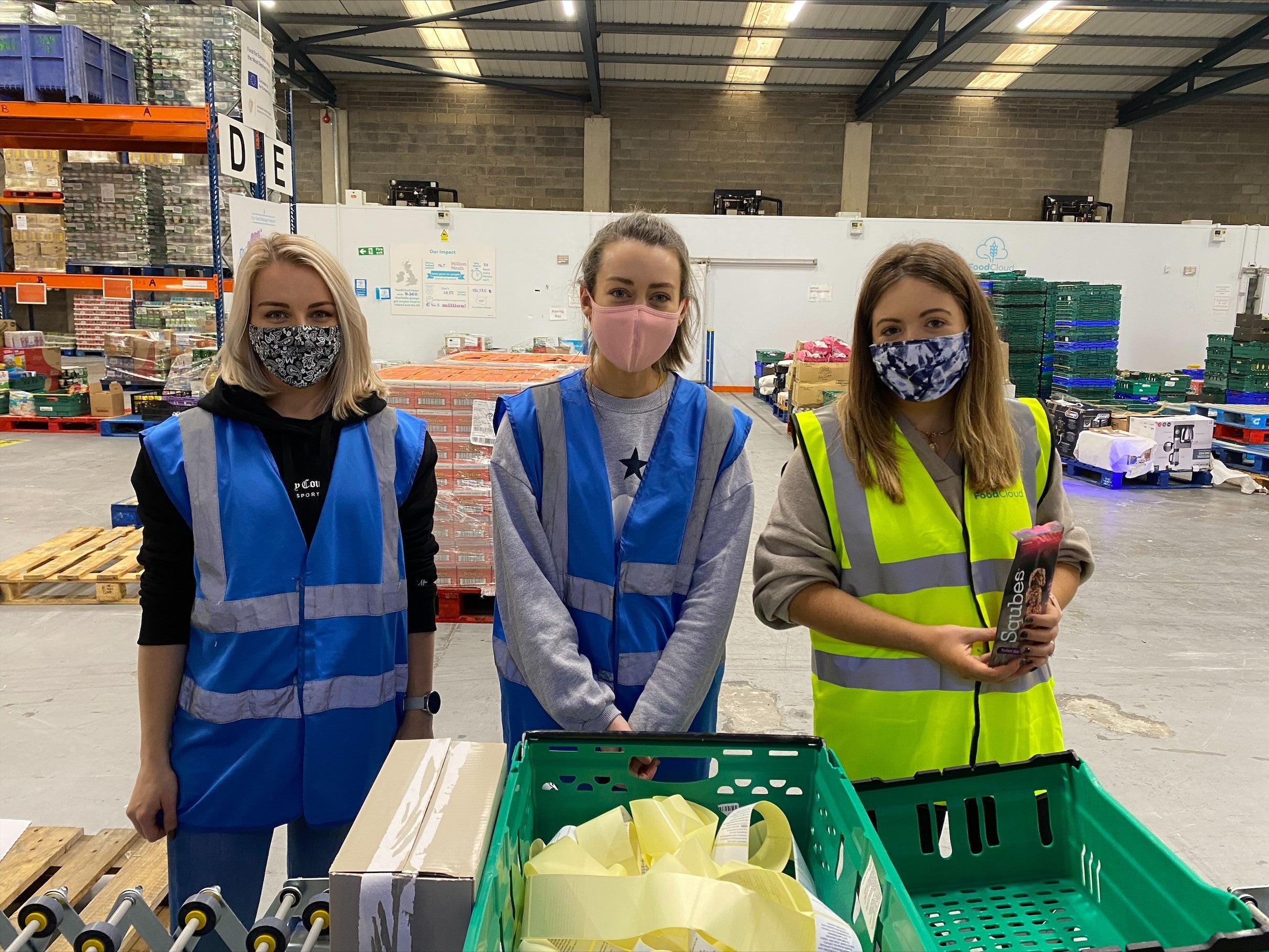 Meet the food labelling team at their workstation! (Left to right) Mona, Maedbh, and Emma
How did you find the experience?
Although the tasks were simple, I found the day to be very enjoyable. It was nice to chat with my colleagues and forget about the usual day-to-day stresses for a while. It really opened my eyes to how much food is wasted not just in my own home but on a national and global scale. I left feeling optimistic about reducing my food waste in the future – Emma
It felt great to be doing something with my hands for the first time in a long time. It was also a nice change of pace from my usual job where I spend all day at my desk. The best feeling was knowing that my volunteering would help people and have a meaningful impact on the community. Getting an insight into how everything operated and seeing how it worked from start to finish was really interesting too. Overall, volunteering with FoodCloud was a fantastic experience! – Max
We were brought on a tour of the warehouse to see where all the food is stored while waiting to be distributed – there was so much food, from fresh carrots to Lyon's teabags. There was also a giant fridge and freezer for storing perishable foods. While we were there a large shipment came in from a supermarket - hundreds of products that would have been binned if not for FoodCloud! Seeing the food stocks in person really highlighted how big the issue is and the importance of the work being done by this charity – Maedbh
It was a nice change of pace to do work like this rather than being at a desk looking at screens, but above all, it feels great to even play a very small part for a good cause – Richie
Take-aways
Learning how much food is wasted by supermarkets, restaurants and even private consumers is shocking, a good portion of the food that's thrown away is perfectly fine to eat while people go to bed hungry. What organisations like FoodCloud are doing is so important. As a non-profit, they also explained how much they need the help of volunteers, something that was very challenging for them with strict Covid restrictions in place – Max
I was shocked to learn that food waste is a greater contributor to global warming than air travel! I'm definitely guilty of throwing food away so going forward I'll be conscious about what I buy and how I plan to use it. FoodCloud is a great charity, and I would encourage anyone to volunteer if they can – Maedbh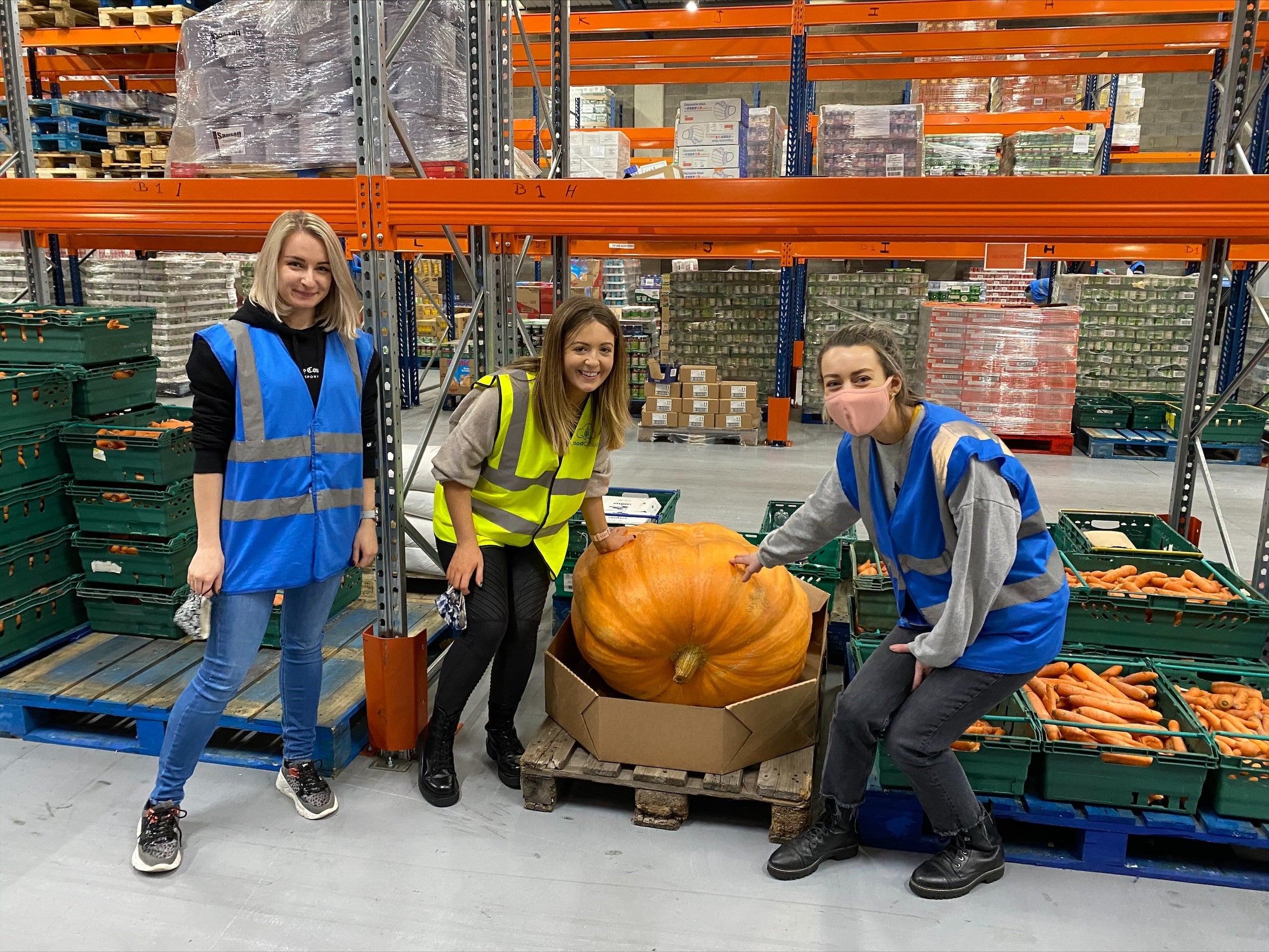 A giant pumpkin waiting for collection by a local soup kitchen