Health & Wellness in 2021
Many people sighed with relief to see the end of 2020 - a particularly disruptive year globally. In January, we asked consumers about their plans for 2021 and how their perspectives on health and wellness had changed as a consequence of repeated lockdowns and restrictions.
Despite a substantial minority experiencing fatigue with the 'health and wellness' narrative, the majority of our respondents had set some intentions for 2021 with health and wellness a core focus.
New year, new me?
The majority of our respondents (92%) had set some intentions or 'resolutions' for 2021. The top three included exercising more, looking after their mental health and eating more healthy food.
Categorising the types of intentions made, over three quarters of people intend to focus on healthy coping behaviours given the challenging year – this includes looking after their mental health, focusing on self-care, spending more time in nature or putting less pressure on themselves. Similarly, 71% of people have intentions to work on their physical health, either increasing their exercise or making an attempt to lose weight.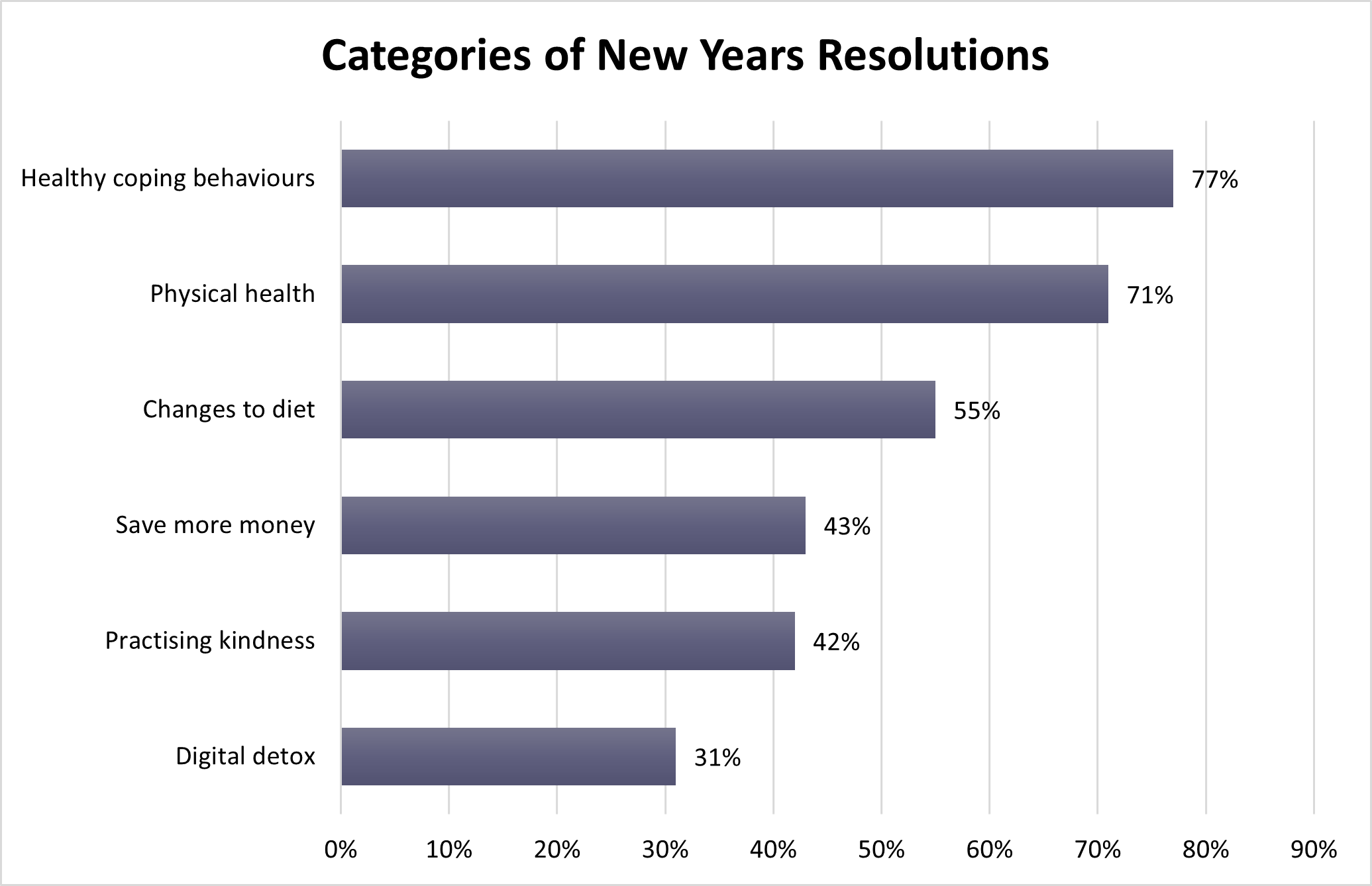 Healthy mind
Mental health is a particularly salient theme this year with 47% of people more likely than last January to be focusing on actions to improve their mental health and wellbeing. Only 5% say that they are less likely than 2020 to be making their mental health and wellbeing a focus.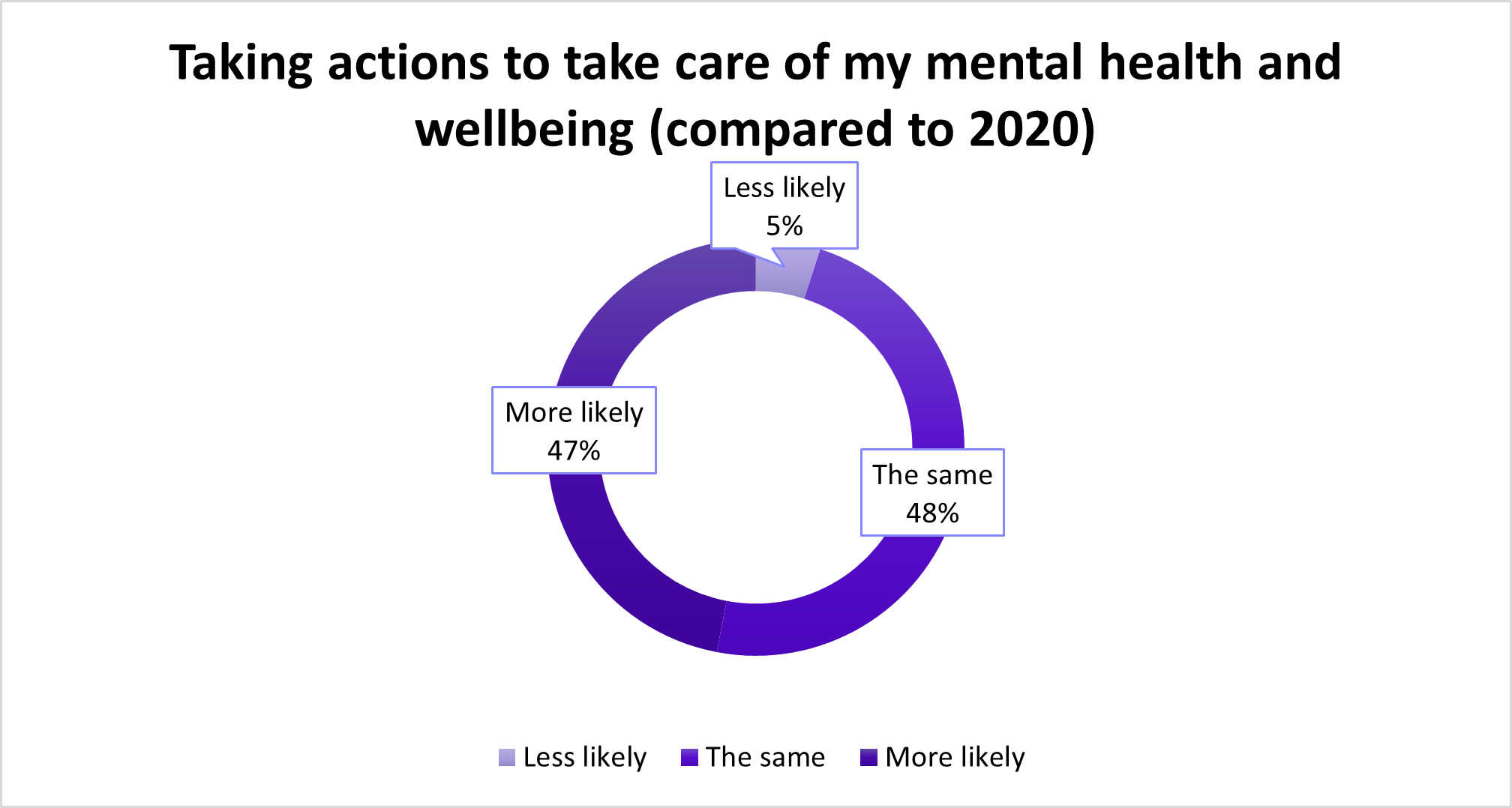 This manifests across the type of resolutions that people have for 2021: 53% say that they are going to look after their mental health, 48% want to spend more time in nature, 37% are going to do more self-care while 31% are going to try to have some form of digital detox.
It is also interesting that over one quarter (28%) plan to put less pressure on themselves in 2021. This may reflect the substantial minority (24%) who say that this year more than last, that they are more likely just to be trying to cope rather than focusing on changes for a new year.
Has fitness transitioned online?
Repeated lockdowns and restrictions have had an impact on every aspect of life. Having spent nearly a year in some form of restrictions there is a perspective that all aspects of our lives have now transitioned online, including exercise.
When we asked about exercise routines, we found that nearly two in five adults (38%) always did their exercise at home or outdoors and are continuing to do so – however, 20% of people say they have given up on their exercise routine due to the impact of COVID-19, and 26% of people have never had an exercise routine.
This is worrying as young people, aged 18-34years, were more likely to say that they had given up their exercise routine during COVID-19. Over one quarter (28%) have abandoned their routine due to the change in restrictions or a loss of motivation. Looking across age groups, people aged 45-54 and over 55 years were much more likely to have done their exercise at home or outdoors previously (47% and 48% respectively) and have managed to continue this through the disruptions.
Respondents who have continued to exercise at home or outdoors during lockdowns are not necessarily as tech-reliant as we may have thought – only a third (36%) regularly use a wearable device (e.g. fitness trackers or smartwatches), 18% use archived online exercise classes, while only 10% are regularly doing online live-streamed exercise classes.
However, younger people who continue to exercise are more likely to be trying to re-create a gym atmosphere at home. Over one third regularly use home fitness equipment like weights, kettlebells or treadmills while nearly a third use online exercise classes.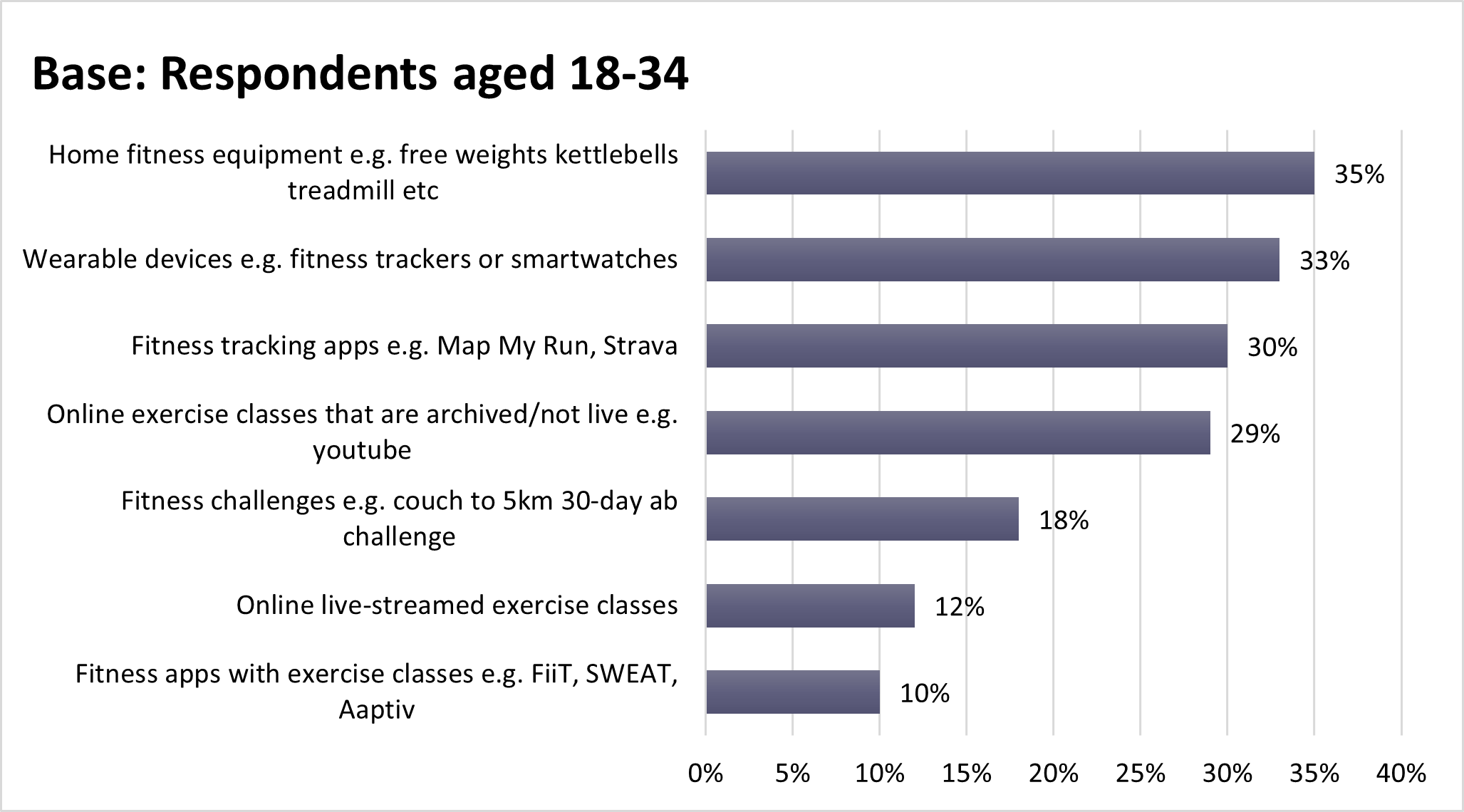 Concerns for the year ahead
Looking to 2021, Brexit and COVID-19 have aligned to make the economy the top consumer concern overall with 55% concerned. This is followed by physical health and fitness (not including COVID-19) and mental health (51% and 50% respectively).
Nearly three in five 18-34year olds (58%) are concerned about their mental health in 2021, this age group's greatest concern. Relationships with friends and family and physical health and fitness are tied second at 49% for this age group.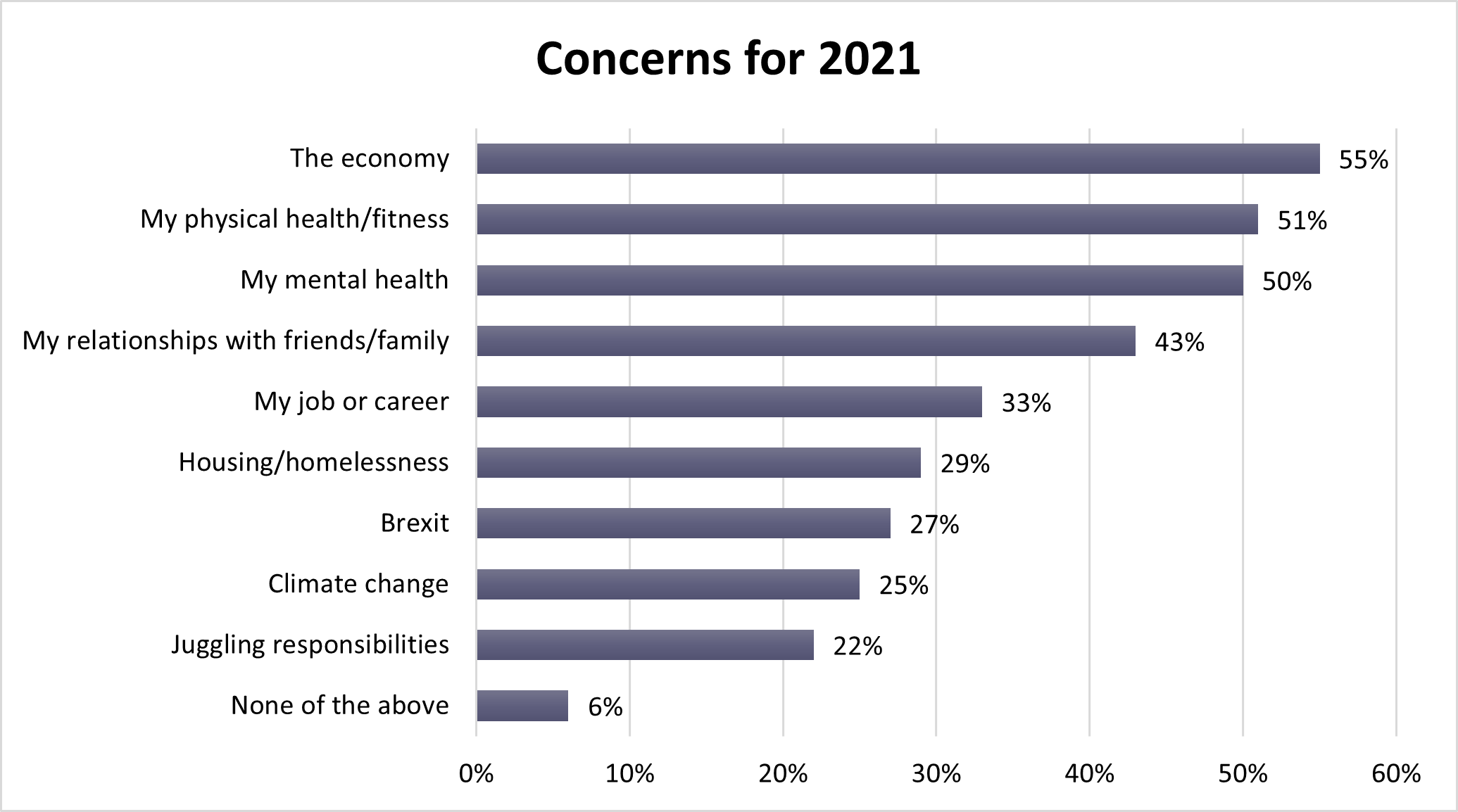 COVID-19
Finally, we couldn't talk to people about their health and wellness without mentioning COVID-19. One in 6 respondents (16%) had been a close contact of a confirmed case at least once prior to completing the survey, while 2% of our respondents had COVID-19 while they were filling it out.
Worryingly one-third of people (33%) believe there is a stigma associated with being tested or having COVID-19, while one in ten (10%) said they wouldn't tell others that they had been tested for COVID-19. It is clear that there is some work to do in the community to reduce judgment when people get COVID-19 so that people notify their friends and close contacts that they may have symptoms, breaking the chain of transmission as early as possible.
For more details, or to receive the full report, contact:
Claire O'Rourke
Research Lead, Dentsu Consult
Claire.orourke@dentsu.com