Graduate Diary
| Conor Casey
Hi, my name is Conor I'm 23 years old and from Offaly. I have recently completed my master's in marketing practice at the UCD Smurfit school of business. Prior to that, I studied commerce at UCD specialising in marketing in my final year. I am very sporty and play Gaelic football for my local club St. Brigid's, golf and also go to the gym. More hobbies include listening to various podcasts on walks with my dog Coco and with restrictions easing I'm hoping to do a lot more travelling too! There aren't too many interesting facts about me, but one is definitely that where I live in Offaly is a place called Croghan which has a national landmark called Croghan hill which is an extinct volcano!
How did you find out about the graduate opportunity?
I heard about the role through a contact in my course who had previously been contacted by a dentsu recruiter. She made me aware of the role and what would be required, and I messaged that same recruiter for more clarity and further information on the role. Asking people in your college course networks is a great way to find out more about a company because there will always be at least one person that has a friend or knows someone there that can offer great information. I also saw various roles in dentsu advertised on LinkedIn so keeping tabs on this platform is important too as there will always be opportunities available on it.
What did you do to prepare for the interview?
Before my interview, I had several calls with the recruiter to find out more about the company and industry. She was so helpful and responsive all the time which was great and relieved a lot of the stress attached to interviews. I watched a lot of YouTube videos online too regarding dentsu which was helpful as it offered detail on what the different brands do, the culture within dentsu and what is expected of their workers which again helped a lot with the interview phase. There is so much information readily available online to help potential applicants like me, more sources include podcasts particularly dentsu's own Inside Marketing podcast where there are so many different segments to help you through an interview phase and hear the latest trends in media. Articles on the likes of marketing week proved useful for interview tips and then just staying up to date with the latest trends in both media and consumer consumption. One thing that I didn't do but would recommend to incoming graduates would be to connect with people working here on LinkedIn and ask any other questions you may have. It's a great way not only to get more information but also to expand your network which is so important for workers at any level.
Why did you choose to pursue a career in media/ digital/ advertising/ marketing?
I always knew that I wanted to pursue a career in marketing and media as I enjoyed learning about various case studies on successful branding and marketing campaigns throughout my time in UCD. I found them so interesting and was intrigued by how the industry constantly changes and that what may work for one campaign could be completely different 3-5 years later. The fast-paced nature of this industry along with the concept of constant collaboration and thinking outside the box was a big draw for me and I'm so glad that I've made that decision. Media consumption has changed so much in recent years and that trend isn't stopping anytime soon. I am definitely excited to see what the future holds for both media and myself!
How did you feel during your first week?
The first week I would say that I was definitely very nervous but also excited at the prospect of starting my new career. With the grad programme, we got extensive introductions to the various brands at a steady pace therefore we weren't thrown in the deep end straight away which was great. Of course, there was a lot to take in but that is expected in any role and we had several conversations with various senior executives within the company allowing us to ask any questions we liked, clarify any fine details and any issues we had. The programme was so well structured between our training and some downtime tasks which are self-reflected learning tasks meaning we always had something to keep us occupied which helped a lot with settling in.
How are you feeling a month in?
One month in and I couldn't be happier with my decision. The atmosphere in the company is great and I really get that sense of helping others even through a remote start. Everyone is so friendly and helpful with everyone offering a helping hand. In this company everyone wants you to succeed which is amazing and the culture within dentsu is really something I've never experienced before. There are so many various training opportunities with a real commitment to professional development which for any young and ambitious working professional is a dream place to be. The grad programme has allowed us opportunities to have one to one virtual coffee with so many people in the company including the CEO who like everyone else was so helpful and accommodating for us. Everyone expresses an open-door policy with the idea of no question being a stupid one which has really helped me settle in so far. Of course, there is a lot to take in, however, our schedule allows for downtime tasks which ensures that we really take in all the required information at a steady pace. We have regular check ins both with our mentors and our recruiter which again allows us opportunities to ask questions but also build on our relationships with different people in the company which is huge for a new starter.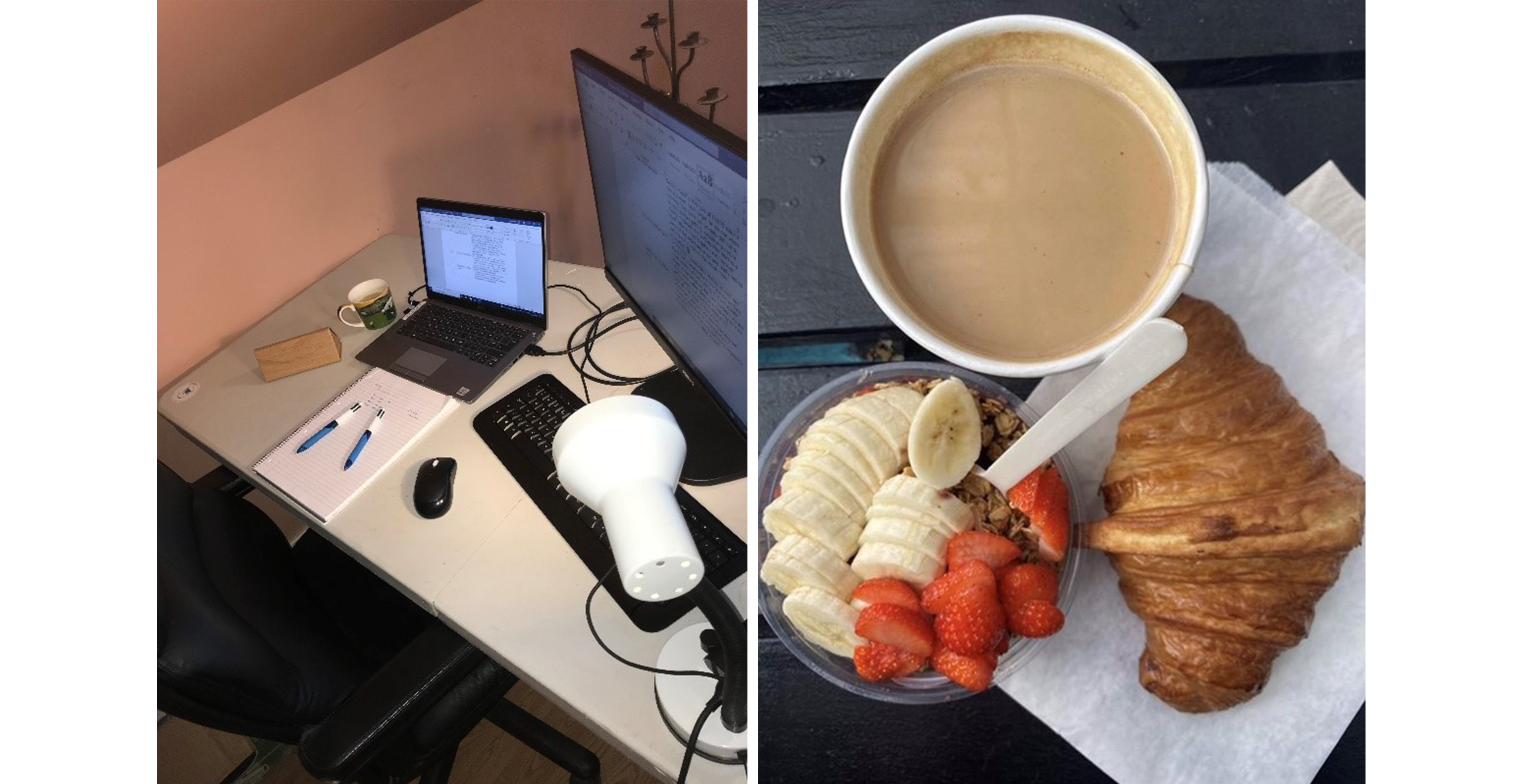 What was it like to join a company remotely?
Joining remotely is tough but luckily having spent a large proportion of my masters online made it a bit easier. It is always more difficult to make connections online however with dentsu there are lots of opportunities to meet people virtually through online coffee slots, various functions and more. Usually, on Fridays, there is some form of activity through the likes of quizzes and different games so this is a great opportunity to expand your network and really wind down the week. As there were four of us on the grad programme it was really important to make connections with these people early and thankfully dentsu brought us all into the office one day and even sent us on a day out to the Taste of Dublin where we all had the chance to really meet each other away from the screen. Our grad WhatsApp group acts as a great support chat for us too and it really doesn't have the same sense of working online as college did. A great aspect of the programme is that we get exposure to the various teams within dentsu as well as different systems training varying from TV to AV and many more meaning that we are in constant collaboration with different people on the programme which really keeps things interesting. No two days in dentsu are the same which has been exciting so far ensuring that our energy levels remain high which is usually difficult to do remotely.
What have you learned, enjoyed doing?
I've really enjoyed some of the supplier meetings that we've had, it's been great to make contact with these people so early on as we'll be working with them in the future and really understanding both their role and expectations from us which should help a lot when we begin collaborating with them. I've also really enjoyed seeing how media is planned on the different outlets such as TV, radio, OOH and print and the considerations that go into each to reach targets. That has been so interesting and was something that I had never been exposed to before and actually being able to see people do it and try doing some ourselves was a great experience. Going through the process of using these systems with someone shadowing you, allowing you to make the mistakes and then learn from them in a really friendly way is a great asset of this programme and has been a huge part of our development so far. I've learned a lot about the different systems in Dentsu and the requirement for strong attention to detail in each one and the importance of always staying concentrated when using the systems.
Can you describe your day-to-day role and responsibilities?
As we are still early in the grad programme our day-to-day role includes a lot of training and introduction sessions to the various brands, systems and processes within dentsu. Some of our other calls include supplier meetings where we get to meet different suppliers and hear exactly what they do. There are lots of training throughout the different departments within dentsu as well as downtime after each which allows us to really take in and examine what we have just learned in that session. We have regular check-ins with our HR department, the different SLTs and other people in the company which allows a great opportunity to ask any questions that we may have regarding the company or the programme. The people here are always looking out for us and are very open to answering any questions that we have. We also have a list of self-reflected learning tasks which are called downtime tasks that are scheduled for us throughout the day. On occasions, we get projects to do which allows us to put our learning into action through presentations which also fills our day-to-day schedules.
Biggest takeaway so far?
My biggest takeaway from the course so far is to be curious and constantly ask questions. Doing so online can be hard and a lot of the time if we were in the office, I would be asking questions unknown to myself whereas having to press unmute online can be difficult, however, it really does help with our progression. We're not expected to know everything immediately and learning throughout is part of the experience so really remaining curious is so important. This is such an exciting industry to work in, one that is constantly evolving and there are no two days that are the same, so you really need to remain open to learning and keeping an eye out for everything that is happening in media. This is such a great industry to work in and I really believe that there is some part of media that will interest everyone. I cannot recommend this grad programme enough.