Graduate Diary
| Vicki Browne
My name is Vicki, I'm 23 years old and I was born and raised in Dublin. I completed my undergraduate degree in Advertising and Marketing Communications from TU Dublin in 2020. I then decided to do an MSc in Digital Marketing at the UCD Michael Smurfit Graduate Business School which I completed a few months ago.
I am a very bubbly person; I love meeting new people and I enjoy anything exercise or food-related! When I finish work, I love to go to the gym or meet friends for a walk and at the weekends, I really enjoy eating out with family or friends, exploring new places and relaxing.
An interesting fact about me is that I once fell and tumbled down the side of a mountain when I was hiking in dense fog – it was very painful!
How did you find out about the graduate opportunity?
My graduate journey in Dentsu so far has been incredibly exciting and enjoyable but it has also taken a lot of concentration and perseverance as working from home continues.
Ever since my first year of college, dentsu has always been at the top of my list of places I would love to work. I found out about the dentsu graduate programme from my boyfriend who works for another media agency in Dublin. He came across the job spec as he was browsing through the IAPI website, and he encouraged me to apply straight away, particularly because it was dentsu. At the time of the interviews, I was still doing my MSc, so I was being bombarded with assignments and work from my part-time job which meant I was quite stressed. I didn't have much confidence in myself getting the job because I knew I would be up against amazing candidates, so I was absolutely delighted when I got the job offer. It showed me that hard work really pays off in the end and if you really want something, go for it no matter what. On that note, IAPI is the Institute of Advertising Practitioners in Ireland and their website is a fantastic resource for anything that is advertising-related and/or for finding jobs in the advertising industry.
How did you feel during your first week?
At the start of my first week in the dentsu graduate programme, I was feeling quite nervous because this is my very first full-time job coming out of college. However, as soon as the first few calls wrapped up, I felt immediately at ease and really excited for what was to come. I can't explain how welcoming and friendly everyone in dentsu is. It made the transition from college to work seamless and they are a great bunch to work with.
How are you feeling a month in?
Now, two months into the programme, I still have that same feeling of excitement that I did during my first week. I have learned so many valuable things about the media industry which I really didn't know much about coming into dentsu and about client leadership which is pivotal to the business. We have also had the opportunity to meet lots of lovely people in the industry including media suppliers and IAPI staff members. One thing that has been particularly challenging for me in the last two months is working remotely. Not being able to meet people for coffee in the office, having to email or call a team member to ask a question and being stuck in my bedroom all day with no face-to-face interaction has been difficult, so I am really looking forward to going into the office soon.
What was it like to join a company remotely?
Joining a company remotely was challenging in some ways, however, there wasn't any sense of isolation or stress, and the overall experience was great. There were plenty of team introductions and some virtual social events that enabled the grads and I to get to know each other and others across the business. The People and IT teams were always available for a quick call to answer any questions I had and to ensure everything ran smoothly each day!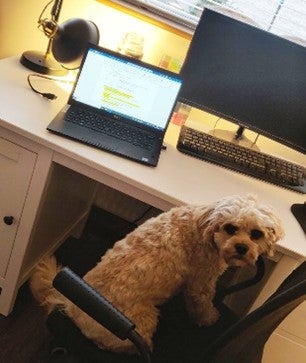 Any areas of work you're particularly drawn to?
One area of the business that I am drawn to is offline planning and investment i.e., the radio and press team in Amplifi. During our rotation with this team, we got the opportunity to put up radio and press bookings for clients by ourselves which was a great experience for us. We were also introduced to various media suppliers, and it was nice to see the great relationships that have been developed between the radio and press team and these suppliers.
Biggest takeaway so far?
Finally, my biggest takeaway from this programme is that I learn better and a lot quicker by doing rather than watching. We had training sessions to show us how to use MX (the media booking system dentsu use), and I thought that it looked very confusing and daunting. However, when I put up radio and press bookings on the system by myself, I realised that it's very easy to use and I now know how to successfully put bookings up on MX in case I need to do it again in the future.