100.000 Euro Mediabudget for Lebenshilfe Wien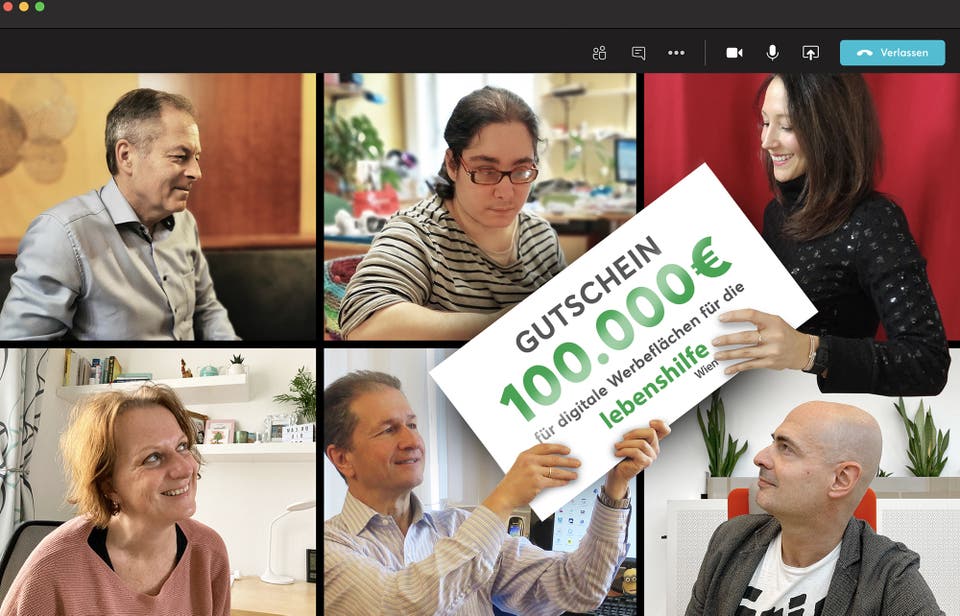 Dentsu Austria has been supporting Lebenshilfe Wien for many years. This includes advice and assistance with various communication issues, the implementation of advertising campaigns, web support, joint CSR activities, as well as the provision of internship opportunities for people with disabilities. Th...
Read more
#PurpleLightUp – Dentsu colours the website of Lebenshilf...
dentsu austria and its long-standing partner, Lebenshilfe Wien, show their solidarity with the concerns of the global Purple Light Up campaign and colour the website http://www.lebenshilfe.wien pur...
Dentsu X leads RECMA's qualitative ranking in Austria
Every year, the French market research company RECMA (Research Company Evaluating the Media Agency Industry) publishes the well-known quality ranking of media agencies. This year, dentsu X leads th...
iPROSPECT NAMED GLOBAL MEDIA PARTNER FOR LUXURY GROUP, KE...
iProspect, a dentsu company, today announced it has been named global media partner for all Kering brands. As the global agency of record, iProspect will be responsible for managing all end-to-end ...
Gold and Silver for Dentsu Austria
Out of a total of 96 submissions, dentsu austria was awarded in no less than two categories. The Media Award, which was held for the 17th time this year, finally took place again after a year of pa...
Dentsu Austria presents the new advertising campaign "Leb...
Lebenshilfe Wien can count on versatile support in its partnership with dentsu austria, which has already existed for more than eleven years. This mainly concerns external communication, but also donations of time for joint activities. Inclusion in particular is a theme that is lived out in everyday work, as a Lebenshilfe client helps out in the dentsu office every week. Furthermore, dentsu works as a 360° agency for Lebenshilfe Vienna in the areas of media, creation and digital and is thus responsible for their entire public appearance.
Now the latest campaign is being launched: "Lebenshilfe Wien. Take us further". The idea and execution came from the dentsu agency Merkle. In addition, Johanna, one of the campaign models on the part of Lebenshilfe, has already worked for dentsu, and three dentsu employees were also involved as performers.
The campaign draws attention to the fact that Lebenshilfe's achievements in the field of inclusion not only help people with intellectual disabilities, but ultimately advance society as a whole. Even if this is often not visible, as many are not even aware of Lebenshilfe's work. The new campaign brings both aspects together: It uses examples to show what Lebenshilfe actually does - and does not show it by omitting all the pictorial elements of certain situations made possible by Lebenshilfe. 
The concept will be implemented in a 360° campaign using TV, cinema, online videos and radio via OOH formats, web banners and social media to special forms of advertising such as snip cards and ambient solutions. "After the last campaign 'Do it with us' focused on the recruitment of volunteers, this time we are staging concrete services of the organisation for people with intellectual disabilities," explains Wolfgang Kindermann, Creative Director. Nicole Reiter, Marketing and Communications Lebenshilfe Wien: "The campaign gets to the heart of our concern for the social participation of people with disabilities. The implementation puts our clients at the centre. This is another big step for the public perception of our work. 
Florian Kier becomes CFO of Dentsu Austria
Dentsu Austria appoints Florian Kier as Chief Financial Officer (CFO) for Austria. With effect from 1 July 2021, he is the new CFO Austria and in this role is responsible for the commercial area of...
Merkle Austria supports STEFFL department store in its di...
The luxury department stores' gets a 360-degree view of customers through targeted communication and a loyalty programme and benefits from a strengthened customer relationship.     Vienna, 31 May 2...
Dentsu Austria continues its transformation
Dentsu Austria is working continuously on the optimisation and alignment of the Group in order to create simplified structures to offer clients bespoke and integrated services. For example, the thr...
Christiane Wolff starts as CMO at dentsu DACH
Christiane Wolff starts in the newly created position of Chief Marketing Officer (CMO) in the dentsu DACH organization. In this role, she is responsible for all marketing and communication activiti...
Dentsu appoints Stefan Voss as Chief Client Officer for t...
Dentsu has appointed Stefan Voss to the newly created position of Chief Client Officer. He is responsible for strategic customer management throughout the DACH region. His role focuses on integrate...
100.000 Euro Mediabudget for Lebenshilfe Wien
Dentsu Austria has been supporting Lebenshilfe Wien for many years. This includes advice and assistance with various communication issues, the implementation of advertising campaigns, web support, ...
After successful integration and realignment: Andreas Wei...
Following the successful completion of the integration of the media.at group and key decisions for the realignment of Austria in the new DACH cluster, Andreas Weiss, CEO of the dentsu group in Aust...
Bronze, silver and gold at WebAd 2020 for MediaMarkt and ...
The cooperation between MediaMarkt and the dentsu agencies iProspect and vizeum was celebrated in a particularly brilliant way at this year's iab WebAd on 24.11.2020, as three prizes were awarded t...
Dentsu Aegis Network rebrands to dentsu
Dentsu Group Inc. today announces that its international business Dentsu Aegis Network will now operate under the dentsu brand. The international business will operate alongside its business in Jap...
isobar is leadagency for Generali Insurances
At isobar Vienna you see red these days, and in the best sense of the word: As the Austrian lead agency for the local implementation of Generali Insurance´s international repositioning and communic...
Sodastream starts the new year with a campaign by the Vie...
isobar wins the pitch for the new moving image appearance: Sodastream starts the new year with a campaign by the Viennese creative and digital agency isobar. When isobar Wien was invited to pitch f...
Katarina Stanisavljevic becomes Managing Director of Cara...
Katarina Stanisavljevic, formerly Senior Business Strategist at dentsu, is taking over as Managing Director of Carat Austria GmbH with immediate effect. Ms. Stanisavljevic is an experienced marketi...
dentsu X wins WienTourismus budget with focus on digital ...
Vienna Tourism is the official destination marketing and management organisation in Vienna. It represents the tourist interests of the city, promotes the destination worldwide and supports leisure ...
dentsu X Launch in Österreich nun offiziell
Eine der international erfolgreichsten Marken des dentsu Konzerns kommt endlich offiziell nach Österreich – dentsu X. Die dentsu X bildet sich zu großen Teilen aus der media.at, handelt es sich dab...
Cosma Handl and Maximilian Deimel win Young Lions Competi...
Cosma Handl and Maximilian Deimel from Carat Austria won the Young Lions Competition Austria! The two will thus represent Austria in the media category of the international Young Lions Competition ...
Vizeum wins Out of Home-Award for INNOVATIVE & AMBIENT ME...
The Out of Home Award of the Gewista in the Gösserhalle was a great success for the team of the Vizeum! Due to the winner selection criteria, the OOH Award is regarded as the most wanted and mean...
Isobar responsible for the new advertising campaign of th...
In the Viennese creative agency isobar the corks are popping again: The team around Account Director Erich Holzbauer was commissioned after an agency screening with the conception and implementatio...
Isobar presents extensive launch campaign for Basis pH Li...
The creative agency was commissioned with the conception and implementation of the launch campaign for the Basis pH line extension, Austria's number 1 shower bath*. This is now complemented by a sh...
Dentsu Aegis Network announces the acquisition of Namics AG
Namics will join Merkle expanding its capability and geographic footprint in EMEA  22nd October 2018, London:  Dentsu Aegis Network today announces that it has signed a definitive agreement to acqu...
Partners, Portugal's largest creative agency, joins Dent...
Partners is Portugal's largest independent with 60+ employees and is one of the country's most awarded creative agencies. 8 October 2018, Lisbon: Dentsu Aegis Network today announces that Portugal...
Dentsu Aegis Network acquires B2B International
B2B International will join gyro to create the world's largest specialist B2B agency network 4 October 2018, London: Dentsu Aegis Network today announces the acquisition of B2B International, the w...
Keep up to date with the latest news and updates from Dentsu Aegis Network
Thank you!
Your details were submitted successfully.
There was a problem!
It seems there was an error submitting your details. Please try again later.