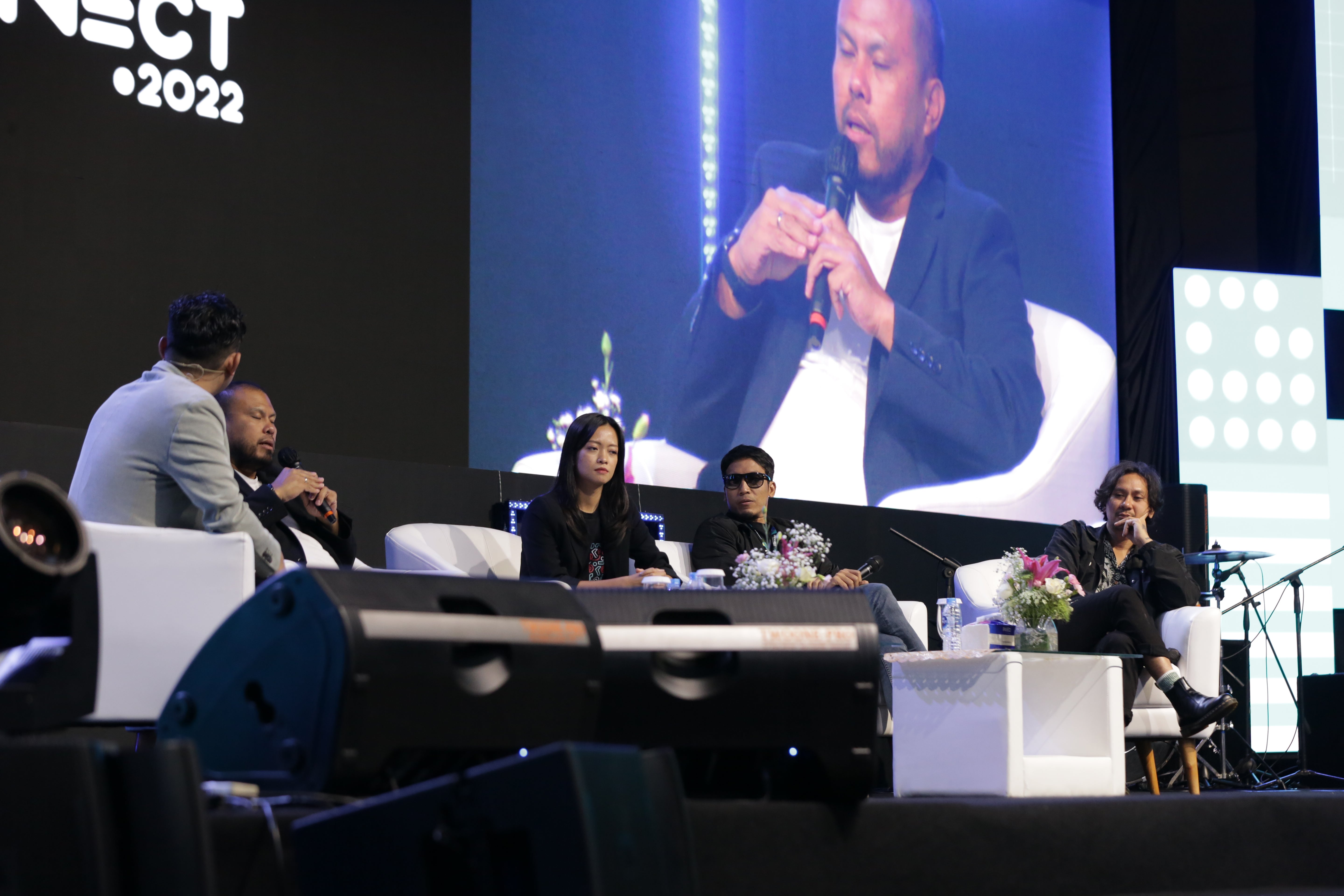 The Oracle of Delphie once said this regarding every human activity: "Don't merely know thyself — be thyself". This old saying still rings true, especially for the marketing world. However, being authentic by staying true to yourself is frequently compromised by many factors, one of which being the decision or indecision to follow trends.
In today's world of excessive contents where advertising, cinema, TV, music streaming, podcasting, and short videos bombard both your eyesight and hearing on a regular basis adapting what is deemed trendy by both the cultural makers and consumers, always seems an easy way to have one's finger on the pulse of entertainment or information. Sadly, doing so could be at the cost of jeopardizing the notion of authenticity.
During the latest dentsu Connect event in Jakarta, four industry professionals (Joko Anwar, a renowned Indonesian filmmaker who has cemented his status as the ultimate horror auteur; Vincent Rompies and Desta, two former musicians who established one of the country's highest viewed content platforms VINDES; and Sitaresti Astarini, TikTok Indonesia's Head of Business), came up with their own takes on the elusive attempt at navigating trends while staying true to one's identity.
To Joko Anwar, "creating is more important than following", in a sense that one must believe in the proposition they are delivering enough to convince others, thus creating the trend itself. Joko Anwar was more than well-equipped to convey such a take considering the success of "Pengabdi Setan" which was crowned the highest-grossing film in 2017 with its sequel "Pengabdi Setan 2: Communion" being the third by generating 6.3 million views during its run in the theaters.
While "Pengabdi Setan" itself isn't a trend-establishing work in terms of cinematic attributes—the franchise is based on a 1980s film—it did become a counter-hegemony to the MCU offerings and all tired Hollywood-churning IPs that dominated the film industry over the past few years.
Sitaresti, on the other hand, had a different point of view regarding the issue. To her, judging from the ubiquitous types of content on TikTok, following the trend isn't necessarily a sin but it's not an end-all-be-all either. "The key is to collaborate with brands who want to fully embrace the platform's uniqueness without reservations", she said while giving a case study that the platform did with L'Oreal.
Desta and Vincent, on the other hand, comically yet wisely pointed out that whether one decides to follow a trend or not, listening to your audiences and genuinely providing them with a platform to voice their opinions is pivotal.
Despite the varied responses, the voice from the people was the recurring component of what they perceived as the main contribution to how one blends into a certain zeitgeist without stripping off their identity. In the end, culture is shaped by people and the many ways in which they are exposed to and interact with it changes overtime.
Today, it's curated by on-demand access rooted in the desire to connect, be it with their peers or through parasocial relationships with public figures. Both of whom are anchored by today's burgeoning need for diversity.
What Constitute Diversity-Led Contents
In 1897, Freud suggested that a subject will find ways to assimilate an aspect, property, or attribute of the other whose result is a thorough or partial transformation on their part. He acknowledged children's tendency to unconsciously adopt the characteristics of their parents, so much so, that they begin to associate themselves with and copy the behavior of their parents.
Decades later, the "parents" found themselves transmogrifying into other matters: Art, culture, or even socio-political issues which then gives birth to representation. The slogan "representation matters" have gone through a bumpy road of growing pains in Indonesia and younger generations will most likely see the innate purpose of a brand instead of just its basic offering.
This was also a topic of discussion during the event during which Joko Anwar claimed that even way before the call for diversity was expressed by the public, Joko Anwar had featured more wide-ranging actors and staff in his crew over his decade-spanning career. "Diversity starts from how the workplace, it's not something you impose disingenuously", he implied that with a diverse crew, you can have a diverse viewpoint that would enrich your story.
"Diversity is in every fabric of TikTok's being" according to Sitaresti, which is not a platitude whatsoever considering that the platform itself is committed to the notion by building Creator Diversity Collective, which, according to the information on TikTok's website, is "a brain trust of talented, passionate creators from different backgrounds who've helped them create and shape programs that spotlight and amplify diverse creators".
"However," she gave a caveat - "community guidelines must be the backbone of every embodiment of diversity we create, and it always must adhere to local customs". The local customs in question are created because diversity at times is all about meeting halfway.
Vindes saw the need for diversity as a realization of bold projects. "Our work is a response to a situation, social economic justice, anything that represents what society is currently going through." declared Desta with assertion. "And the types of people we partnered with came from every walk of life" added Vincent.
A quick look at their web series on Youtube confirmed both statements as they have reached out to both famous and unknown communities from doing Independence Day-themed competitions with low income-locals to helping Gen Z find work by giving them lessons on how to craft a good CV, to highlighting national athletes who were quickly forgotten after they made a big splash at the Olympics.
This short yet fruitful session concludes with the notion that being shrewd at dissecting the culture extends beyond one's decision to follow or not follow a trend: It is one's commitment to immersing themselves in any situation with the people who would uplift them. It is through the people that authenticity is born, the people represent you and vice versa. Staying true to yourself also means staying true to them.