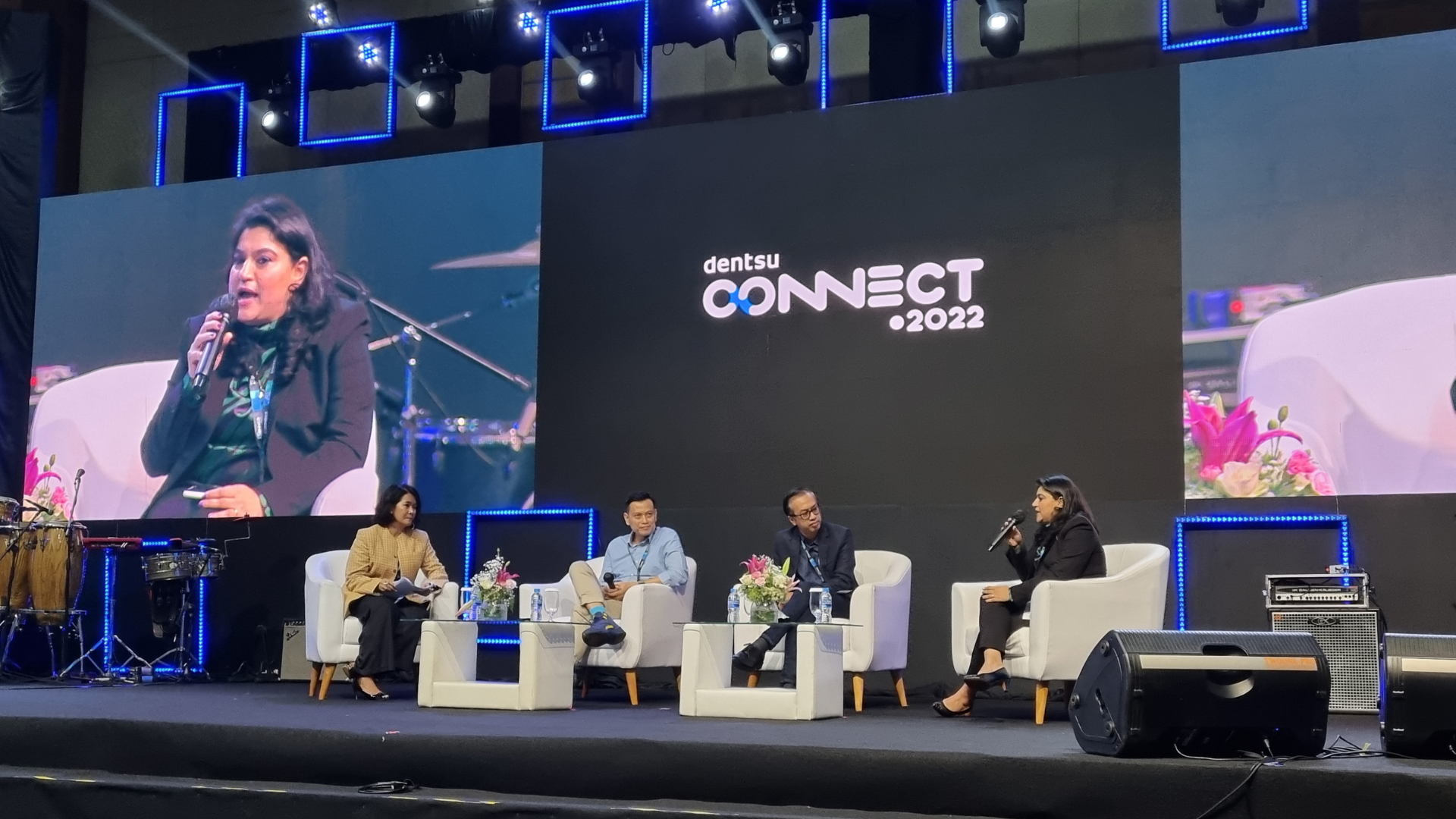 Relevance at Scale, in digital marketing parlance, refers to serving contextualized, individualized, and relevant brand messaging to the most users at the right moment to build brand credentials and to ensure the brand remains high within their consideration set.
During the most recent dentsu Connect event in Jakarta, four industry professionals (Aloysia Dian, CEO, Media, dentsu Indonesia; Arfitrianto Zulnaini, Sales Director, Integral Ad Science Indonesia; Prerna Mehrotra, CEO, Media, dentsu APAC; and Fumicko Gengky Rustranta, Head of Digital Marketing, PT. HM Sampoerna Tbk.), put forward their own view of relevance at scale.
Aloysia Dian said that when we talk about relevance, it is actually about taking things at the right time, at the right moment, at the right occasion, and at the right consumption time.
As the digital universe is not reliable, we need to make sure our brand has a unique place within the digital ecosystem by ensuring that it can be found in the right place at the right time by the right people. There are various factors that help in deciding the right place and the right time to draw the attention of consumers.
While reaching the right person at the right moment is a challenge, it becomes imperative as the digital ecosystem is getting more and more cluttered. For a brand, it becomes important to understand the person who has bought the product or used the service from the same brand and reach out to them at the right time with relevant brand content. There is a strong correlation between Relevance and Attention; an ad that is relevant to the user will ensure he/she pays more attention.
If we look at the current digital advertising landscape, most of the ads are targeted at a certain group or a cohort. For example, an ad for a fitness app might target women between the age of 25 to 35 who are fitness freaks. Similarly, an ad for a car rental company would target the same group of people between the age of 25 to 35 who are interested in renting a car.
This targeting is done based on age, gender, location, and other demographics. This targeting worked well in the past, but with the new generation, this approach is leading to high spillovers and lower effectiveness.
People are becoming more aware of their individuality and less tolerant of the brands' targeting them as a group or a cohort. We need to understand the person and his/her behavior, his/her likes, dislikes, and preferences.
We need to evolve from 'cohorts' to 'tribes' to find like-minded people, regardless of their demographics, and geographical and psychographic traits. A 60 year old is as likely to be an e-sports fan as a 21 year old – Also, it will not be surprising to see 14 year olds being fans of classic Rock music of the '60s.
Contextual advertising might see a spike in digital budgets initially, but over time, owing to inherently higher efficiency and effectiveness, the cost incrementality is expected to neutralize over time. That said, it is important to ensure the cost of advertising is well balanced with the cost of the product.
Finally, as we are looking at a future that will be Cookieless, creating relevant ads might get even more challenging. Thus, it is important to have an in-house 1PD database that can be leveraged to continue to build loyalty and expand in the right direction.
You can hear in full the above professionals discuss relevance at scale by watching the on-demand dentsu Connect video available on YouTube, click here to watch now.