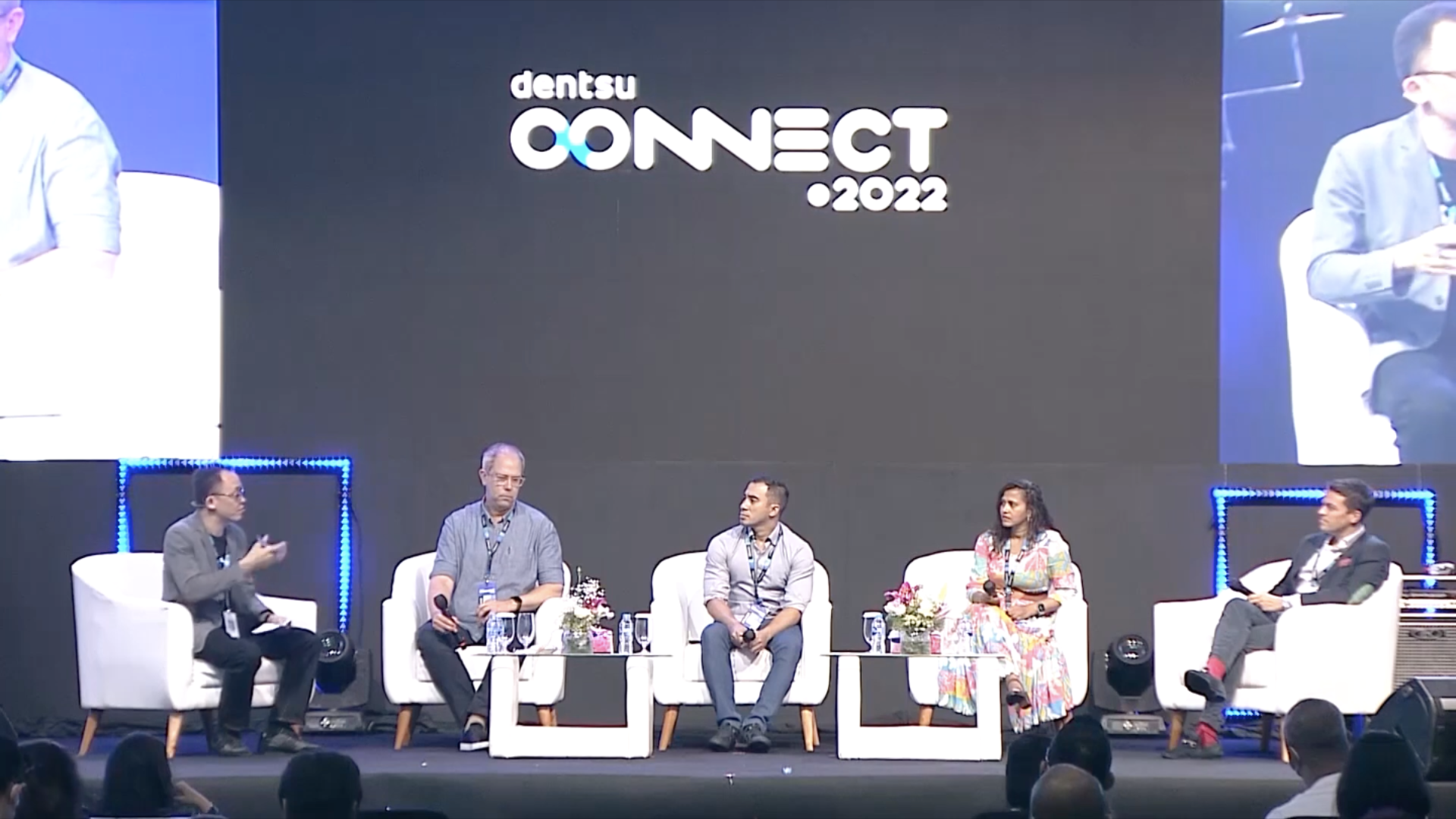 CX (Customer Experience), as a concept, as a way of growing and nurturing the business, and as a practice has come a long way. Companies are starting to adopt and prioritize CX across a larger spectrum of work that they do, not limiting its importance to a few siloed departments.
During the most recent dentsu Connect event in Jakarta, five industry professionals (Arshad Rahman, CEO, CXM, dentsu Indonesia; Chris Jordan, Regional Vice President of Commerce Cloud & Digital 360 Specialists, Salesforce ASEAN; Maneesha Bhusal, Director, Head of Customer Experience JD, ID; and Guy Kellaway, Communications Director, Nestlé Indonesia), put forward their own view of the future of the customer experience.
What are the business benefits of an effective CX (Customer Experience) journey?
Arshad, CEO, CXM, dentsu Indonesia, started the discussion by stating that in the early days, the perception of CX was fragmented, with emphasis given on only certain aspects of the customer journey like product experience, service quality, customer satisfaction, and customer loyalty. Over time it has been realized that CX is omnipresent, right from the time customers get exposed to your brand (also commonly referred to as brand discovery) to purchase and post-purchase.
A company that successfully maps out the journey that its customers take can realize multiple business benefits, including:
An effective CX journey map helps business leaders walk in their customers' shoes and find ways to improve, and even customize, each customer's experience with the company.
A thoughtfully planned CX journey can pinpoint process inefficiencies and redundancies that, if remedied, can reduce the cost of customer service and other operational areas
CX journey mapping can create a positive customer experience with a company—engendering loyalty and incentivizing customers to keep coming back to the brand.
A successful CX journey can dramatically accelerate sales cycles, increase cross-sell/upsell revenue, create revenue streams from customer referrals, and boost return on marketing investment (ROMI).
Importance of CX (Customer Experience) and its growth:
Grabbing the attention to get the brand engagement with keeping a consistent customer experience across the multiple online and offline channels and customer touchpoints will definitely give your brand a competitive advantage. One size fits all is not the way, identifying the target audience and personalization can bring brand loyalty and customer retention to the next level.
Employee experience and CX goes hand in hand as a disengaged employee leads to less than optimal brand strategy and execution and hinders the stellar customer experience.
Reza Mirza said that the post-pandemic budgets for CX have increased significantly YOY(year-on-year). There is a constant drive to identify new tools to address the CX issues.
Technology And Data in CX (Customer Experience):
What needs to be solved at a business problem level and a consumer experience challenge should be the base or starting point of evaluation of any technology and tools before their adoption. It's good to have a proper understanding of the features and functions of a tech/tool. However, we should emphasize the value that technology brings to the table to solve complex customer issues and how easily it can be adopted by people.
Customer experience is a golden triangle of people, process, and Tech, where people and process should come first to facilitate and assess the tech/tools before making huge investments in them. Adoption of tools like CDP, MCCM, MoEngage, Optimizely, etc have enabled companies to increase their user base by 50% over a term of just 2 years resulting not only in growing revenue but also customer loyalty by providing a consistent personalized experience for the customers across the different channels and touchpoints
To Guy Kellaway, it's important to collect 1st Party, 2nd Party, and 3rd Party data in a frictionless manner and utilize the different tools to build strong and reliable customer profiles. These customer profiles are the base for personalization. To achieve this teams need to be creative in their data collection approach and gaps between teams need to be bridged where a data team can work hand in hand with the CX/creative team. Also, Cookie-less's future also needs to be embraced and addressed.
Though data and tech are required, they shouldn't be the sole parameters to drive CX strategy. Human touch is essential so that we can listen to the voice and needs of the customer and go about the solution thinking from a customer's POV. Chris Jordan also believes that the customer's single view is complex and not easy. Think creatively about how you can collect and use data.
To Maneesha Bhusal, though a lot of customer data is collected every day, still a lot of customer complaints go unheard of. A dedicated survey team needs to be set up and constant feedback analysis is required.
Next Big thing in CX space:
To ensure that our approach towards CX evolves to make it future proof here are a few key takeaways:
Educating the employees on what CX stands for and internal alignment to minimize the gap between what management expects from CX and what CX needs to be perceived as can help empower CX to be a profit center rather than just tag something like customer service or design as customer experience.
In the era of the customer, customer demands come first. Understanding customers' needs and creating a value exchange between the consumers and the brand will help in building the required trust where customers will act as brand advocates ensuring a sustainable and profitable future for the brand.
Embracing the changes in these fast-transforming user expectations and adoption of new tools through careful solution-oriented business evaluation will help to retain the competitive advantage.
The session concludes with the idea that maintaining consistency of experience across multiple channels and maintaining synergy between offline and online presence, attracting the right amount of attention, in the right place and at the right time not only helps maintain a brand presence but also builds customer trust, which ultimately the key to a good CX and increased brand loyalty.
You can hear the full details of these professionals discussing The Future of CX by watching the on-demand dentsu Connect video available on YouTube, click here to watch now.