Putting Human Needs First: Report Highlights Risk to Sustainable Growth as Digital Needs are Overlooked
Published on:
Asia-Pacific report highlights concerns about the pace of technological change and impact on well-being
Developing economies such as India (69%), Thailand (63%) and China (62%) believe that their education has prepared them with the appropriate technological skills for the workplace as compared to more developed markets such as Japan (21%).
56% of people in APAC are optimistic that digital technology will solve the world's most pressing challenges – such as poverty and environmental degradation, compared to 45% globally.
6 out of 10 people in India and China agree that technology has negatively impacted them personally despite their high levels of optimism about the potential for digitalization to create jobs and solve world problems in the future.
June 26, 2019. The Digital Society Index 2019: Why human needs must power Asia-Pacific innovation, released today by global leader in media, digital and creative communications – Dentsu Aegis Network, unveils the reasons why people need to be at the heart of the region's innovation engine. The research is conducted in partnership with Oxford Economics that surveyed over 43,000 people – of which 15,000 are from APAC, investigating the concerns and needs of people in this digital age across six key markets in APAC: Australia, China, India, Japan, Singapore, and Thailand.
While digital technologies have driven a new wave of innovation in APAC, the report finds that more needs to be done to ensure an inclusive and sustainable digital economy for all. Two-thirds (66%) of people in the region believe that not enough is being done to ensure technology benefits all in society as compared to disproportionately benefitting a select few.
This digital inequality gap is the widest in China (85%), even though people in the country appear to be more engaged in digital education and more optimistic on the positive impact of technology on society. This imbalance is also evident in Thailand as people in the country are the most optimistic – in APAC and globally – about technology's future impact on society, yet 70% of them agree that the pace of technological advancement is too fast for them to keep up with.
Correlation between technology, self-fulfilment and societal needs
The research further reinforces evidence of a digital inequality gap by revealing that there is a strong correlation between self-fulfilment (finding fulfilling work in the digital economy) and societal needs (society's belief in tech's ability to solve global challenges). People who are confident in their digital skills and are optimistic about technology's positive impact on society are more likely to use online services.

Skills, education and workplace opportunities are key to fulfilling individual potential in the digital economy with over half (51%) of the APAC population believing that their education has prepared them with the appropriate technological skills for the workplace. Notably, developing economies such as India (69%), Thailand (63%) and China (62%) perform much more positively on this measure as compared to more developed markets such as Japan (21%).

APAC economies that performed well also demonstrated evidence of vigorous championing of digital skills as part of education. In India, one-fifth of the population have undertaken some form of digital training in the past week (compared to 6% globally) as both the public and private sector have been supporting initiatives to improve the country's digital skills. In comparison, 61% of individuals in Japan could not recall the last time they underwent digital skill training, the highest percentage of all the global markets surveyed.

Technology has the ability to solve the greatest global challenges and in APAC, 56% of individuals are optimistic that technology hold the key to solving the most pressing challenges we face today such as poverty and environmental degradation as compared to only 45% globally. In Thailand and China, as many as 8 out of 10 (79%) individuals believe in the societal potential of digital technology. This optimism remains high in developing markets where technology has broadened horizons and opportunities within a short period of time.
Tech impact on well-being
Individuals in APAC are also worried about the impact of technology on their health and well-being. APAC economies occupied the bottom 5 spots of the 24 markets surveyed. Singapore, which topped this year's index in overall digital readiness, had the lowest psychological need score of all surveyed markets which measures the impact of digital on health and well-being as well as quality of life.
This is also evident in India and China as almost 6 out of 10 (58% for India and 55% percent for China) people agree that technology has negatively impacted them personally despite strong optimism on the potential of digitalization to create jobs and solve world problems in the future.
Digital consumers taking back control
In conjunction with APAC's adversarial relationship with technology and well-being, there is also a growing distrust in the misuse of personal data which has proven to be a key concern with 64% of individuals in APAC citing it as the main reason for undermining trust in the tech industry. Analysis also shows that individuals who are more likely to engage with digital products and services are also more likely to control their digital footprint.


In Thailand, 58% of individuals who have not reduced the amount of data they share online are more likely to use digital goods and services. However, for those who have reduced the amount of data they share online, this proportion rises to 69%. It seems that individuals who most embrace a digital relationship with businesses are also more aware of the risks associated with the digital economy (e.g. misuse of personal data, effects of social media on mental health) and are subsequently maintaining only the digital services that they want. Consumer reactions may pose a challenge for businesses which limits their ability to reach consumers through social media or personalised, data-driven marketing.
Implications for brands, businesses and governments
Prioritising people's needs while building a digital economy is essential as people are fundamental in driving sustainable innovation and safeguarding the future of the digital economy. However, the findings have found that different strategies have to be used within APAC as emerging and developed markets pose different sets of challenges. Emerging markets continue to remain enthusiastic about technology's potential to eradicate poverty, improve access to healthcare and education and create jobs while developed markets err on the side of caution with regard to trust in data use and belief in digital's positive impact on themselves and on society.
The complexity of the challenge requires brands, businesses and the government to take targeted and varied approaches to meet digital needs more effectively. This report includes a series of recommendations that could kick-start such practical actions:
Amid the negative sentiments towards technology's impact on health, brands need to help consumers put their needs first by supporting their healthy engagement with the digital world through a digital detox.
Make better use of digital skills through understanding the digital skills that employees currently have and constantly re-imagine work processes and organisation design around the full spectrum of their abilities.
With misuse of personal data being the largest driver of distrust, businesses that compete on openness and transparency around data usage can use it as a positive source of product differentiation.
- ENDS -
For further information contact:
Pei Xuan Lim
Regional Communications Associate Director, APAC
T: +65 6911 9321
E: PeiXuan.Lim@dentsuaegis.com
About Dentsu Aegis Network
Part of Dentsu Inc., Dentsu Aegis Network is made up of ten global network brands – Carat, Dentsu, dentsu X, iProspect, Isobar, mcgarrybowen, Merkle, MKTG, Posterscope and Vizeum and supported by its specialist/multi–market brands. Dentsu Aegis Network is Innovating the Way Brands Are Built for its clients through its best–in–class expertise and capabilities in media, digital and creative communications services. Offering a distinctive and innovative range of products and services, Dentsu Aegis Network is headquartered in London and operates in 145 countries worldwide with more than 47,000 dedicated specialists.
Notes to Editors:
Digital Society Index – country-by-country ranking
| | | | | |
| --- | --- | --- | --- | --- |
| Market | Overall ranking | Dynamism | Inclusion | Trust |
| Singapore | 1. | 2 | 7 | 1 |
| United States | 2. | 1 | 8 | 3 |
| China | 3. | 13 | 2 | 18 |
| Denmark | 4. | 7 | 1 | 8 |
| United Kingdom | 5. | 3 | 5 | 16 |
| Netherlands | 6. | 15 | 4 | 2 |
| Finland | 7. | 10 | 3 | 5 |
| Norway | 8. | 14 | 6 | 4 |
| Estonia | 9. | 5 | 12 | 9 |
| Germany | 10. | 4 | 15 | 15 |
| France | 11. | 8 | 11 | 19 |
| Canada | 12. | 11 | 9 | 11 |
| Ireland | 13. | 6 | 10 | 21 |
| Australia | 14. | 12 | 13 | 20 |
| India | 15. | 17 | 21 | 6 |
| Spain | 16. | 16 | 18 | 13 |
| Poland | 17. | 19 | 16 | 14 |
| Mexico | 18. | 18 | 19 | 10 |
| Hungary | 19. | 21 | 17 | 7 |
| Italy | 20. | 20 | 22 | 17 |
| Thailand | 21. | 24 | 20 | 12 |
| Japan | 22. | 9 | 24 | 24 |
| Russia | 23. | 22 | 14 | 23 |
| Brazil | 24. | 23 | 23 | 22 |
Digital Society Index – digital needs framework country-by-country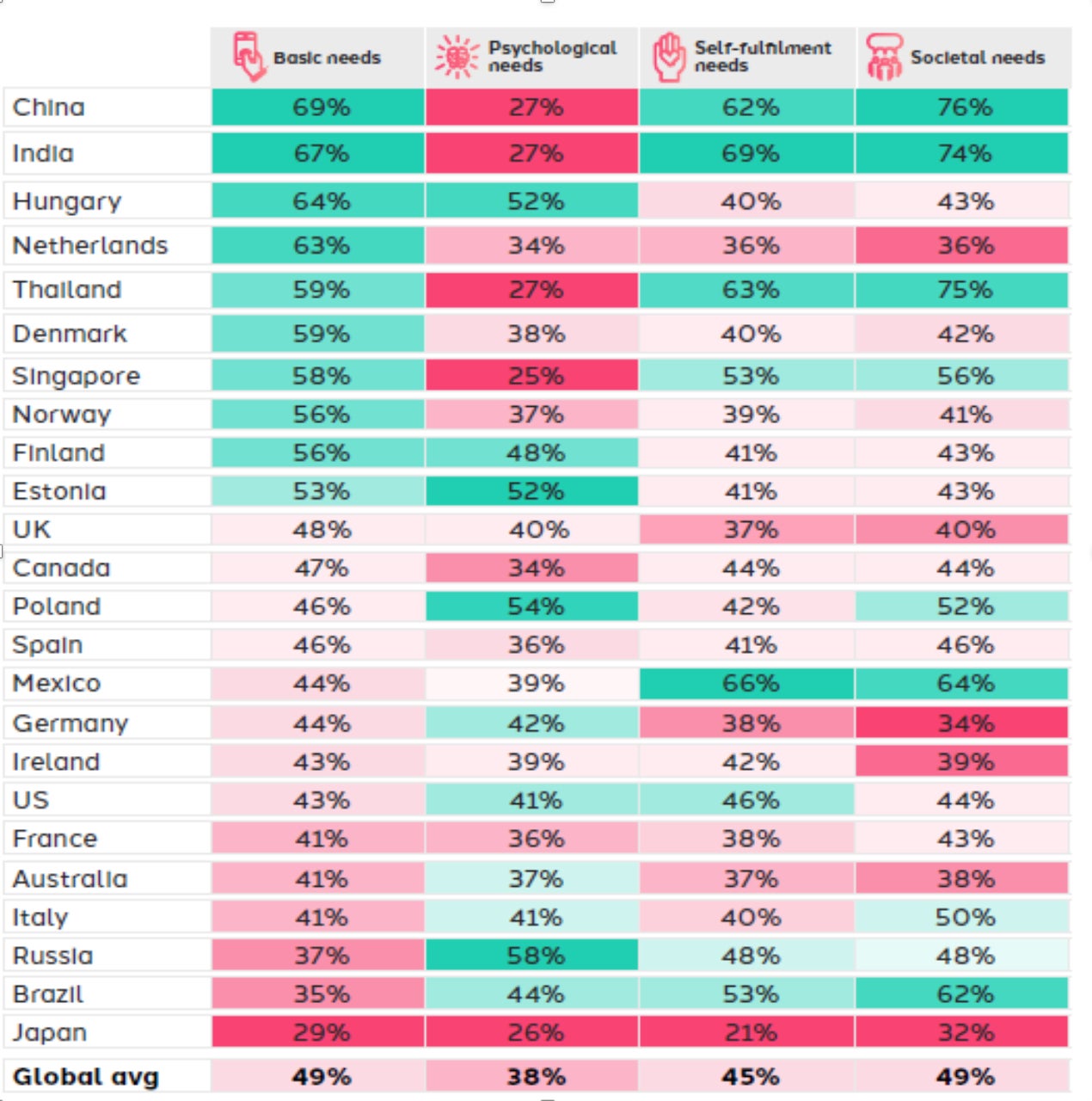 Basic needs refer to access to digital infrastructure (i.e. the internet, mobile networks) and trust in data use
Psychological needs refer to the impact that digital is having on personal well-being
Self-fulfilment needs refer to having the right skills, education and opportunities to find fulfilling work
Societal needs refer to the optimism that technology can solve the world's most pressing challenges and has an overall positive impact on society