Asahi Launches Attention Grabbing 3D Ad in Hong Kong, the First Alcohol Brand to Break into 3D Billboards in the City Led by dentsu International
Published on:
Asahi, Japan's No.1 beer brand has made its substantial mark in Hong Kong, the revived city right after its lockdown and ahead of the summer season to launch its first ever 3D billboard by dentsu International in the heart of Hong Kong's busiest district. The ad serves as an extension to Asahi's global brand campaign under the platform "Beyond Expected", a bold manifesto that leads its audiences to unveil unexpected experiences the modern Japan brings. Watch how the 3D billboard looks like!
Asahi's campaign is the first ever alcohol brand to create such an immersive and anamorphic OOH (out of home) in Hong Kong. The ad is also an uplift and local adaptation of Asahi's brand campaign currently touring around the world. The 3D ad starts with a 6-secs reveal of Asahi's iconic canned beer and finishes with a 15-secs brand reel. Surrounding the ad is a full 270-degree OOH domination right on top of Times Square, one of Hong Kong's most popular shopping malls. And complementing the OOHs is a streamlined O2O and integrated consumer journey that engages audiences through digital content on social media, website, banners, TVs, etc.
"This is extremely meaningful for us." said Donny Ho, Regional Sales Director Asia, Asahi Beer Asia. "One of our marks to be truly Beyond Expected through action, so consumers can see us with fresh eyes, and to take Asahi's modern Japan spirit with them when they explore the city."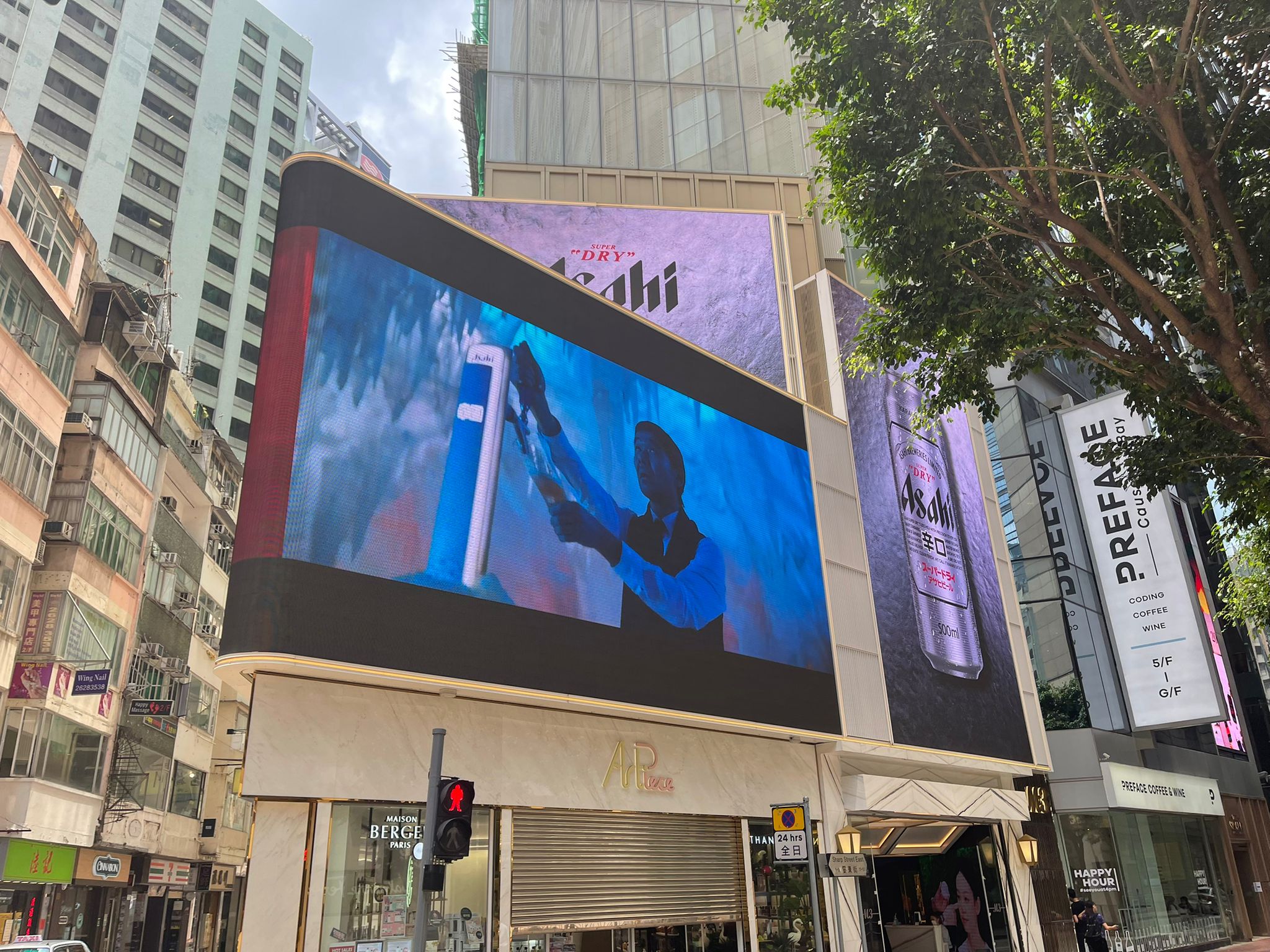 "We see 3D billboards as the next phase of advertising; in fact, it's already here." said Chester Tang, Creative Director, dentsu International Hong Kong. "We have a head start in Hong Kong and are now free to break the fourth wall, merge with our IRLs and blur the lines between content, experimental and OOH."
Credits:

Asahi Beer Asia
Cynthia Mak, Marketing Manager
dentsu International
Jacqueline Law, Business Director
Waichung Au, General Manager, Media LOB
Mandy Chan, Associate Account Director
Chester Tang, Creative Director
Yannes Yim, Senior Art Director
Dennis Tang, Senior Copywriter
Cheuk Lun Chan, Assistant Art Director
Kitty Kwan, Associate Planning Director
Travis Chan, Media Planner
Ling Hung, Buying Supervisor
- END -
For further information, contact: 
Michelle Chan | Marketing & Communications Manager, Dentsu Hong Kong