Dentsu Aegis expands E-commerce solutions in China with the acquisition of EBP
Published on:
Dentsu Aegis Network today announces the acquisition of Shanghai EBP Internet Technology Co. Ltd. ("EBP"), a rapidly growing marketplace e-commerce agency established in 2012, adding scale and capability to the network's e-commerce solutions offering in China.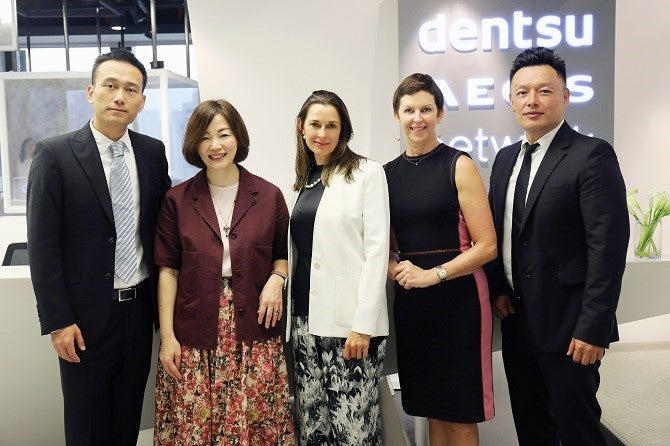 From left to right: Frank Xu, Founder & CEO EBP | Michelle Lau, CEO Dentsu Aegis Network China | Joanna Catalano, President, DAN Solutions | Ruth Stubbs, Global President, iProspect | Tony Chen, CEO iProspect China
EBP is a leading e-commerce solutions provider working with brands across the foremost Chinese e-commerce platforms to deliver integrated marketing services.
The business provides marketplace focused e-commerce consultancy, go-to-market strategy, integrated marketing campaigns, as well as online store operation, user experience optimization and brand data bank solutions.
EBP will join iProspect and become 'EBP an iProspect company'. iProspect is a global, award-winning agency – focused on converting consumer intent into action and driving business performance for the world's largest brands, including Burberry, Nike, and Microsoft. EBP's comprehensive set of e-commerce solutions are highly complementary to iProspect's existing capabilities.
"EBP will accelerate Dentsu Aegis China's strategy to develop capabilities in e-commerce and will enable iProspect China to deliver its marketplace optimization products by providing transact services on third party shopping sites in the world's largest e-commerce market" said Michelle Lau, CEO, Dentsu Aegis Network China. "With its experienced management team and market expertise, EBP will bring full marketplace e-commerce capabilities, along with a broad spectrum of e-commerce store operation support. This acquisition will create many synergies and strengthen our existing relationships, opening opportunities for each of our client portfolios."
Frank Xu, founder and chief executive officer, EBP said: "We have found the perfect partner in Dentsu Aegis and iProspect. We complement each other's strengths, with EBP bringing advanced e-commerce capabilities at scale, and iProspect bringing a diverse client base. We have been working closely with Dentsu Aegis Network China agencies for some time and have already seen early successes with this partnership. I look forward to more success as we start this new phase of growth together".
"E-commerce in China leverages the most innovative and entertaining activities in the world. Brands are embracing e-commerce not just as a sales channel but an integrated marketing channel, a product launch platform and a communication hub for fans." said Tony Chen, CEO iProspect China. "China's unique online environment offers both opportunities and challenges to brands as well as advertisers. iProspect China's current service offering focuses on marketplace optimization, together with EBP we're well positioned to add significant value for clients through fully integrated e-commerce solutions."