The Fusion of Art and Science: Dentsu Aegis Network Signs Global Strategic Partnership with Tencent
Published on:
CANNES, June 21, 2017 – Dentsu Aegis Network is pleased to announce that it has signed a Global Strategic Partnership (GSP) with Tencent Holdings Limited ("Tencent", SEHK: 00700) – China's leading internet company, at the Cannes Lions Festival, to create a new collaboration model and unveil a new era of marketing.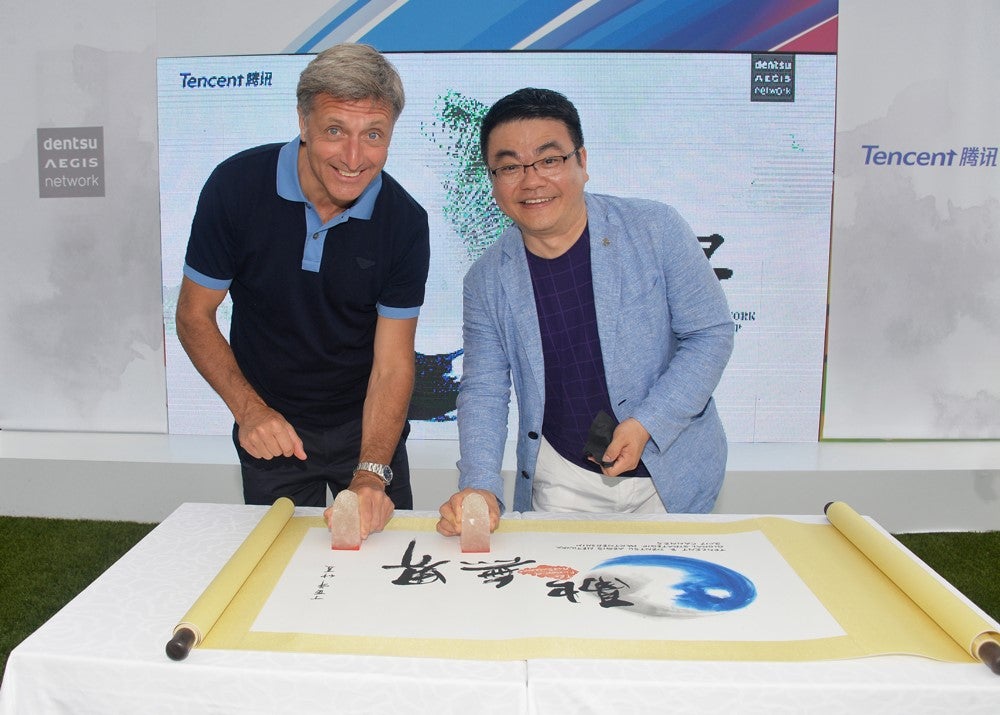 Agreement signed by Jerry Buhlmann, Global CEO of Dentsu Aegis Network and SY Lau, Tencent senior executive vice president, Tencent advertising chairman, and group marketing and global brand chairman
In signing this partnership, Tencent – along with a leading global social network – will join Dentsu Aegis Network's Mobile Stack which seeks to transform the future of mobile marketing. This collaboration will also allow brand owners to gain data-driven consumer insights to optimize content creation and distribution on a global scale. Additionally, the two parties are committed to cultivating digital marketing talent to enhance the capabilities and expertise required in this ever-changing digital era.

According to Mary Meeker's 2017 Internet Trends Report, there were 700 million mobile internet users in China in 2016, while mobile internet consumption surpassed that of television in China. Mobile users in China spend more than 55% of their time online on Tencent platforms, including QQ, Qzone, Weixin, Tencent Video and Tencent News. Tencent's abundant collection of smart data can empower Dentsu Aegis Network to deploy its capabilities in data analytics and brand marketing. These two parties will work together to help brand owners find the moment of intent as well as determine and activate engagement to optimize user experiences in a mobile world.

As marketing technologies, channels and platforms evolve, the skill sets of digital marketing professionals must also evolve. As part of the partnership, the Dentsu Aegis Network X Tencent University program is also created to develop digital marketing professionals for the future by facilitating the sharing of best practices in addition to promoting digital education and adoption. The two groups will join forces to offer lectures on new business models, market trends and insights, and tech innovation.

In China's constantly evolving digital marketing landscape, Dentsu Aegis Network and Tencent have remained ahead of the race in spotting new opportunities. Since the first collaboration in 2015, the two partners have built a comprehensive framework for synergy and collaboration on data solutions. The new cooperation arrangement announced today will further the cross-fertilization of competencies and form a united front within the marketing ecosystem.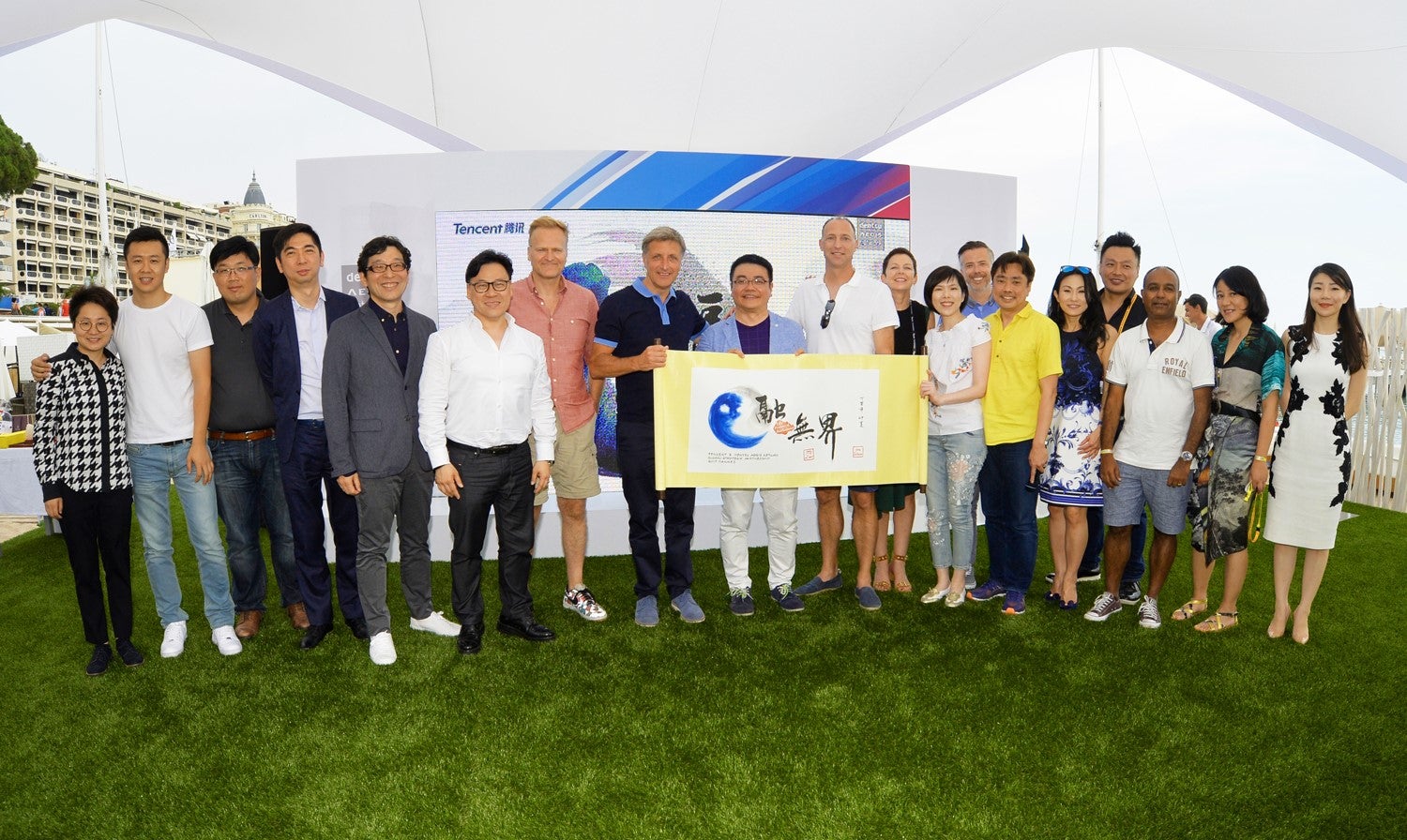 Global Strategic Partnership established
"I am confident that a closer relationship with Tencent in China as our strategic partner will drive innovative and market-leading solutions to better serve client needs," said Jerry Buhlmann, Global CEO of Dentsu Aegis Network.

SY Lau, Senior Executive Vice President, Chairman of Tencent Advertising, Chairman of Group Marketing and Global Branding, said, "Through this partnership, we hope to do more for the industry. The media and marketing industry needs a constant infusion of new talent with new mindsets. Together, we will merge marketing technology with the art of creativity to impact business goals."

Motohiro Yamagishi, CEO of Dentsu Aegis Network China, added, "China, with 731 million internet users, and 53.1% of the population online, is at the forefront of the digital disruption. The ubiquity and abundance of data test our capabilities in envisioning and developing the most compelling customer journey for client brands. The cooperation with Tencent gives us the opportunity to become the best partner for transformation by helping our clients navigate this complex market."
Jeff Kwek, General Manager, Key Accounts & Channel Business, Tencent Online Media Group, remarked, "This partnership will involve much science, data and technology, but its continued success is also attributable to the art of communication and the art of working together. We are confident that by coming together, we are trail blazing a comprehensive data-driven marketing journey."
‑ ENDS ‑
For further information contact:
Crystal Zhang
Corporate Communications Manager
T: +86 21 33350888 ext.6873
Julia Huang
Corporate Communications
Assistant Manager
T: +86 21 33350888 ext.6933
E: julia.huang@dentsuaegis.com
Notes to Editors:
About Dentsu Aegis Network
Part of Dentsu Inc., Dentsu Aegis Network is made up of ten global network brands - Carat, Dentsu, Dentsu media, iProspect, Isobar, mcgarrybowen, Merkle, MKTG, Posterscope and Vizeum and supported by its specialist/multi-market brands. Dentsu Aegis Network is Innovating the Way Brands Are Built for its clients through its best-in-class expertise and capabilities in media, digital and creative communications services. Offering a distinctive and innovative range of products and services, Dentsu Aegis Network is headquartered in London and operates in 145 countries worldwide with around 35,000 dedicated specialists. www.dentsuaegisnetwork.com