Global Advertising Giant Dentsu Unveils Group-Wide Strategic Partnership with USHOPAL
Published on:
May 31st, 2019 | Shanghai – Dentsu, a leading global marketing communications company, is aiming to develop a one-stop solution for brands looking for rapid and healthy growth across all retail channels. Equipped with world-class creative campaigns, as well as rapid content-driven and community management capabilities, the one-stop solution effectively serves as an agile bridge between brands, millennial consumers, and ever-changing online and offline channels. This new solution arm will also provide all channels with supply chain distribution and management services, coupled with world-class strategic advisory on a regular basis.
As the first step toward developing this initiative, on May 29th, 2019, Dentsu Group, a pioneering digital marketing agency in Japan, formed a strategic alliance with USHOPAL (Head Office: Shanghai, China; Founder & CEO: Lu Guo), China's groundbreaking new luxury, new branding, omni-channel sales distribution and brand management group. This partnership ensures Dentsu Group can continue to offer all-encompassing solutions to its clients, including awareness and brand building, as well as full-channel sales growth solutions across both the Chinese and Japanese markets.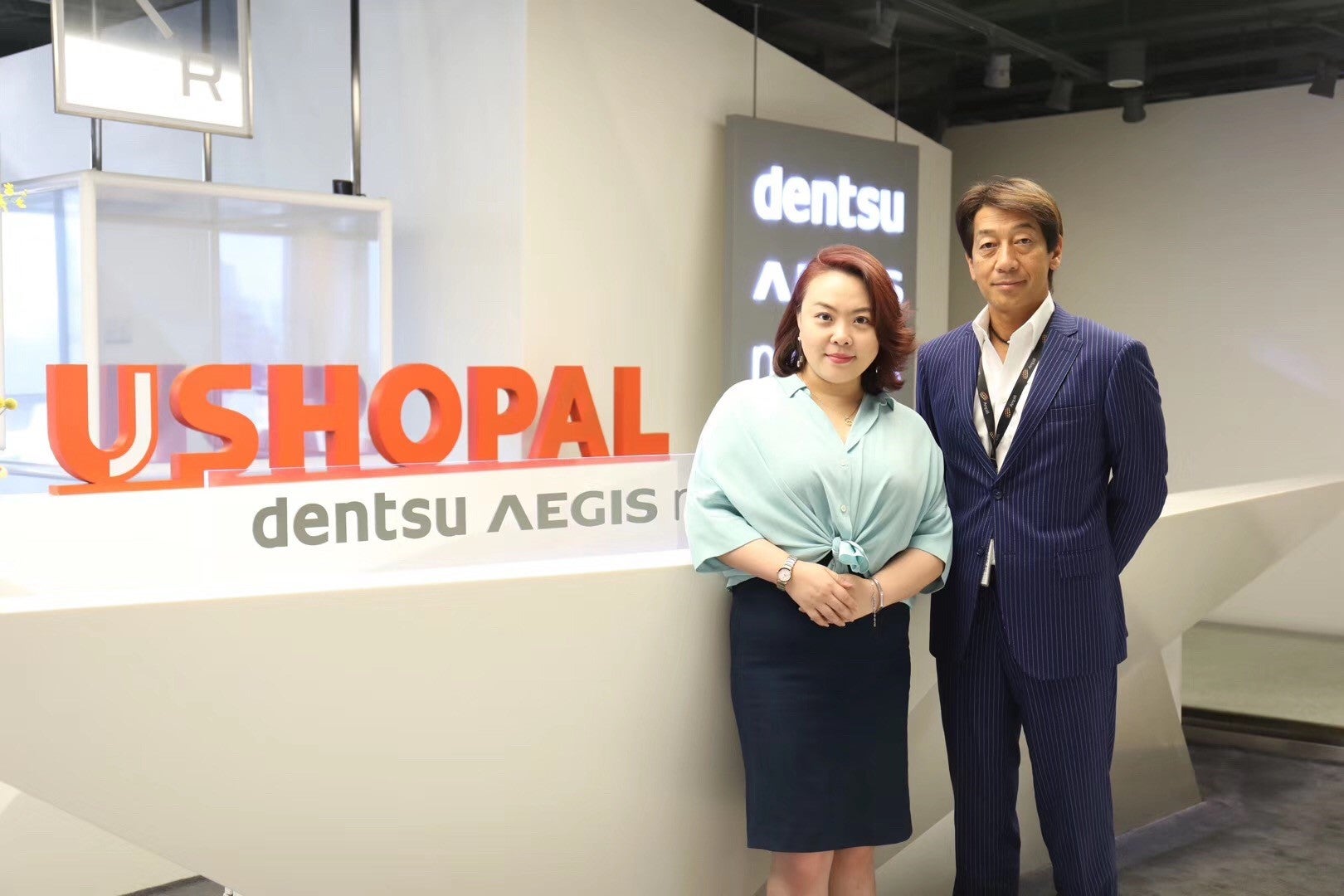 USHOPAL Founder and CEO, Lu Guo (L) & CEO Dentsu Media Group and President of Amplifi China, Tsuyoshi Suganami (R)
Beyond sharing a firm belief in a professional and results-driven approach, the two companies have already joined forces to create innovative solutions that help high quality brands in China and Japan thrive. From cross-border and domestic market building, as well as scaling online and offline brand presence, to KOL awareness MCN marketing and full-chain supply distribution, the partnership continues to drive success across the world's second and third largest economies.
Commenting on the new partnership, Tsuyoshi Suganami – CEO, Dentsu Media Greater China and President, Amplifi China, said: "In an ever-increasingly interconnected and fast-paced world, we are seeing the need to deliver hybrid cross-border marketing solutions to our clients. By partnering with USHOPAL, Dentsu is able to provide quality brands with an efficient and robust cross-border e-commerce sales channel, in addition to industry-leading brand marketing and strategic solutions, ensuring their ability to thrive in the modern world. Dentsu welcomes this partnership, and looks forward to working alongside USHOPAL to deliver innovate, all-encompassing solutions."
Lu Guo – Founder and CEO, USHOPAL, said:" Today, Chinese consumers are looking for trusted brands that offer the highest quality and have a history of innovation. Globally, both Japanese brands and the Japanese market pride themselves in delivering the upmost in quality.
Simultaneously, global brands are increasingly requiring an Asian holistic branding and operations approach, for which the Dentsu Group could not be better placed to act as brand representatives, delivering professionalism, trust, and long-term strategic leadership.
USHOPAL is very honoured to be their chosen partner. Our capabilities to not only grow brands, but to achieve growth with a focus on sustainability for long-term success, makes this partnership a perfect match."