The Big Now/mcgarrybowen firma la domination multisensoriale di DAZN nella 'Metro dello Sport' San Siro Stadio DAZN
Published on:
Quante volte in metro abbiamo sentito "non superare la linea di sicurezza" dalla solita voce registrata o qualcuno dire: "Si lascia scendere prima di salire"? Infinite. Ma quante volte, a dircelo, sono stati un arbitro di Serie A, un fighter della UFC o una stella della Women's Champions League?
Questo è quello che è successo nella fermata San Siro Stadio DAZN della M5 milanese, che The Big Now/mcgarrybowen e DAZN hanno trasformato nella 'Metro dello Sport', grazie alla full-domination multisensoriale "Sport Rules": da un audio immersivo che accoglie i passeggeri all'ingresso, passando da un video che trasporta nell'universo di multisport offerto da DAZN, fino all'allestimento treno, interamente ridisegnato. Perché una vera domination non si può fermare mai.
Così da gennaio, a San Siro, le regole della metropolitana che tutti conosciamo hanno assunto un nuovo significato, accompagnando i viaggiatori alla scoperta di tutta l'offerta DAZN, dalla Serie A, al calcio internazionale, passando per UFC, boxe, ed NFL.
Un twist creativo in perfetta linea con il posizionamento di DAZN: "Il tuo sport. Insieme a te." Ora, anche in metro.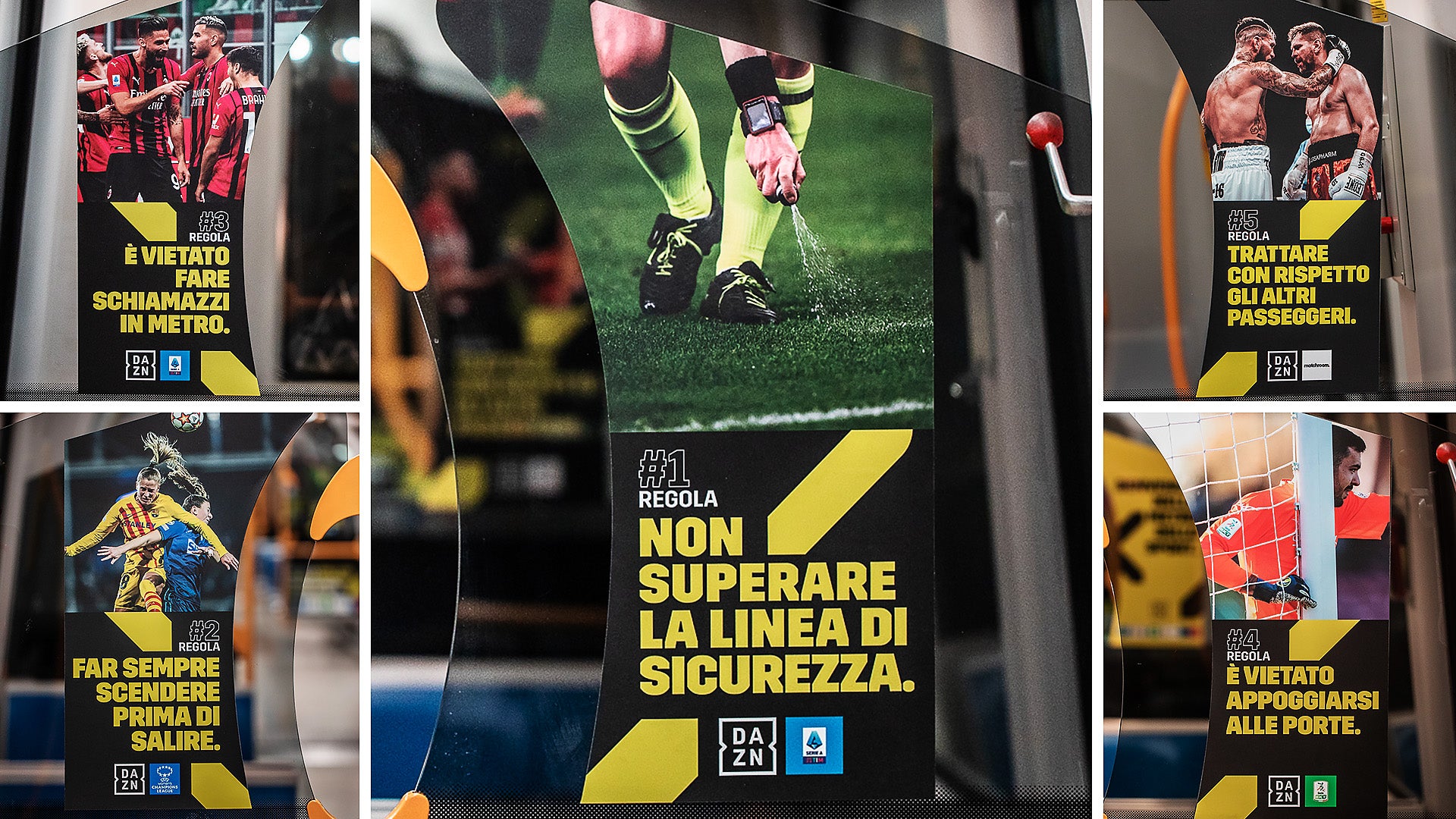 Credits:
Agenzia creativa: The Big Now/mcgarrybowen (dentsu italia)
Executive Creative Directors: Stefano Battistelli, Francesco Epifani
Strategy Director: Silvia Cannata
Creative Director Art: Roberto Giardinelli
Creative Director Copy: Domenico De Musso
Art Director: Mattia Bogani
Copywriter: Pietro Veneroni
Design Director: Laura Liguori
Designer: Daniele De Pompeis
Video editor: Francesco Fontanive
Account Director: Anna Chiara Pelletti
Account Manager: Federica Sacco
Operations Manager: Matteo Stella (MKTG, dentsu italia)