Movember's Moment Against Silence Goes Global
Published on:
Auckland: November 22nd, 2022 — Movember has introduced the award-winning Dentsu Creative campaign, 'Moment Against Silence', to the world at the Rugby League World Cup in England.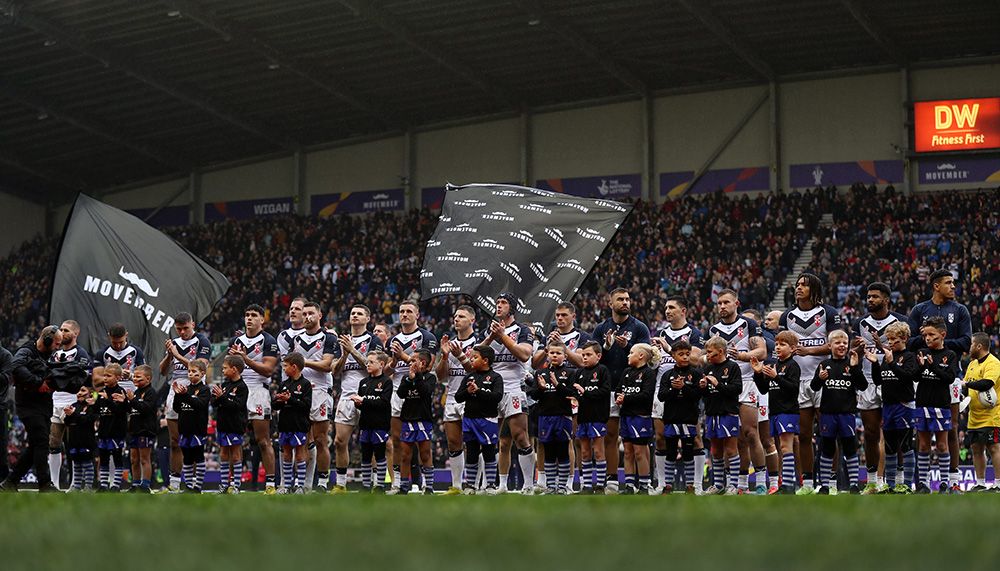 On Saturday, 5th November 2022, The Rugby League World Cup encouraged fans to take a stand against silence as a part of their campaign to support conversations around mental health. Following the idea's success in New Zealand, Movember decided to go global with the campaign, aiming to normalise reaching out to others who may be going through tough times.
The Moment Against Silence campaign takes the commonplace tradition used to recognise tragedy at sporting events – the moment of silence – and subverts it to get people talking about mental health.
"A minute's silence is commonly used to show our respect and observe a loss or tragedy; however, when it comes to mental well-being, silence is the last thing we need. A Moment Against Silence aims to encourage people to reach out, speak up and make some noise." Says Movember CEO, Michelle Terry.
"In England, one in four people will experience a mental health problem of some kind each year. Talking about how you're feeling is often seen as too hard to do – and at first, it may not be easy. We need to remind everyone that staying silent isn't the answer."
"It's fantastic to see 'Moment Against Silence' grow in other Movember countries and positively impact more people worldwide. One of the critical aspects of Movember is collaboration, so I'm proud that the UK could take this concept and use it to maximise the partnership with the Rugby League World Cup. Hopefully, this is the second of many significant sporting events that seize the opportunity to use the idea to spread this critical message", says Movember Country Manager NZ, Robert Dunne.
In New Zealand, where the idea originated, 28% of the population was reported to have poor mental health in 2021, a number that has increased across all age groups since 2018, according to Stats NZ.
"We could not be more thrilled that the idea is getting picked up globally", says Anne Boothroyd, Executive Creative Director, Dentsu Creative. "The fact that our local teams' work has had a global impact is a proud moment for us, and we would encourage other sporting codes worldwide to get on board to spark this lifesaving conversation."
"We have partnered with Movember for several years now, and they are a cause we truly believe in," says Murray Streets, Managing Director, Dentsu Creative. "We're incredibly honoured to see the idea take off and hope it creates greater awareness and drives more' Moments Against Silence' not only at sporting events but in pubs, sports clubs and households around the world. Because speaking up is essential to creating real change that can help our men stop dying too young."
Visit www.nz.movember.com to read more about the cause and donate to a Movember team.