Dentsu Aegis CMO Survey 2019
Published on:
DIGITAL TRANSFORMATION, NOT HITTING SHORT-TERM METRICS MUST BE THE PRIMARY ROLE OF MARKETERS, SAY CHINA CMOS
Marketing functions risk lagging the digital race as 'transformation and innovation' continue to be ranked among the least important roles for today's marketing function as CMOs globally are stretched to deliver short-term results

Significant gaps are emerging between existing capabilities and what is needed to drive business results – with the gaps being most acute in data collection, management and analytics

Yet, CMOs in China are well-ahead of the curve with 98% identifying that driving the digital transformation agenda must be the top primary role of the marketing function
25 July 2019. Dentsu Aegis Network's 2019 global survey of 1,000 CMOs and senior-level marketers in 10 markets – including China, Australia and Japan in Asia Pacific - highlights a growing challenge for marketing leaders, as they seek to move beyond optimisation and drive business transformation through digital.
Globally, 8 out of 10 surveyed recognise the imperative to transform the business in the face of digital disruption, as well as taking more responsibility for product and service innovation over the next 2-3 years. China, in particular, comes out leading this trend with 98% and 96% of respondents respectively prioritising these areas as key elements of the marketing function.
However, global CMOs are finding it difficult to achieve this vision with 'Business Transformation' and 'Disruptive Innovation' at the bottom of the list for the second year running in terms of functional priorities, and current capabilities beginning to lag behind future needs as short-term metrics dominate their focus.
Within APAC, CMOs are beginning to lead a shift away from this trend, with China, Japan and Australia ranking Business Transformation within the top 3 priorities for the marketing function today, as well as over the next 3 years. CMOs in China and Japan also notably outperform global counterparts in their expectations for Disruptive Innovation to rise among marketers' top 3 priorities in the next 3 years, at 61% and 47% respectively, well above the global average of 36%.
Marketing functions risk lagging the digital race as performance gaps emerge
Across a spectrum of marketing capabilities, CMOs were asked what they believe to be important to future success, versus their current ability to execute. The data shows a significant gap emerging between the two:
85% believe creativity is critical to future business success, 54% believe they are delivering well today
83% identify the importance of seamless customer experience and commerce across channels, yet only 60% believe they are developing this capability well
But the divide is most stark in data management and analytics, where 84% identify these capabilities as important to future success, yet only 49% are confident in these capabilities today
The divide between existing capabilities in data skills and the importance these skills will have on future business performance is perhaps the greatest risk CMOs must address as the growth of the global digital economy shows no signs of slowing down.
Figure 1: Performance gap emerges across marketing capabilities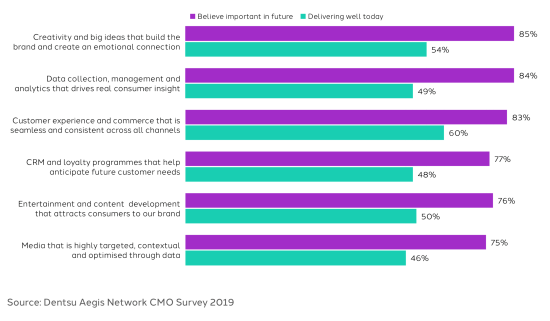 Digital transformation challenges emerge as key barriers in APAC rather than access to long-term investment
Globally, an inability to secure long-term investment is cited as the most significant barrier to delivering on marketing strategy (rated as a top three concern by 50% of all CMOs).
At the global level, the outlook for the next 12 months is mixed with 41% of CMOs reporting budgets as flat or declining, despite growing revenues (64% of respondents reported revenue growth over the same period). China stands out as a rare exception here, with only 17% of CMOs reporting budget as flat or declining (against 87% of same respondents reporting revenue growth for their businesses).
In contrast with their global counterparts, top barriers faced by CMOs in APAC are linked to the challenges associated with digital transformation as opposed to securing long-term investment.
For China the inability to transform the business quickly enough is the number one barrier to delivering on marketing strategy. Also cited among their top 3 challenges is insufficient control over digital investments or programmes across the company.
While globally, two-thirds (64%) say they expect to come under further pressure to demonstrate tangible short-term results, marketers in China (84%), Japan (71%), and Australia (49%) are more likely to plan their marketing strategy over the longer term, at least 2 years in advance.
Figure 2: Forecast changes to marketing budgets over the next 12 months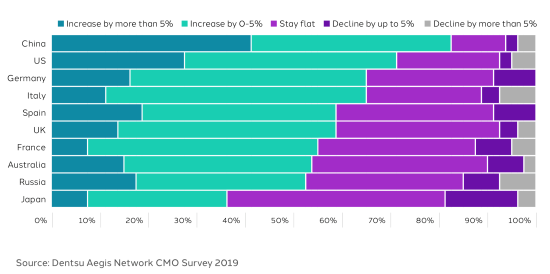 Michelle Lau, CEO at Dentsu Aegis Network said:
'Brands globally have invested heavily in digital but have yet to reap the rewards as short-term metrics rather than driving digital transformation continues to dominate the marketing function's focus and priorities, amidst internal budgeting pressures.'
'In China however, CMOs are leading the curve with business transformation now firmly among the function's top 3 priorities, and CMOs here being more likely to plan their marketing strategies over the long term. This creates a real opportunity for CMOs in China to play the role of the 'Fusion CMO', integrating all the different aspects of the C-suite to truly embed the digital transformation agenda and drive the future capabilities our market depends on for growth.'

‑ ENDS ‑