Dentsu reveals third phase of its media decarbonisation strategy
Published on:
London (UK), 3 November 2022: Today, dentsu international announces the next evolution of media carbon transparency for brands with its brand-new carbon optimisation and planning functionality. From early 2023, dentsu will take its media decarbonisation initiatives to the next level, when it will integrate carbon emissions data directly into its proprietary CCS Planner* system, the planning system used by all dentsu teams around the world.
This will ensure, for the first time ever, brands can set clear carbon targets for campaigns and model alternative scenarios for optimal impact, reach and carbon levels, long before any third-party investment is made, or resources committed.
Thanks to its early investment in media decarbonisation and calculating carbon emissions at channel and format levels for clients, dentsu has been able to add media carbon data as an additional variable into its CCS suite of tools at an impression level. This allows dentsu teams across the globe to model the carbon impact of media campaign scenarios alongside typical measures such as reach, consideration and purchase intent for a full channel mix.
Peter Huijboom, Global CEO, Media and Global Clients, dentsu international, comments: "We've been on this media decarbonisation journey for a few years now, and it's absolutely critical we keep the momentum and innovation flowing, as we can't be bystanders to the climate crisis, and we all have to help make positive change happen fast.
"With around $740 billion being spent on advertising per annum, media can be a material and significant emission source for brands, so we have the responsibility to be the major catalyst needed for reducing carbon across the media supply chain. Measurement is a good and necessary first step, and we've already seen the value this brings to our clients; however, our new carbon planning capabilities will totally transform how dentsu teams work with brands to meet their sustainability, carbon and Scope 3 targets."
The dentsu decarbonisation journey in media so far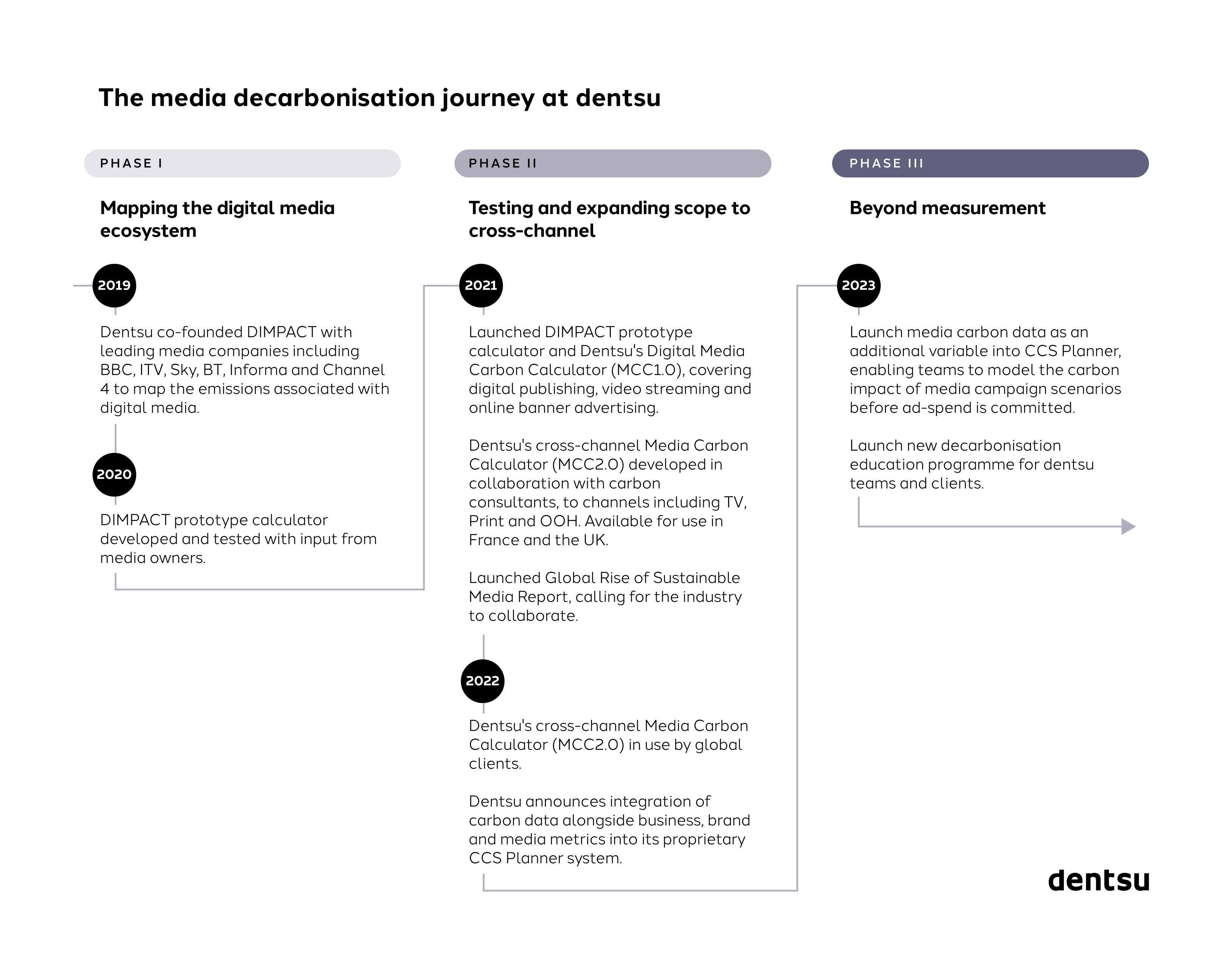 Since 2019, dentsu has been working with the University of Bristol and some of the world's most innovative media companies, including BBC, Sky, Netflix and ITV, to map the digital media ecosystem and create a web-based tool to calculate the Greenhouse Gas (GHG) emissions associated with digital media content – from post-production to delivery, and on to the end user.
After publishing the first DIMPACT prototype calculator in 2021, dentsu created its own digital media carbon calculator (MCC1.0) for clients and expanded this into cross channel media carbon calculation (MCC2.0). Already in use by clients in UK and France, the dentsu MCC2.0 media carbon calculator, which analyses the impact of digital, print, TV, radio and OOH channels, was created in 2021 during the second phase of dentsu's media decarbonisation plans. Today, dentsu media carbon calculators are in use by Carat, iProspect and dentsu X agency teams with both local and global brands and generating the insights needed to accelerate media decarbonisation.
Anna Lungley, Global Chief Sustainability Officer, dentsu international, adds: "Our goal is to reduce the emissions associated with our media supply chain by 46% by 2030. To do this, we need to go beyond simple spend based calculation to process based methods which highlight emissions hotspots. For the last two years we have been collaborating with some of the world's largest media companies and platforms to get to the data we need. The integration into our planning systems means we can now actively decarbonise media planning, helping both dentsu and our clients achieve ambitious Net Zero targets".
The new media carbon projections, available through the integration of carbon values into CCS Planner is just one part of Phase III of dentsu's decarbonisation strategy – as it will be launched alongside a new decarbonisation education programme for its teams and clients. These new workshops will be aimed at discussing and exploring the optimal methods for emphasising climate positive choices within the advertising ecosystem, whilst also prioritising decarbonisation efforts within the supply chain. All aspects of Phase III will be available for both clients and dentsu teams in early 2023.
To find out more about the journey dentsu has taken to accelerate media decarbonisation for the industry and for brands, please visit: dentsu.com/decarbonising-media.
ENDS
PRESS CONTACTS
John Mayne / +44 (0)7929 856 435
john.mayne@dentsu.com / media.pressoffice@dentsu.com
NOTES TO EDITORS
Total 2022 ad spend expected to reach US$738.5 billion by end of the year, according to dentsu Ad Spend Report 2022 (July).
*CCS Planner
CCS Planner is a media planning tool, fundamental to the designing and delivering of effective integrated media campaigns. It evaluates the optimal mix of channels, phasing and budget to best deliver a brand's communication objectives. CCS Planner will aid in scenario planning, supporting investment optimisation against specific objectives, KPI's, target audience and categories.
Consumer Connection System (CCS)
CCS is proprietary worldwide survey exclusive to dentsu and its clients, composed of more than 400,000 respondents, with over 100,000 being the very sort after Gen Z audience. Currently live in 70 markets, it is comprised of 10,500 attributes giving dentsu insight into areas such as consumer interests, passions, values, trust drivers, motivations, and needs.
About dentsu international
Part of Dentsu Group, Dentsu International is a network designed for what's next, helping clients predict and plan for disruptive future opportunities and create new paths to growth in the sustainable economy. Dentsu delivers people-focused solutions and services to drive better business and societal outcomes. This is delivered through five global leadership brands - Carat, Dentsu Creative, dentsu X, iProspect and Merkle, each with deep specialisms. Dentsu International's radically collaborative team of diverse creators unifies people, clients and capabilities through horizontal creativity to help clients create culture, change society, and invent the future. Powered by 100% renewable energy, Dentsu International operates in over 145 markets worldwide with more than 46,000 dedicated specialists, and partners with 91 of the top 100 global advertisers.