Mutinex launches new Platinum Partnership program with dentsu as exclusive agency launch partner
Published on: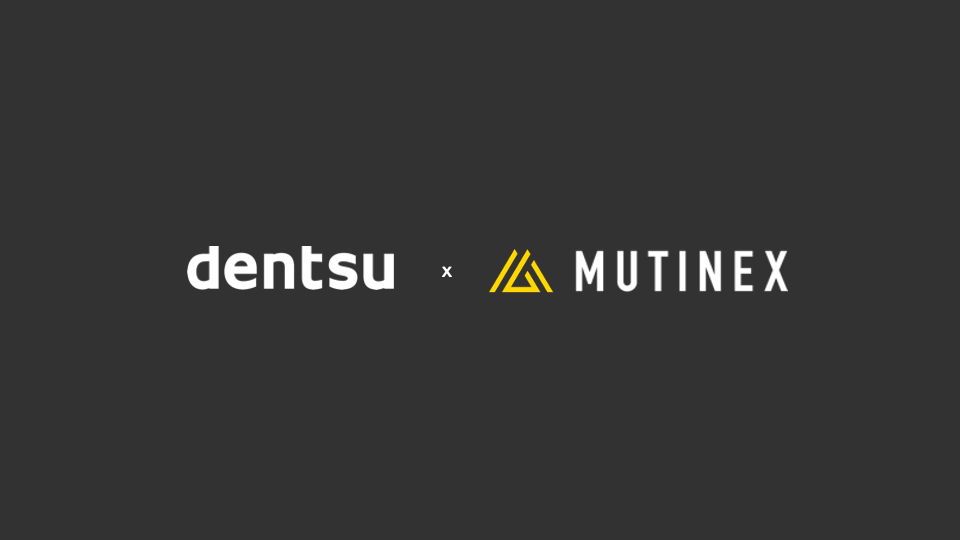 Mutinex, the market mix modelling (MMM) AI startup and market leader, has today announced its Platinum Partnership, a first of its kind program providing their market mix modelling platform to agency groups and their clients, with dentsu signing on as their exclusive agency launch partner.
Mutinex is a market leader in market mix modelling, which uses media and external data from interest rate rises to weather, to assess return on investment from marketing activity and help clients make better decisions around marketing investment. Mutinex has recently closed a $5million seed extension funding round at a valuation of $37million and has over $1billion media spend under analysis annually.
The Mutinex GrowthOS platform has been built to offer agencies and clients access to a platform that guides marketing decisions and ensures that channel mix is working as hard as it can for clients' media budget, delivering superior return on investment. Unlike traditional econometrics models that are expensive to produce and difficult to maintain, the GrowthOS platform can quickly analyse consumer behaviours and respond to how clients perform best in today's market.
Dentsu ANZ's media portfolio, which transacts over $1 billion in media on behalf of clients, is the first Australian and New Zealand media business to sign up to the program, exclusively partnering with Mutinex to secure access to market-wide insight and data that can be used to help clients understand and respond quickly and effectively to market and category trends.
The deal will give dentsu and eligible customers access to Mutinex GrowthOS, with dentsu's media business also able to review market-wide insight and data immediately across their client base. Dentsu will receive training and accreditation in how to apply growth modelling outputs to media plans as well as access to scaled data integrations for eligible customers. Mutinex wanted to partner with an NZ agency that has the client base and technical knowhow to maximise the potential of its products and services, enabling a new set of customers to benefit from its innovative approach to market mix modelling.
Richard Pook, Chief Product Officer Media, dentsu ANZ says:" Never before has an ANZ holding group commissioned independent and external analysis at scale like this. Combining our local data & analytics team with Mutinex and their sophisticated modelling products is a game changer for dentsu Aotearoa"
Richard Hale, Managing Director – Media, dentsu Aotearoa says "Our platinum partnership with Mutinex gives us unique access to an incredibly rich pool of data, ensuring that our clients are armed with the information they need to optimise their marketing activity, and ultimately grow, in a complicated and ever-changing marketing landscape."
Both Mutinex and dentsu fundamentally believe that the future of market mix modelling delivery for agencies lies in the type of platform solution offered by Mutinex alongside the expertise of media strategists and buyers. Mutinex is differentiated by its foundation model offering, which ingests vast amounts of general data which can then be trained for specific tasks. For dentsu customers coming onboard, that means no time is wasted in building and updating complicated, bespoke models.
Henry Innis, Co-Founder and CEO of Mutinex says "This first platinum partnership deal solidifies the powerful potential to change the way scaled services businesses leverage AI powered foundation models to deliver better outcomes. AI models overlaid with human ingenuity is the future of great decision making for customers.
We're looking forward to working with Richard Pook, James Morgan and the wider dentsu Aotearoa team, leveraging our technology and decision data to drive constantly improving media investment returns across the NZ market."
For their part, Mutinex expects to see incremental growth in their customer base via dentsu. "When we looked to do this deal, we looked to understand how MROI was considered within the context of a media agency. Dentsu showed a deep understanding of how to apply MROI data to media planning principles and translate it into great outcomes for their clients." says Innis.
Background
Media agencies have traditionally delivered media mix modelling and market mix modelling via a "services" model which involved building bespoke models for each customer and providing reporting on the outputs with consultancy hours.
A foundation model is a type of AI driven model that is trained on vast quantities of general data that can then be adapted to a wide range of tasks further downstream.
So where marketing mix modelling has traditionally been a bespoke exercise for each brand, Mutinex provides a foundation model via their GrowthOS platform, which can be leveraged by any enterprise.
The application of foundation models across marketing and advertising is set to disrupt the marketplace of service providers that have grown up around data management, analysis and reporting and change the relationship between agencies, consultancies and tech providers.

For More information please contact:
Marketing Manager, dentsu Aotearoa
James Bridgman