About the campaign
Engen & Carat transform Spaza shops into OOH media sites for the brand, articulating the brands DNA through artistic visual representations, giving exposure to talented artists from the communities and making the Spaza owners Engen ambassadors.
Other agencies involved: Owakhe Media, Regency Global, Saatchi & Saatchi
Challenge
Engen has been around for 25 years in South Africa and wanted to reinforce the message that the business cares and invests in the people of South Africa. The team started by profiling the positive work that they did through the 'Engen Cares' initiatives while creating an awareness around a community design challenge that involved showcasing local artistic talent in underprivileged communities, which is often not regarded as a sustainable occupation. There is significant unrecognised talent in the communities, this talent just does not get access to platforms and opportunities to showcase themselves.
Solution
Spaza shops became a perfect platform as they are an integral part of South African communities where everybody knows everyone. The strategy was simple - get talented people in these communities around South Africa to articulate what Engen means to them in an artistic way.
The finalists were mentored by well-known artists during the design and painting of the 35 Spazas. The artists received exposure, with their work being displayed to a larger audience, as well as being recognised in their communities through their biographies displayed along with their designs on the exterior walls of the Spazas. Further to this, spaza shop owners became brand ambassadors for Engen, telling customers about the competition and earning an additional income, by utilising their stores as OOH media spaces.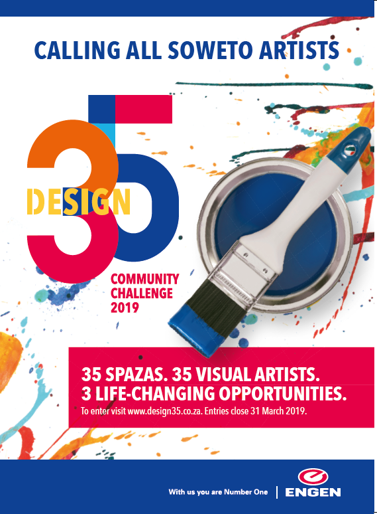 Results
The Design35 Campaign created massive awareness for the Engen Corporate brand as well as solidified the business as a brand that cares and invests in the people of South Africa.The life changing prizes awarded by Engen to the winners confirmed Engen's commitment to advancing individuals in underprivileged communities through education and re-enforced the message that Engen cares.
The goal was to drive reach amongst the target audience within the desired location around the 35 spazas.
"At Engen we are mindful that we need to make a meaningful contribution to the societies of which we are part of. Along with our extensive investment in education, health &safety, environment and people with disabilities, as well as sports development sponsorship, Engen's Design35 campaign was another demonstration of our care for those less fortunate. Engen Design35 has been extremely rewarding in that it has really touched people's lives and provided a stage for the creative talent of 35 artists, who otherwise may not have had the opportunity, to exhibit their work to a wide audience."
Bulela Mkandawire