0
CTC benchmark outperformed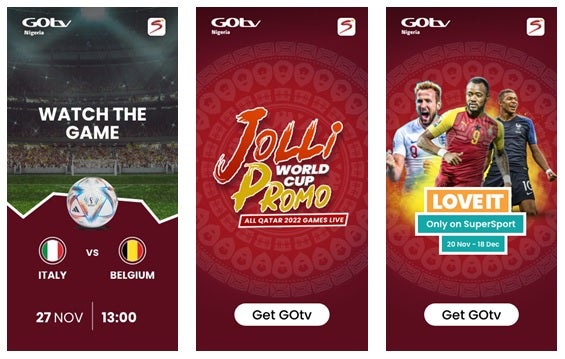 Challenge
How do we utilize the full integrated Google Marketing Platform (GMP) stack to execute Data Driven Creatives that will deliver personalised communication messaging while driving better user engagement at competitive CPC and CPA rates?
Solution
We set out to create a marketing solution that would enable Multichoice to capitalize on the hype that comes around every four years with the FIFA World Cup.
The project required the programmatic display media buying execution to have a personalized message.
Our agency partners developed Data Driven Creatives to dynamically populate the HTML5 Rich Media Banners. The mechanism allowed message elements such as imagery and copy to adjust.
We applied this set up across our 9 different focus regions as 9 separate ad groups, with audience segments split into two data segments; Current or Returning Customers and Prospecting or New Customers.
Communication conveying information about the upcoming match, in the local language and time-zone was served to the target audience through the integrations of the GMP stack, specifically Ads Studio, Campaign Manager 360 and Display & Video 360.
Our Audience Framework was split into two data segments, leveraging Multichoice's 1st party data to re-engage returning users and develop lookalike audience, which were was used alongside 3rd party data segments to prospect for new users.
Results
We set out to outperform non dynamic display creatives benchmark – and we delivered!
Achieved a stellar CPA of R4.15 (benchmark was R150)
Generated 2,652,919 Clicks at a CTR of 1.01%, outperforming our benchmark of 1%.
Outperformed our CTC Benchmark of R1.50 – achieving R1.06.
Delivered 263,776,702 Impressions
Achieved 679,459 Conversions (94% post click, 6% post view)