0
increase in platform visits
0
increase in pledges of help
About the campaign
In South Africa, a woman's murdered every 3 hours. Every day, we're bombarded with headlines and statistics, hashtags and marches. Gender-based Violence has become so pervasive, the numbers so numbing, we turn a blind eye, leaving what happens in the dark... in the dark.
First For Women, SA's only women-focused insurer and a leader in the fight against GBV, asked us to help them use the annual 16 Days of Activism Against Gender-based Violence to bring it into the light.
Other agencies involved: Darling Films, Left Post Productions, Armstrong PR, One Over One Digital Agency, Khujo Green
Challenge
The SA insurance category is cluttered. Big brands dominate as their messages permeate every market, moment, and channel. First for Women (FFW), a challenger insurance brand that is specifically designed for women, has to cut through in clever ways to remain top of mind.
To this end, FFW builds campaigns around calendar periods that solely focus on women. Our brief was to position FFW as a leader in the fight against women abuse during 16 Days of Activism against Gender Based Violence (GBV) – a global campaign that aims to challenge violence against women.
Our challenge lay in ensuring our voice rose above the typical clutter that doesn't just surround 16 Days of Activism, but the noise that gets generated just about daily from the outrage against the abuse that women face in SA. Every day there is a new headline, new shocking statistics, new hashtags, and new marches.
Despite this ongoing outrage, GBV in SA continues unabated. Our challenge thus deepened: we needed to mobilise a nation - where GBV is widespread, desensitized, and almost normalized - to notice, rethink, and actively choose to fight against it by connecting women who needed help with those who were offering to help.
Solution
We turned #16DaysOfActivism into #16DaysOfLight by shining a light on some of the darkest places in our country – the actual locations of femicides – and honouring the stories that had been left behind. For 16 nights, we projected tributes – written in light – to the women who died there. Each day, we released a new film that gave numbing numbers a face, a place, a real human story - brought to life, one by one, in a harrowingly poetic way that was impossible to ignore – and impossible to skip.
But we didn't just want to raise awareness. We wanted to make a tangible difference, turn outrage into action and have real help, real safe houses, and real support within reach. So, once we had viewers hooked, we gave them the power to be a beacon of light by asking them to visit for-women.co.za which would allow them to pledge their support against GBV or find real help if they needed it.
Day after day, we proved that GBV can happen to anyone, anywhere. And, having put it in the spotlight, we helped South Africans take action by connecting women in need of help with the support they needed.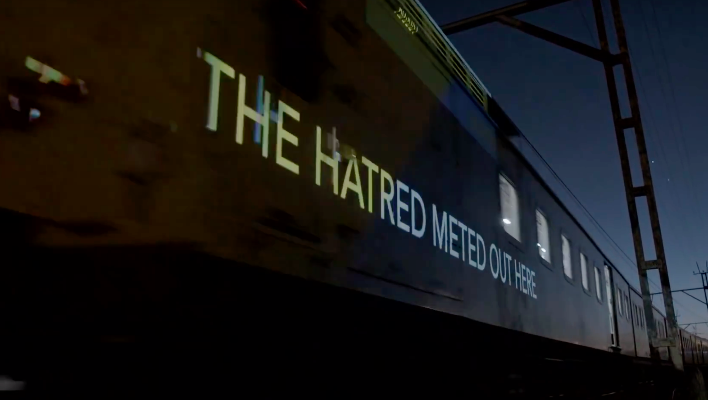 Results
Our on-site projections served to spread the light in more ways than just an intimate light vigil for a handful of women that we have lost.
Each tribute was filmed and our drive to shine a light on GBV was strategically amplified through a highly integrated omnichannel media approach that ultimately engineered a combined reach of 41.5 million.
We, however, designed the campaign to elicit action, not just buzz, by driving people to pledge their support or to find support at for-women.co.za, and it paid off! The majority of visitors were driven through paid search, social media, direct traffic, and organic search. In just 16 short days, for-women.co.za's performance increased drastically with visitors increasing by 2000% and pledges increasing by 456% since October 2019.
But the only number that actually really matters is the 147 women who visited the site to seek help.
The break-through nature of the campaign additionally caught the attention of local government and the UN; who pledged to not only jump on board but to also turn #16DaysOfActivism into #365DaysOfLight year after year, further proving what a little light can do to help change the tide against GBV for good.
41,5 million combined reach
4400 hours of video watched
2000% increase in platform visits
456% increase in pledges of help
Over the 16 day campaign period, 147 real women reached out from the dark and asked for help
"We live in what our president has called 'one of the most unsafe places in the world to be a woman'. A country where a woman is murdered every three hours and where 52,420 sexual offences were reported in just 365 days. While women abuse has been declared a national crisis, there's a lot that still needs to be done to bring this dark subject into the light," says Casey Rousseau, senior manager: marketing at 1st for Women."
Casey Rousseau, Senior Manager: Marketing at 1st for Women.