0
educated navigations were achieved during the period
0
of Uber vouchers downloaded
Challenge
Globally Heineken has made it a priority to lead the conversation about drink driving and to make a real positive difference. In South Africa, 87% of drivers have driven after consuming alcohol. In a country where drinking just one beer before you drive is a norm, how do you disrupt this behaviour?
Solution
We leveraged the Waze platform, a mobile app that drivers rely on heavily, to intercept and disrupt key moments that had a high propensity to be associated with drunk driving.
100 key Heineken outlets were identified and plotted on Waze. Within our first identifiable moment, users searching for these outlets were made aware of the dangers of drinking and driving, before even navigating to the outlet.
Zero-based takeovers were activated as soon as users came within proximity of an outlet (second moment). The Takeover reinforced the WYDND message and offered the user an Uber voucher as an alternative to driving.
Additionally, Arrows were utilised to target users that were potentially leaving key outlets (late afternoons and evenings - third moment). When opening the app to navigate their way home (nearby a Heineken outlet), they could engaged with the arrow, and were served the WYDND message and offered an alternative to driving.
Result
During the 33-day burst, the Waze campaign delivered over 3M impressions of the WYND message in highly receptive moments. 9.8K educated navigations were achieved during the period and 100% Uber vouchers downloaded.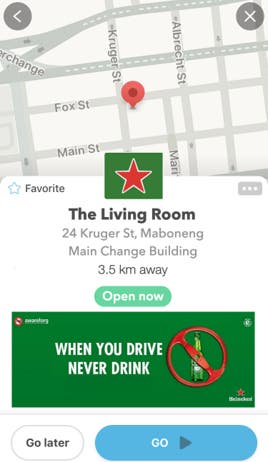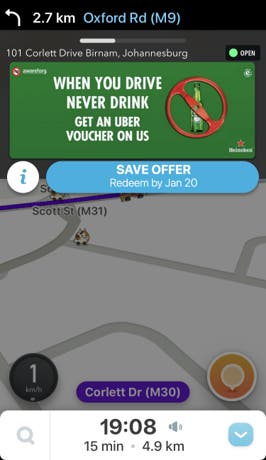 "The campaign was an absolute hit and will definitely be scaled up this festive season"
- Cuan Bergman, Head of Media, Heineken South Africa