0
downloads on first week of launch
0
people watched the Facebook live launch event
0
downloaded app 2 weeks after launch
0
reach against targeted 80%
About the campaign
The Government of Ghana had an ambitious goal to divide every plot of land in Ghana into sections and give each a unique digital address in order to rectify the sad state of the local addressing system.
Vizeum Ghana adopts the once popular Kid's game, 'Jack Where are you' – a game of hide and seek which concept speaks to the core of our bad addressing system and the inability to find people and places easily.
The campaign got a lot of traction for its simplicity and innovation of ad placements
Challenge
Government of Ghana mandated the Ghana Post Company Limited to champion the National Digital property addressing system. Ghana Post at the time was seen as an old and inefficient government institution, just for posting letters. It had lost trust with the people.
As a result, there was very low awareness of other services they provide, and business was going to competition such as FedEx and DHL who were seen as more progressive and efficient. Ghana Post needed to change this perception plus introduce their latest innovation, the GhanaPostGPS - the National Digital Addressing System App, the one thing that would rebuild trust and help it to win in the E-commerce delivery space.
Solution
The idea of digital addressing system is still novel in Ghana. People have not come to terms yet with a good addressing system in Ghana not to talk of going into digital addressing system. With smartphone adoption at 27% and mobile internet penetration at 45% (Oct. 2017 GSM Association report) we needed these connected audience to accept it quickly and become the advocates to driving a new smart economy.
The strategy employed was disruption to bring the problem to the fore, then we drove awareness of the solution, educated for understanding, all through a 360 degree campaign using a popular Kid's game, 'Jack Where are you', to bring the pain points to life.
We engineered conversations using 3 of the most popular morning show hosts/personalities on major electronic networks with national appeal. Their task was to bring up the pain points of poor addressing in Ghana, it's effects and then the benefits of a robust and accurate addressing system. Conversations were across radio, TV and onto Social Media. Our teaser campaign was a smart use a kids game of tag locally known as "Jack, Where are you". This brought our problem and pain points to life.
We had cut-outs of a character looking for 'Jack' at every major intersection in Accra and in Kumasi. He was on TV at prime time, online, radio and in the newspapers. #Jackwhereareyou trended with comments and speculations rife among Ghanaians driven by online influencers. At the height of the buzz we launched GhanaPostGPS transmitting on Facebook Live on the "Jack Whereare you" Facebook page. The next day we rolled out with main campaign to create awareness, educate and drive downloads of the app.
Results
Over 170,000 downloads on the first week of the launch
#DigitalAddressSystem trended in the week of launch
Over 330,000 watched the Facebook live launch event
No. 1 downloaded app 2 weeks after the launch
Over 350,000 downloads end campaign vs target 300,000
82% reach vs target 80%
3.8 million address searches through the app
Increased revenue from 7 % to 20% end 2017
2018 Awards Won
Cristal Awards | Gold Grand Crystal | Integrated Campaign
Cristal Awards | Bronze | African Culture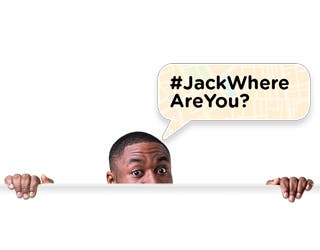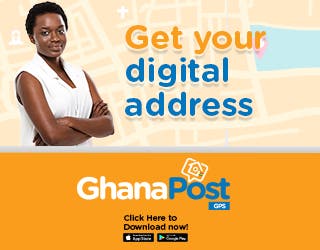 "There is growing interest in the business community about the use of the digital addressing system, GhanaPostGPS. On my desk, are a number of applications from service providers to share API details so that they can start communicating with our system and verify the validity of digital addresses."
James Kwofie Ag. Managing Director Ghana Post Company Limited