0
website traffic increase
0
spike in email leads generated
0
decrease in cost per click (CPC)
0
increase in sales over the same period
About the campaign
To disrupt the life insurance industry, we used something quite unexpected, a Mullet.
This iconic, meme-worthy hairstyle served as a powerful and flexible centrepiece to the campaign. To match IndieFin's unique product, we created an equally unique campaign that demonstrated how IndieFin offers you 'business at the front' with world class life insurance and 'party at the back' with free money.
We designed our campaign collateral for specific purposes, with a narrative approach that could adapt across platforms. Then starting small, we rolled out the campaign to low engagement touchpoints to start building awareness. When people engaged, we served them the next tier of communication. Secondary spend was allocated against campaign page UI interactions indicating intent, which then set off a phase 2 targeting and communication. This tactic kept costs down, by only engaging with people who were genuinely moved by the advertising.
We layered this with a smart targeted TV campaign for broader reach capability and to position IndieFin at the level of holding powerful brand stature.
Other agencies involved: FoxP2, iProspect, AMNET and Republic PR
Challenge
The big players in life insurance spend millions to generate sales leads, by outbidding on the top search terms, a lot of cold calling and running emotionally manipulative ads.
So, for a digital start-up to compete, IndieFin had to rise above the noise and attract leads in a category people usually dread. IndieFin had the tough task of getting a young, digital-savvy generation interested in life insurance.
Solution
Getting a younger generation interested in the cluttered, and unglamorous category of life insurance is very expensive.
We took a world class life insurance product and included something quite unique - free money. Which is something young people do care about.
We then found a web-worthy way to talk about this free investment, that rubbed up against the category. This idea generated leads far cheaper than we could buy them. And because this approach let us create content in a modular way, iterations were extremely well suited to a range of platforms. We could then re-engage with those who expressed interest, allowing us a more targeted approach.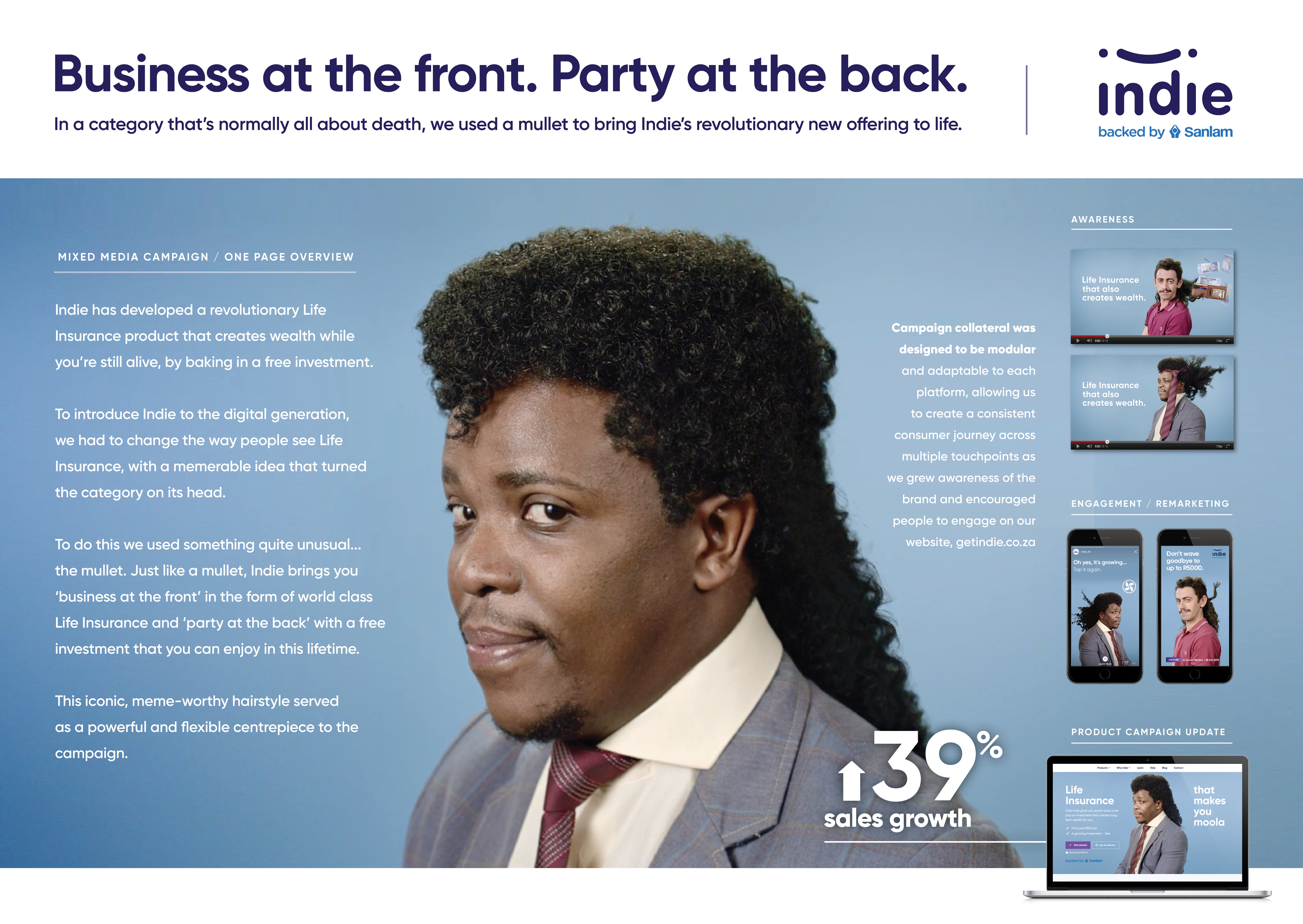 Results
In the ultra-competitive field of life insurance, every campaign element contributes towards moving people towards a sale.
Indie's Mullet campaign outperformed our previous campaign benchmarks from the get go.
On the day of our YouTube takeover, the IndieFin site experienced its highest Start Onboarding Conversion Rate for the campaign period.
Within 48 hours, the Tebogo Mullet YouTube video achieved 150k views
Total website traffic increased by 21%
The number of email leads generated spiked by 32%.
Search cost per click (CPC) decreased by 98%.
Sales over the same period soared by 39%.
APE (the life insurance industry's measure of revenue) was boosted by 69%.
Significantly, 76% of IndieFin policyholders are below 40 – the complete inverse from established life insurers customer bases who are struggling to attract a millennial audience.
2018 Awards Won
FoxP2
Creative Circle | 1st Place | Digital & Interactive
DAN Global Innovation Awards | Gold | Proving Marketing Effectiveness
2019 Awards Won
Vizeum
African Cristal Awards | Ispahan | DIGITAL & MOBILE - Insurance / Banking / Financial Services
New Generation Awards | Gold | Most Innovative Digital Media Campaign by a med-large Agency
Amasa Awards | Highly Commended | Best Integrated Campaign : Financial
Amasa Awards | Highly Commended | Best Online Campaign
Posterscope
African Cristal Awards | Sahara | DIGITAL & MOBILE - Integrated campaigns
FoxP2
DAN Global Innovation Awards | Silver | Winning in the new world of Content