Introducing dentsu DX Diagnostics
Published on:
As a growth partner to businesses and society, Dentsu Group launched DX Diagnostics (Digital Transformation Diagnostics) to meet business challenges with deep consumer insights through three dimensions: corporate vision, customer-first and digital transformation progress.
By quantifying the deviation faced by businesses in their digitalization, dentsu DX Diagnostics enables businesses to identify the level of DX engagement in the target market and the problems based on the business diagnosis results, leading to dentsu proposing solutions to empower and accelerate the business's consumer-centric digital transformation.
From the 2021 Digital Transformation Survey, exclusively published by Dentsu Group, we found that businesses in digital transformation that actively drive consumer-centric, data-enabled and optimized customer experiences tend to achieve better business effectiveness. This is especially seen in the highly digitally-developed China market where digital transformation is even accelerated by the pandemic. For businesses and brands from abroad, we saw the increasing importance of the Chinese market in their sales share.
For Japanese businesses and brands known for a "customer-first" personalized experience, "creating a business model with the perspective of the local clients" and "driving DX" have become increasingly important in the last few years. While they are faced with challenges such as how to respond to rapidly evolving marketing approaches, how to prioritize key projects, etc., we introduced DX Diagnostics to the China market to help such businesses meet their challenges, which was adapted from the original version developed for Japan and proved effective.
We invited Hajime Yamamoto from the Global Business Center, Dentsu Inc. and Hirotoshi Tanaka from dentsuMB China Shanghai Office, which supports Japanese businesses to review the purpose of introducing DX Diagnostics to the China market and the latest updates from the local market.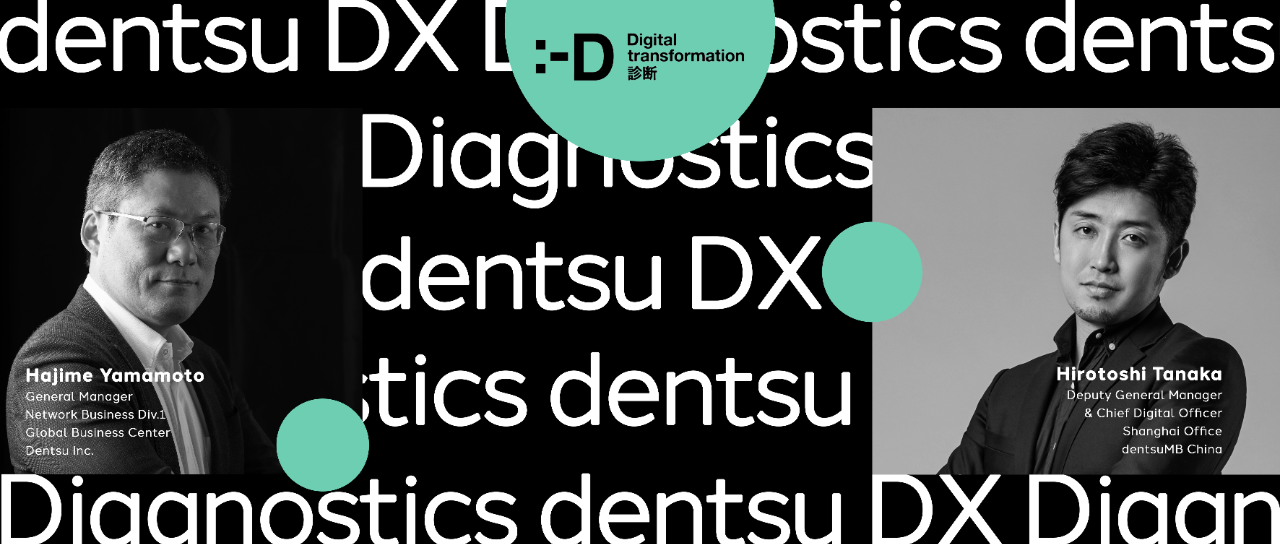 Challenges Japanese businesses face in China, a leading market in DX
Yamamoto: What services does dentsuMB offer to your clients in the China market?
Tanaka: We provide solutions for various businesses and brands against the numerous marketing challenges around advertising and sales promotion campaigns, with many of them Japanese businesses with a base in Shanghai. As you know, it's been amazing to see the speed at which China has adopted their unique digital ecosystem along with the incredible progress in their marketing methodology. In such a market, we have numerous clients who are looking for DX solutions given how we are still dealing with the impact of COVID-19 on society.
Yamamoto: Can you tell us how you have begun to develop "DX Diagnostics China?"
Tanaka: In China, a market that is advanced in DX, we are getting many requests from the management of the Chinese operation within Japanese companies who are looking to "drive DX for survival" or "innovate their business model by leveraging the leading DX examples in the Chinese market". What lies behind this is the fast-paced digital transformation we saw due to COVID-19 and the increasing importance of the Chinese market in their sales share.
Traditionally, Japanese management operating in China tended to place importance on "supply chain management" and "localizing the Japanese HQ model". However, in the last few years, "creating a business model with the perspective of the local clients" and "driving DX" have become increasingly important.
As dentsu, we are painfully aware of the importance for Japanese companies to have a clear direction by fully embracing the issues as they drive business transformation and DX. This is why we believe that DX Diagnostics will be effective as it had already generated results in Japan. However, the digital environment is starkly different between the two countries, to such an extent that the teams in Tokyo and Shanghai worked tirelessly to address these differences to tailor DX Diagnostics for the Chinese market.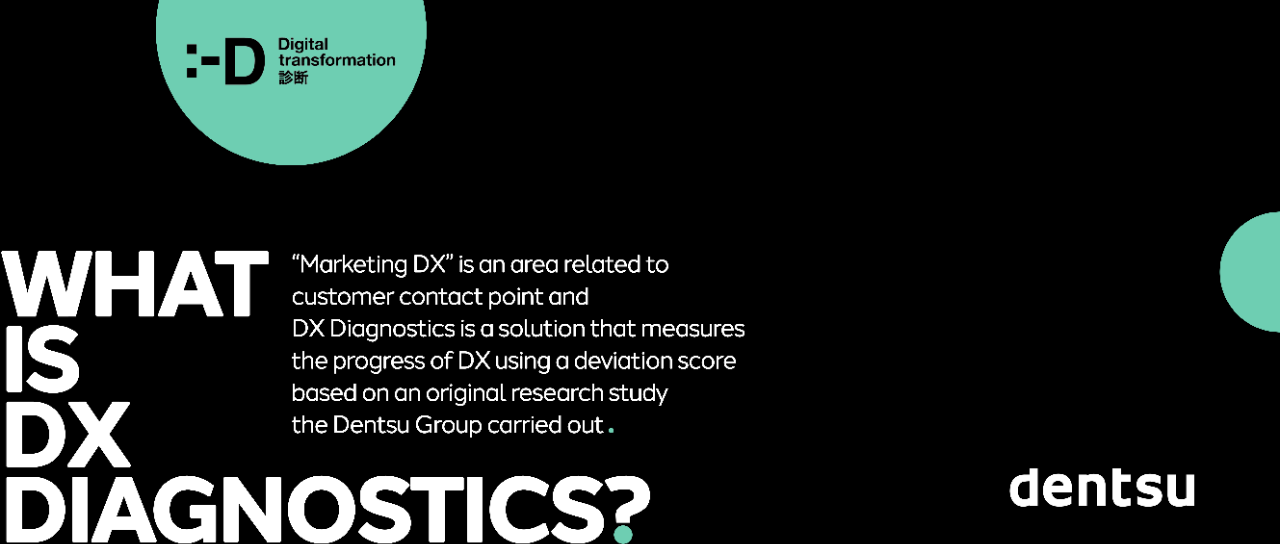 "DX Diagnostics China" that captures the "4 characteristics" of the Chinese market
Yamamoto: With DX Diagnostics, normally we quantify the deviation to identify the level of DX engagement from three strategic perspectives:
Vision
Customer-first
Progress of DX
based on interviewing four areas of the business:
Customer experience
System
Data/ Human resource
Organization/ Tasks
From there, we identify the issues and incorporate people's insight to propose a solution for marketing DX.
Tanaka: We've identified various differences between the two markets out of which we focus on the following four areas, summarized as the 5th area of diagnostics which we named, the "China Factor":
CX (customer experience) tailored to the China market
CX innovation that can adapt to the fast-paced change in the market
Relations with the China-based platformers
Own post-COVID action

(Key Diagnostic Factors)
Yamamoto: What strengths of Japanese businesses have you uncovered through the research?
Tanaka: The fact that "customer-first" thinking is pervasive across businesses. Japanese companies are good at actively attempting new approaches to drive this customer-first mindset by gathering data from various contact points, incorporating the results of the customer satisfaction survey to truly personalize CX for each individual customer.
Despite such effort, due to the rigid organizational structure and the lack of a clear vision for the company, they are not able to fully translate their endeavors into results.
However, I don't believe this failure to fully optimize their efforts is something to be pessimistic about. I know that we can find the solution by understanding the "strengths" and the "challenges".
Yamamoto: Can you tell us a little more about what the Japanese businesses lack?
Tanaka: As I said earlier, it's the vision for the future and the definition of the customer journey. Because the "organizational structure and the work process is essential for driving the optimum CX", in other words, the goal is unclear, we are now beginning to see the reality where the entire organization struggles to embrace DX.
Leading Chinese and global firms are quick to adopt the new CX design based on the latest technology and through trial and error, can swiftly update their customer experience.
Yamamoto: How are Japanese businesses dealing with the "China Factor" you mentioned earlier?
Tanaka: Unfortunately, not all that well. The fact that they aren't able to fully "coordinate with the platform", which is critical to designing a customer journey in China, is holding them back from driving user action or value which is inherently based on the very journey.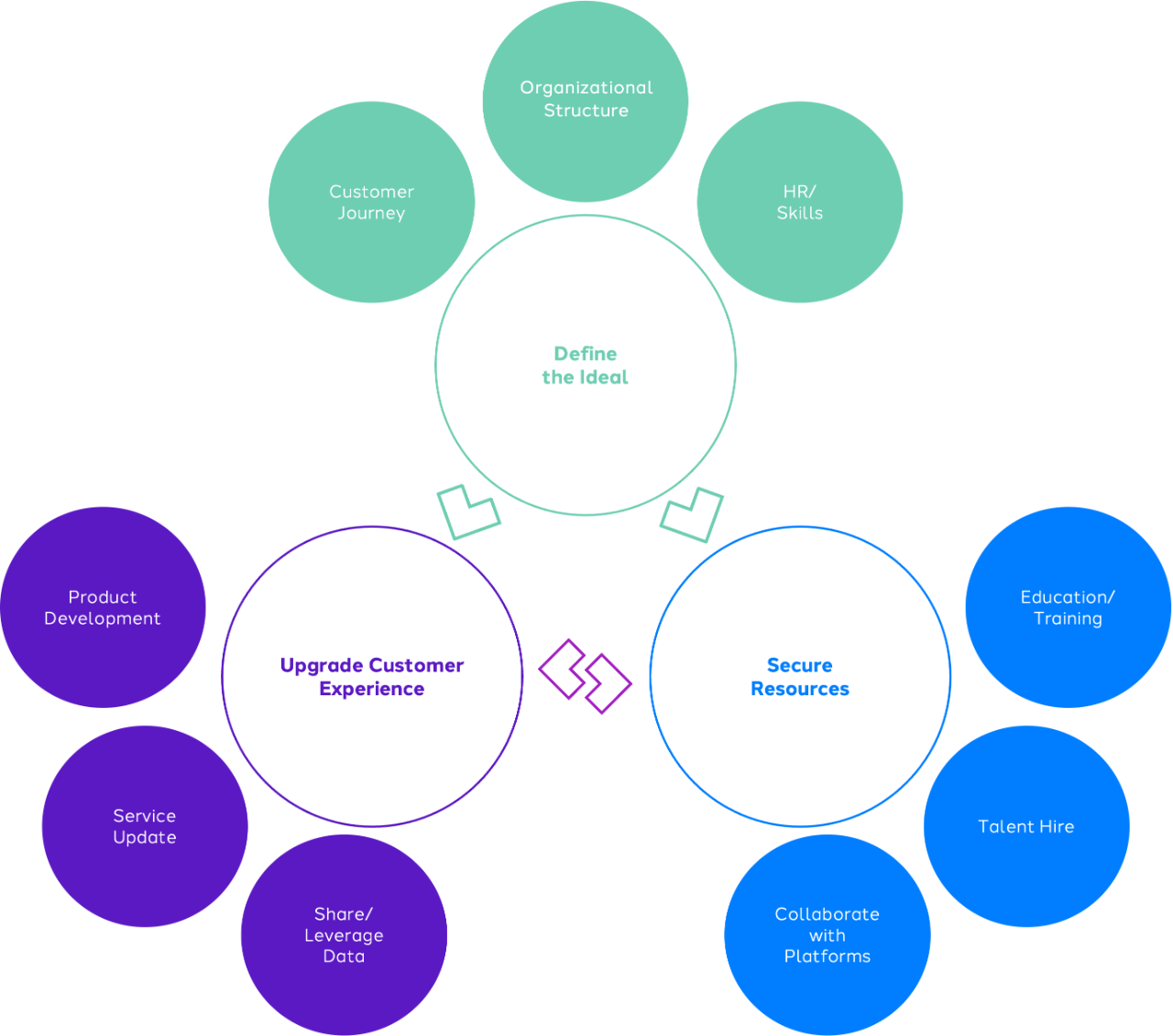 (DX Challenges for Japanese Businesses)
Dealing with the China Factor
Yamamoto: It sounds like there are mounting issues.
Tanaka: Yes, it's true that there are numerous challenges that Japanese businesses must overcome. But looking at the potential of the Chinese market, it is a challenge worth taking on given the possibility to reap great benefits.
Also, the strengths and challenges of Japanese businesses which we touched on do not only apply to China. I find that while there are differences in the platformer environment and the speed of digitalization, it is a common challenge that exists in any market you do business in across the world. In that sense, I think it's fair to say that deciphering the way through the leading DX market, China is the way to making it in the global market.
Yamamoto: I understand you have already begun offering DX Diagnostics China to some Japanese firms. What are the responses so far?
Tanaka: Some of the responses we received so far are: "We were able to identify our market position by benchmarking against industry competitors and Chinese companies"; "It gave us an opportunity to not just focus on the ongoing ERP (Enterprise Resource Planning) adoption but also new CX as well as rethink our CRM (Customer Relationship Management) efforts". We feel that DX Diagnostics China is a great support tool to bring value to any business as it provides a relative and objective understanding of the importance of DX from a customer/marketing perspective.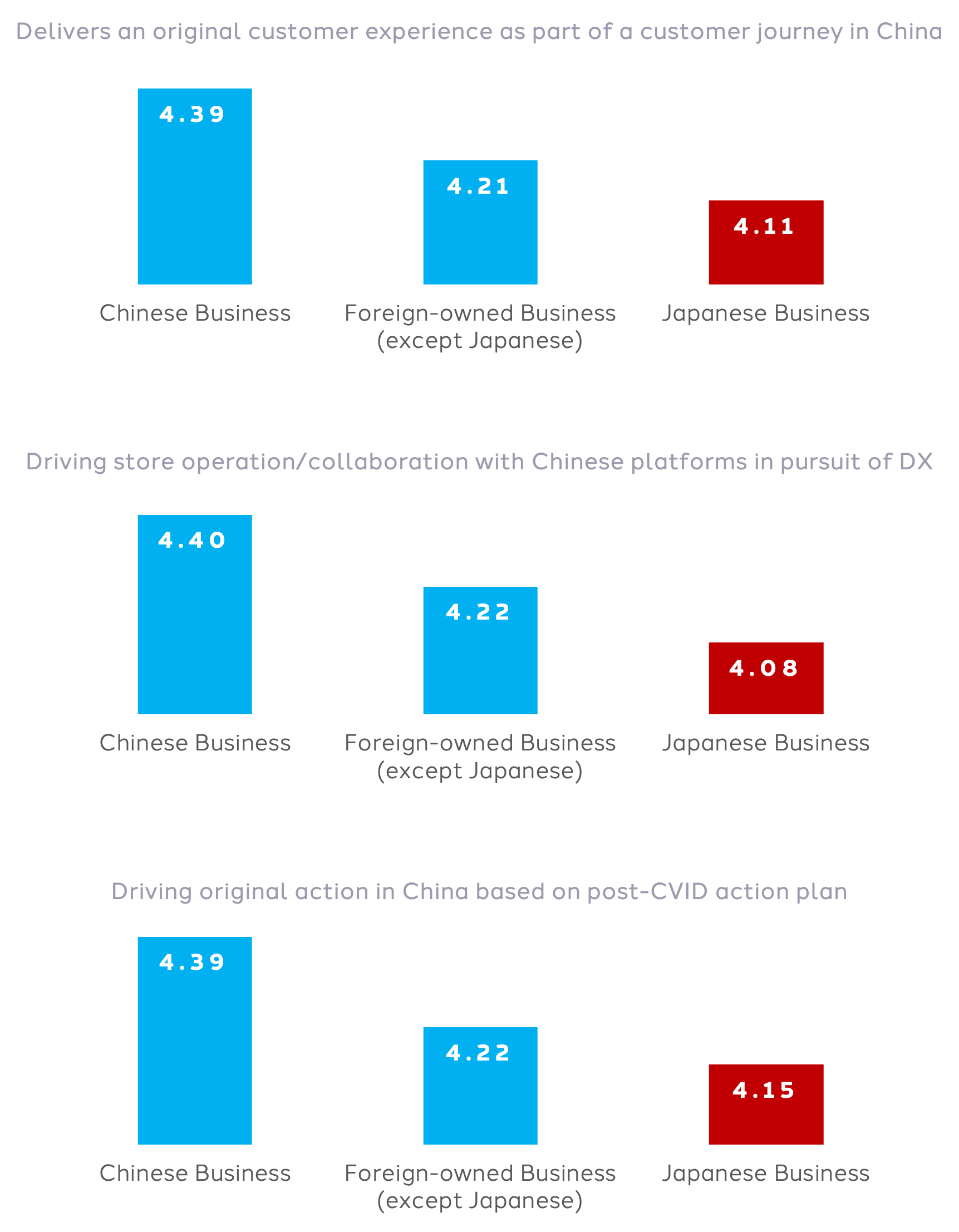 (DX Status of Businesses in China Market)
China is a great place to try out BX and DX
Yamamoto: Finally, what is your take on the significance of Japanese businesses engaging in DX in China?
Tanaka: Digital infrastructure is better established in China than in Japan, which can serve as a place to "test out DX". I am confident that taking on the DX challenge by recognizing the strengths and issues of Japanese businesses which came to light through DX Diagnostics is the key for Japanese companies to transform their businesses.
The speed of change in the Chinese market is staggering. For example, the norm within the Chinese e-commerce practice until recently was to open a retail outlet on platforms such as Alibaba and JD.com. But this is already evolving and one factor is D2C. The recent change in the online media/content, the growing cost-conscious mindset, and the progress in data technology is shifting focus away from business models that are reliant on platform-based e-commerce. Another factor is "private traffic". This is an extremely popular model in China where a company will collect their own customer data, develop a community, and drive conversion for their business.
Trying out new marketing methods such as D2C and private traffic is another reason which makes China an attractive market to operate in. At dentsu, we hope to support such Japanese companies to accompany them on their journey to create successful cases.
Yamamoto: Thank you.
Integrated growth partner in AX, BX, CX, DX
Keita Ishikawa, Chief Executive Officer of Creative, dentsu China added, "As the integrated growth partner to businesses and society, dentsu is committed to delivering business transformation and growth against four pillars both in Japan and China: AX (Advertising Transformation), BX (Business Transformation), CX (Customer Experience Transformation), DX (Digital Transformation). In addition, to create values against the four pillars, we integrate each pillar and corporate sustainability strategies into its products, services and consumer communications. By connecting consumer insights, creativity and digital technology, we build and co-create ecosystems for businesses and partners to build growth from good".

(Integrated Growth Partner Against Four Pillars)
For any enquiries about the result of the DX Diagnostics China as well as any DX-related consultation, please feel free to contact
Global Business Center, Dentsu Inc.
contact-gbc@dentsu.co.jp
Or get in touch with the business lead for DX Diagnostics in the China market:
Hirotoshi Tanaka 田中大稔
Deputy General Manager & Chief Digital Officer
Shanghai Office, dentsuMB China
d.tanaka@dentsumcgb.com