Female Foundry is our flagship global development and mentorship programme for female founded start-ups. During unprecedented times such as these, it is more important than ever to amplify the voices of our Female Foundry entrepreneurs and use their experiences to help others.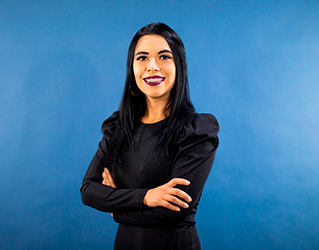 Lizbeth Monroy leads a business that specialises in the manufacturing and distribution of hair accessories and gift bags. When COVID-19 hit Mexico, Lizbeth quickly pivoted to the manufacture of textile mouth covers – keeping fashion at the forefront. Here she talks us through her journey as an entrepreneur.
Setting up and growing a business
Since I was a child I have been a curious person and I knew that I had been born to be a leader: I was very concerned to discover how things worked. My parents, both teachers, taught me the importance of always fighting to be the best at what I did and that with discipline and perseverance, any dream can be achieved. Mine was always to create my own company and I leaned towards the industrial sector and manufacturing processes.
As a result of a trip I made when I was 19 years old, the idea came to me to sell handbags to my classmates at university. After a week, dozens of students and teachers had bought all the merchandise I had. With more than $30 thousand pesos, I started my first store, "Everything At A Price", with my brothers Kary and Omar.
Thanks to my first venture, I was able to help my family pay for my tuition and six months after starting the store project, we were able to open the second one. We then formally created our first company under the name GRUPO ROYBAD SA DE CV, and during 2014 opened six branches in the State of Mexico.
In 2017, the company had cash flow problems and we no longer had money to invest and cover expenses. Faced with this crisis, we decided to restructure the business model and change it to cosmetic and hair accessories stores. In order to invest in this new idea, we opted to close branches, keeping only two of them. The entrepreneur's path is never a straight line and moments like these are where you learn the most and where opportunities that would otherwise go unnoticed are detected.
It was precisely during this period that we detected that two product lines were selling quite well: hair accessories and gift bags. With the help of my mom who lent us her home sewing machine, we created our second venture focused on the textile industry.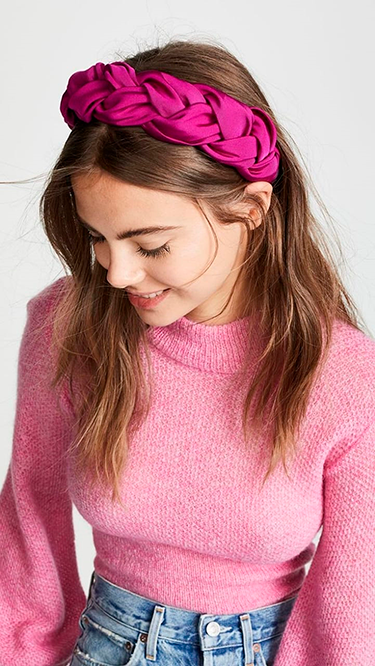 I still remember the day when the company that would become our first client saw one of our first headbands and asked us for 50 thousand pieces in various colors. Although fear invaded me (how can I do it without enough personnel or machinery?), with a smile on my face, I accepted and offered to have the order ready in 15 days. Delivery was scheduled for December 26, so it was fifteen days of not sleeping, burning my mom's homemade machine, and packing everything up for Christmas Eve dinner. But it was all worth it as the headbands sold out within a week of being put up for sale.
Since then, we have developed more than 250 stock keeping units of gift bags and hair accessories, becoming specialists in this field. In addition, we have closed negotiations with two franchise chains that previously imported this type of product and today are betting on "Made in Mexico". The next step is to start exports to South America and Europe through these franchises, although my dream is to export myself directly through my company, for which I am preparing to be competitive internationally.
When COVID hit….
On March 15, 2020, I received a notice that would change the direction of my company's operation: Mexico was preparing for the arrival of the coronavirus, and the Mexican government declared a state of sanitary emergency as of April 1, 2020. The first thing that came to mind when I received that news was that it would not affect me, because I immediately thought: "I have my online store."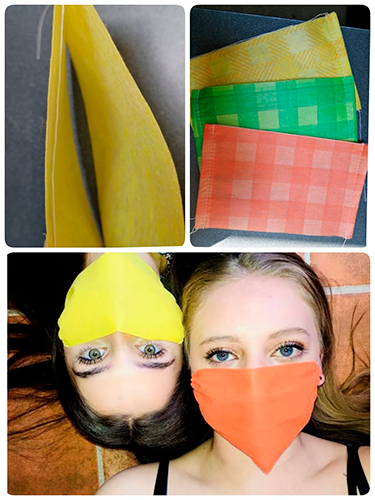 But with the passing of the days, I realized that the situation was becoming more serious. So, from the first days, I decided to change my production line from fashion hair accessories and gift bags, to the manufacture of textile mouth covers. The truth is that we do not give up having a fashion concept and we manufacture them in various color ranges. We have faced a lack of materials and increased input prices, but we have struggled to keep our jobs, although now with double shifts to decrease the space among our staff. As of today, our sales are represented 95% by mouth covers and 5% by hair accessories, due to the need for protective items and because many of my clients temporarily closed their businesses.
The current situation has changed some consumer priorities. These days we have been selling to private companies, the government and some laboratories. Likewise, we have made donations of face masks, which today is a basic necessity to some clinics that are part of the community where we operate.
Likewise, it changed my perspective about the future of my business: it has taught me to realize that joining forces and supporting each other among entrepreneurs can grow more and together. With the objective of being able to cover the wide demand for face coverings, we have established alliances with other textile companies in the State of Mexico. To supply government and private companies, we partner with two companies that traditionally produce uniforms and teddy bears. Between the three companies we came together to produce more and reach larger clients, and it has been working perfectly.
As businesswomen it is our duty to adjust to the changes that the environment is posing to us. We have two options: complain about the situation and wait behind the scenes for it to happen, or take the helm of our boat and not let it go until the storm stops. Our employees are confident in our ability to keep their jobs; the government trusts us to pay our taxes to continue its programs. Although it is true that we are required to do a lot, everything is part of the game: we are not victims, we have to take responsibility.
For me this contingency has been and is an opportunity to demonstrate what I am made of. The money is not gone, the money is still flowing, but it is changing hands. The question is: what is your company doing to generate impact and continue generating money? We have to react quickly to changes, that is the challenge we have as entrepreneurs.
The future
The path has not been easy at all, but it has been quite exciting since day by day I have more conviction in my project. My dreams are very ambitious because I do not see my company as a means to solve my expenses, I see it as a vehicle that will allow me to create jobs for hundreds of people in addition to showing the world that in Mexico we can make quality products and with prices equal to or more competitive than those produced in Asia.
Nothing is impossible as long as you believe in your dream but can only be fulfilled if you trust yourself and work hard to achieve your goals.