Dentsu partners with Adobe as we share a common vision to help brands drive growth and matter to their customers by delivering memorable digital experiences. In 2020, we were named Adobe Delivery Quality Enterprise Solution Partner of the Year and Marketo Emerging Partner of the Year, Americas. As an Adobe Platinum Partner, we have built immersive experiences for some of the world's leading brands. Our deep Adobe knowledge - ranging from audience and insights mastery, ecommerce solutions and cloud services, media optimization and web experience design – is combined with our expertise in data and identity to power dynamic customer journeys and personalized, contextual interactions.
This year dentsu announced a new strategic partnership with Adobe focused on identity, customer experience transformation and a shared vision to create value for brands through digital innovation. The announcement includes adding Merkle, a dentsu company, to the Adobe Independent Software Vendor (ISV) program and selecting its identity resolution platform, Merkury as Adobe's leading identity partner. Together we are committed to power enterprises as they unlock new potential undergoing through the current paradigm shift towards first-party data and to enable the 'Total Customer Experience.'
Identity-powered Experience Orchestration
Combining the Adobe Experience Platform's orchestration capabilities and AI-driven insights with Merkury's identity resolution and person-ID graph connections, this privacy data-safe solution allows brands to deliver cross-channel experiences to consumers at the right time.
View solution overview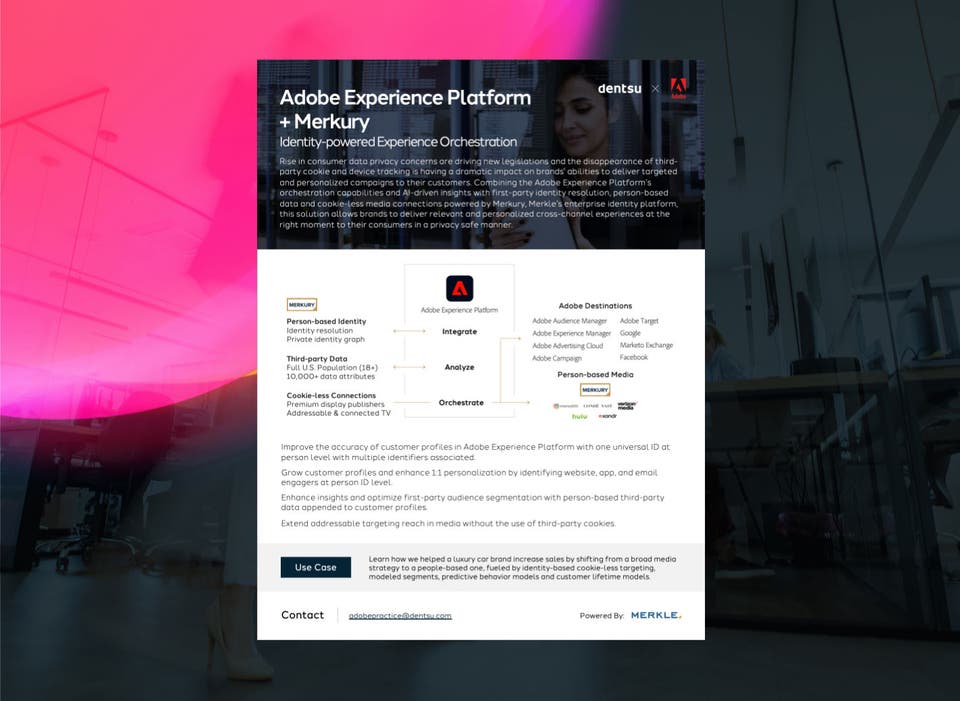 The Forrester Wave: Adobe Implementation Services, Q2 2020
Dentsu is proud to be named a Leader in The Forrester Wave: Adobe Implementation Services, Q2 2020. Specifically, the Forrester Wave report awards Dentsu the highest scores possible in customer experience and design capabilities, in Certified Expert Product Coverage, Adobe Specializations and in a vast number of product specific capabilities.
Download report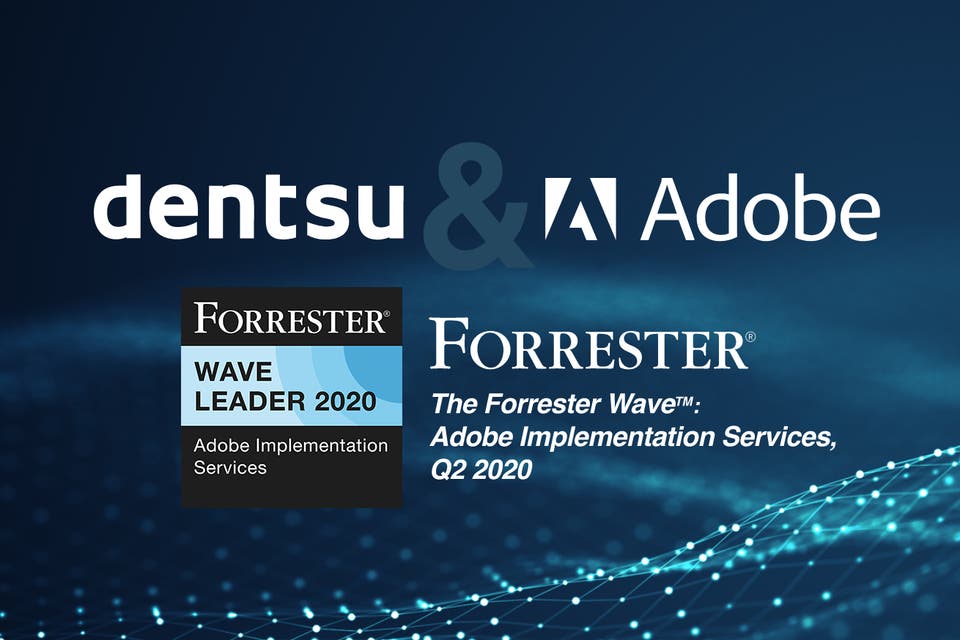 Adobe Summit Live 2020
Ann Lewnes, CMO of Adobe, and Jacki Kelley, CEO of dentsu americas, speak candidly about the impacts of the global pandemic on our clients and how we can help now. Hear first-hand how Adobe transformed the Vegas U.S. Summit into the virtual Adobe LIVE.