When we think of the words "start-up", we often visualize a dynamic world of agility, innovation and creativity. Popular culture has fuelled a romanticized view of start-up culture that is driving our economy forward. With the rise of direct-to-consumer start-ups in particular, many CMOs from more established organizations now look to this sector for inspiration on how to sell in today's marketplaces.
But is it fair to put start-ups on a pedestal? Based on our recent survey of 1,000 global CMOs, we've busted five start-up myths that might give incumbent CMOs cause for comfort:
Myth #1 – Innovation only comes from start-ups
It's often taken for granted that start-up CMOs alone are pioneering disruptive innovation to differentiate their products, services and distribution models. From Google to Nestlé to Visa, it's little surprise that established brands are queuing up to work with start-ups.
However, our survey reveals that CMOs at established brands (57%) are just as likely to be accountable for product or service innovation as CMOs at start-ups (51%). Being large is not necessarily an innovation inhibitor.
Take Walt Disney. 95 years-young and frequently topping lists as a world-class innovator, the company most recently reorganised to deliver its own video service instead of licensing to Netflix. In five months, the service boasted a million subscribers. With their business acumen, large talent pools and even larger budgets, legacy businesses are shakers in their own right.
Myth # 2 – Start-ups are the tech leaders
When you hear "start-up", the preconception is often that digital technologies sit at the heart of their value proposition.
Analysis by our creative experience agency Isobar challenges this. While 6% of CMOs at established companies do not use or anticipate using AI to deliver better customer experiences, this rises to 38% of start-up CMOs. Similarly, while 14% of incumbent CMOs do not use or plan on using virtual reality, this rises to 57% of start-up CMOs.
IBM, JPMorgan Chase and Google were all involved in the development of MIT's Top 10 Breakthrough Technologies in 2018 – when all is said and done, it still takes big pockets to innovate cutting-edge technologies.
Myth #3 – Agility is a start-up's prerogative
In today's fast-paced business landscape, agility – that is, the ability to adapt to change and move quickly – is a cross-industry advantage. Smaller and leaner, research has supported the idea that start-ups are differentiated by their agility. Meanwhile, legacy systems and complex infrastructures encumber their larger competitors.
Yet our survey found the both start-ups and established brands face similar challenges in transformation. Around 4 out of 10 CMOs at both start-ups and established brands believe their inability to transform the business quick enough is a key internal challenge to delivering their strategies. Just because they are smaller doesn't make the start-up culture any easier to change.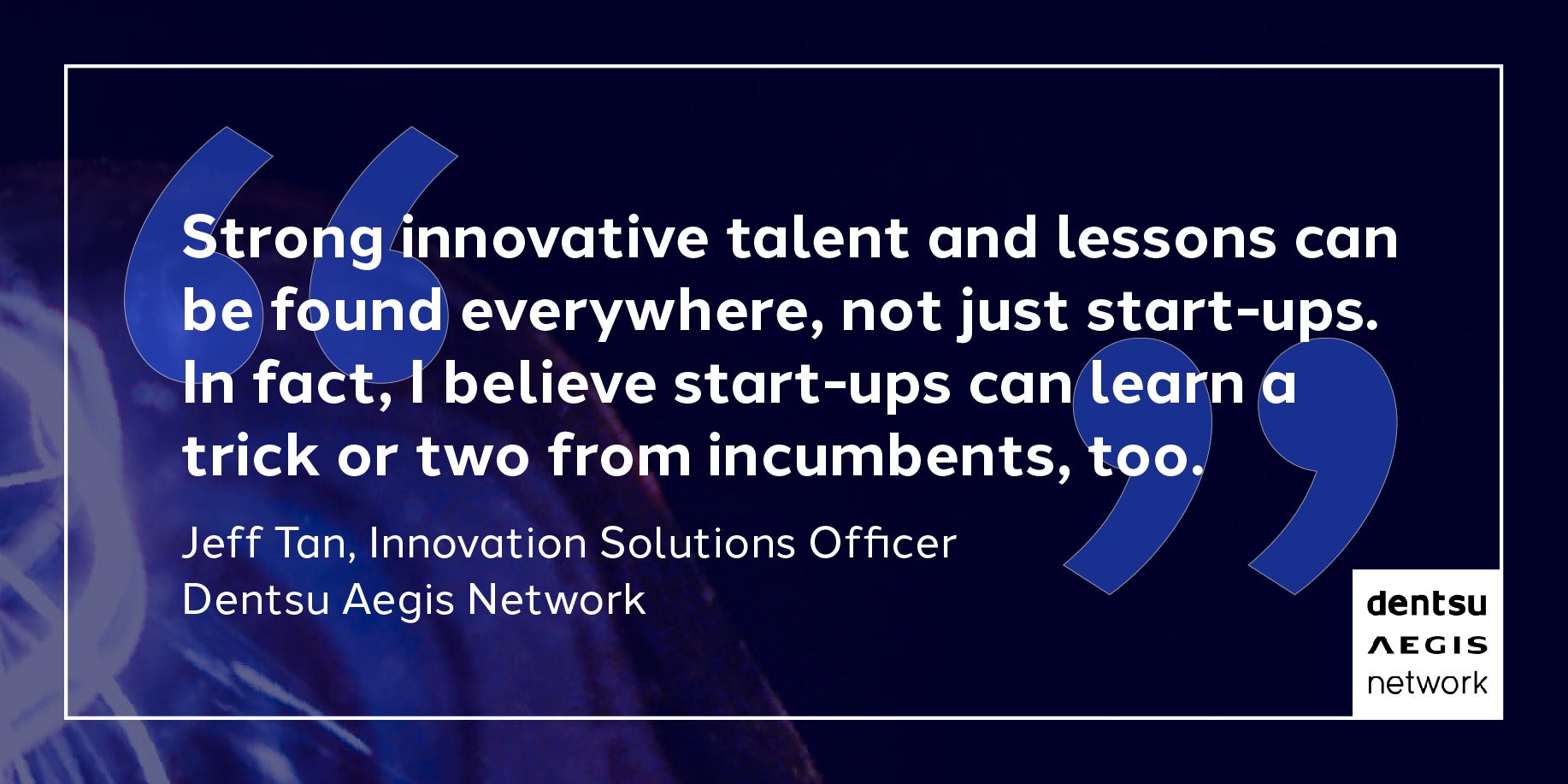 Myth #4 – Start-ups are the only ones under pressure
With a 90% failure rate, the pressure is on for start-ups to deliver results. While half of CMOs at incumbents believe marketing's role today is about delivering business growth, this jumps to 7 out of 10 start-up CMOs.
Yet our survey reveals that CMOs at start-ups are no more likely to feel the pressure to deliver results. 6 out of 10 believe they will be under greater pressure to deliver tangible short-term results in future – a similar proportion (7 out of 10) is reported among incumbent CMOs. And when it comes to the pressure of meeting increasing consumer expectations, it seems that start-up CMOs are more confident in their abilities. Only one-fifth of them agree that consumer expectations will increase to the point where they will struggle to deliver on them – whereas 6 out of 10 CMOs at established companies believe the same.
Myth #5 – Start-ups are more likely to prioritise creativity
A view commonly held is that start-ups have greater freedom to be more creative, sparking innovation. Case in point: Dollar Shave Club. The company has revolutionised the world of men's razors and now has over 3 million subscribers and was acquired by Unilever for $1 billion. With its direct-to-consumer subscription model and creative marketing – including a launch video that has been watched over 26 million times – Dollar Shave Club has revolutionised shaving from habit to happening.
Our analysis suggests that start-up CMOs don't prioritise creativity any more than those at established companies. What's more, CMOs at established brands are ten percentage points more likely to think they are delivering creativity well today. As disruptor brands mature, attention will almost inevitably turn to investing in that brand through creativity and more traditional campaigns, like Facebook's recent TV campaign, for example.
Over the years I've been lucky to work with some of the most creative and innovative minds in business, from Silicon Valley to Main Street, to Madison Avenue and everywhere in between. From founders and entrepreneurs to CMOs in Fortune 500 companies, strong innovative talent and lessons can be found everywhere, not just start-ups. In fact, I believe start-ups can learn a trick or two from incumbents, too.