Finding ourselves working from home in the midst of a global pandemic was not the idyllic picture I had in mind when preparing to return to work after maternity leave. As much as I love the commute from my bedroom to my kitchen – navigating this new way of working with a young baby is going to be a challenge.
Here's what I've learned about working from home as a new mum, and some survival tips for fellow new parents out there!
1. Create a safe space
Baby proof and then baby proof again! Sounds obvious, but we didn't notice just how unsafe our living space was until we tried to spend such sustained time in it. Play pens are great too if you have one. Keep laptop wires well out of the way. They hang down from tables making very tempting rope swings! Think outside the (toy)box! Of course they don't want to play with their own toys, yours are so much better! Think of novel ways to keep baby occupied: @babyplayhacks on Instagram is a great source of inspiration!
2. Embrace mess!
Don't try and tidy! It's going to get a little chaotic, just roll with the mess (unless safety dictates) and tidy once the babe is down for a nap! Speaking of naps….
3. Go hands free!
Plug in and go. It's nice to have your camera on for team meetings, but once in a while dial into that conference call on your mobile, plug in some head phones, and go handsfree. Better still, if it coincides with nap time, go for an (isolated) walk with your little one in their pushchair.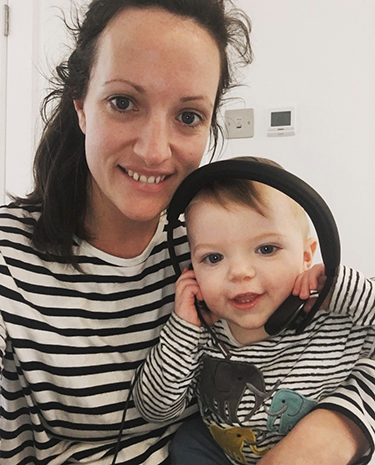 4. Declutter
Less is more. With attention spans limited at the best of times, childcare specialists say that less is more when it comes to toys. The temptation to surround your child with toys to keep them occupied can actually lead to them getting overwhelmed and playing with nothing! So, keep things stripped back and simple.
5. Tag-team!
Take shifts. If you're lucky enough to have a partner also working from home, and if it's possible, then take shifts looking after the little one during key moments in the day – prioritising important calls, and safe guarding much needed "thinking time" where possible.