It goes without saying that COVID-19 has shifted the world into a "new normal" for everyone: for consumers, for businesses and for marketers.
Many brands are taking decisive action, removing barriers to engagement, enhancing customer experiences and even creating new products. Take LVMH. The company switched from producing perfume to hand sanitiser within 72 hours of the French government asking for help. Impressive stuff.
On the flip slide, other brands' responses are falling flat by adding to the noise with generic acknowledgements of the pandemic. Yesterday, I received an email from a sandwich store in New Zealand I visited 13 years ago. The message: "we're thinking of you". That's just sloppy marketing.
Yet the opportunity still exists for marketers to make a difference. We're advising our clients to be proactive by using our hierarchy of needs (see Figure 1) and taking three key steps:
Figure 1: Gyro's hierarchy of needs for operating in a new environment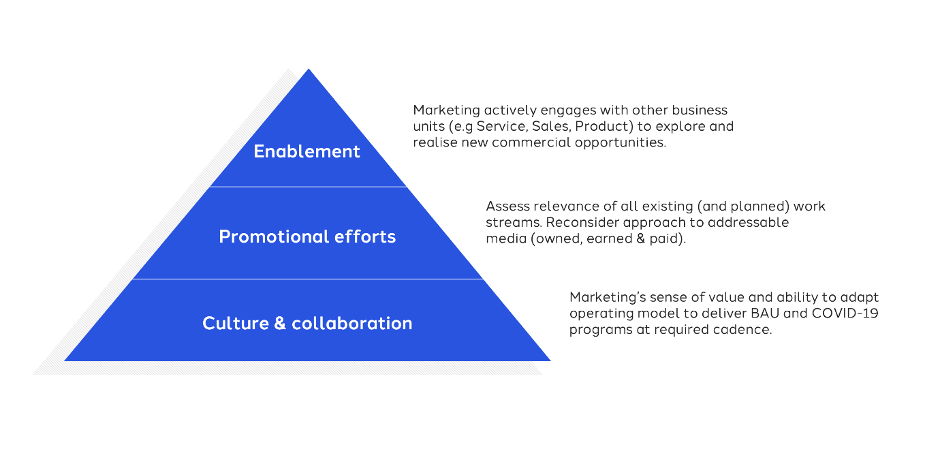 1. Take stock
It all starts with your culture and your ability to collaborate.
As a marketer, you are not only competing with other brands for your customer's time and attention. You're competing with everyday life—and life has suddenly sprung up with a vengeance.
The ambient distraction of a billboard has now been replaced by kids' cartoons blaring on the TV and countless video calls chewing through internet bandwidth. Within this context, you need to understand your new challenges and assess where your brand has a right to play.
To achieve this, brands need to be agile and nimble. Siloed teams of digital versus events or paid versus owned channels will only hinder your efforts. Reorganising to form a picture of the full ecosystem at your disposal is imperative.
This will enable you to sweat your plans, budgets, agencies and assets the hardest for your business and, ultimately, commercial success.
2. Take Action
Once you've established a foundation of collaboration, look at your promotional activity.
During a time of uncertainty, it's easy to look to scale back but that runs the risk of changing the entire formula behind your campaigns in terms of cost efficiencies, organic amplification and any halo effect you may hope to gain. If anything, you'll need to add things: add new channels, new formats, new priorities.
What's critical is that marketing becomes a value-add partner to the rest of the business rather than a tactical delivery department. You need to make strategic decisions about the customers you want and the channels you're using to communicate with.
When you know your most valued customer, you may choose to shift your paid spend to focus on them. When you don't, you may flip your media model and start with owned and earned, letting the engagement data dictate your methods.
Whatever you decide, clarity and alignment over your strategy will make it easier to determine the right approach.
Figure 2: Actionable steps for brands to consider when faced with COVID-19

3. Take Charge
Finally, remember that marketing goes beyond your messaging. Aim to add value by exploring ways to connect with sales, service and product development functions.
For a vitamin company, say, it may seem like the objectives haven't changed. You're just thankful that you sell vitamins and not airline tickets. But in many countries, consumers are exercising less outdoors and spending less time browsing in supermarkets, while their health and wellbeing concerns are on the rise. The impact of the coronavirus has transformed, perhaps permanently, consumer behaviour, which has implications across industries.
So, what are the opportunities? Could the vitamin company create family bundles? Or provide direct-to-consumer deliveries? Start a partnership with Uber or Grab, maybe? And what about its subscription model?
Everyone in your business knows the "let's just do what we did last year" approach won't work today. As your brand's window to the world and the consumer, you have a unique opportunity to break out of the promotional bubble and push to create meaningful change and value for your business.
In any response that your brand makes, keep in mind COVID-19 isn't just a theme to apply to a discount or promotion. Be authentic in your actions. These may be tricky times, but we would all do well to remember that, at some point, we will emerge from them. The question to brands then remains: during this crisis, do you plan to simply ensure business continuity or do you have the will to accelerate and achieve success?
Rhys Taylor is Regional Head of Strategy for gyro APAC. For more insights, you can listen to our #OnBrand podcast where we talked about the practical implications for brands operating in a new environment.