Challenge
Margarine brand Blue Band has a strong brand health. Since 1923 Blue Band consistently built a proposition as caretaker for families with growing up children. But last year performance, penetration and market share were under pressure, we are loosing buyers to Private Label brands. The price/value equation of Blue Band is disrupted. Our job-to-be-done is to win back lapsed users who did turn to private label brands by convincing them Blue Band is worth paying for.
We needed to strengthen the emotional connection with the consumers, from a intrinsic product pov no differentiation vs private labels. Little act of kindness activity needed to support on the perception: 'Blue Band helps me to grow up my kids happy and healthy and enjoy family moments together and -Blue Band products are the best choice for my family.' Due to supply chain issues caused by first Covid-19 lockdown hoarding the full campaign was cancelled. Via this act of kindness campaign Blue Band did something good for the society, with supporting emotional connection with consumers increase as bycatch.
Insight & strategy
This is the only Covid-19 related brand activity which we have seen in The Netherlands aiming to support kids in those difficult times for everyone. The campaign did facilitate that others could do something good for somebody else. Consumers, we did target on parents could nominate schools or daycare centers of which sons and daughters of those close to them were working so hard to manage the Covid-19 crisis. At the first lockdown the solidarity in the society was strong, and the activity was a right act on that sentiment.
The act was a real prove that Blue Band takes good care of growing up children, and the act did work 2 ways: 1. Kids at home during lockdown need to be entertained let's help the parents to create valuable moments and bake pancakes together 2. Kids in day care with parents working at the hospitals getting extra attention and also the day care workers taking care of those kids.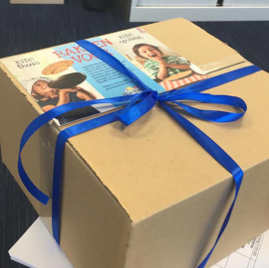 Solution & results
During the first lockdown in March/April/May 2020 majority of the parents was at home with their kids, with the positive side effect that there was much more time to spend together as a family. But there are also some kids who had to go to daycare because their parents work in a crucial sector. For these kids the consumer could do something good. It was simple: Bake pancakes, upload your pancake baking photo and nominate which daycare you think could use a couple of pancakes. With the delivery of Blue Band's pancake package at 1.114 daycare centers all over the Netherlands we made kids happy! #kidsbakkenvoorkids (#Kidsbakingforkids) was deployed at social channels via: Owned channels; Mum platforms (like Mamaplaats and Club van relaxte moeders) and social posts by mum influencers. We have focused on social media only in order to reach people who are already in the social environment, to make it as easy as possible to nominate.. Via the mum platforms and mum influencers we do profit from the high existing engagement and context fit for Blue Band's sympathetic message. Period from idea to live date was 1 week, so all parties involved acted really fast.
Campaign engagement and activation was significantly higher versus the social benchmark. Proof point of high involved of the audience and the right act taken by Blue Band.
Media results:
• Social clicks index 1.400 above benchmark
• CTR index 800 above benchmark
• At 1.114 schools or daycare centers Blue Band's pancake package was delivered, an unforgettable brand contact.
Via the positive reactions in the society we have learned that it definitely did build on the consumer's sympathy for the brand in order to improve the emotional connection. But our primary target: Happy kids! We wanted to do sometime good for the part of our core audience who needed it the most at the challenging times of the first lockdown.