On March 16th, Google announced the sunsetting of Universal Analytics. The announcement states that Google Analytics 4 (GA4) will officially replace Universal Analytics (UA) by July 1st, 2023 (October 1st, 2023 for GA360 clients). From this date onwards, UA will no longer process any new hits. Google clarified that historical data will still be available for at least six months after the Universal Analytics sunset dates in a read-only format.
This announced sunset date is earlier than expected for most of us and implementing this change will take time. Consequently, it is advised to start the transition process sooner rather than later to ensure that you can work towards sufficient usability come July 2023.

Image: Google.
So, what should you do now?
If Universal Analytics is your organization's primary tool for website analysis, it is important to already start making Google Analytics 4 your primary tool.
And if you haven't yet implemented GA4, now is the time to start the process. By the date of sunset, you will want to have accumulated at least 6-12 months of data in GA4. This is so it can be fully useable as a standalone platform, equipped with all the relevant historical data you will need for campaign planning and evaluation. If your brand hasn't implemented GA4 yet, you have approximately half-a-year left to get your GA4 up and running as your new single source of truth.
What do we mean by single source of truth? Come July 2023, your business should be prepared for GA4 to entirely replace the full functionality of Universal Analytics. This means all stakeholders should be using GA4 for all their day-to-day activities and tracking. For example: automated dashboards should be linked to GA4 rather than UA, conversion tracking should be measured within GA4 instead of UA, and GA4 will become the tool that supplies audiences to media and marketing platforms.
While this UA sunset is happening quicker than expected, this should be seen as an opportunity. The migration to GA4 gives you the chance to rethink what you are measuring and why... and validate whether the current information collected still meets your business needs. Technical web analysts will see this as a great opportunity to improve their site's tracking setup and to finally optimize event structures and naming conventions.
At a high-level, these are the immediate next steps all brands should take to transition to GA4. You can read more about each step below.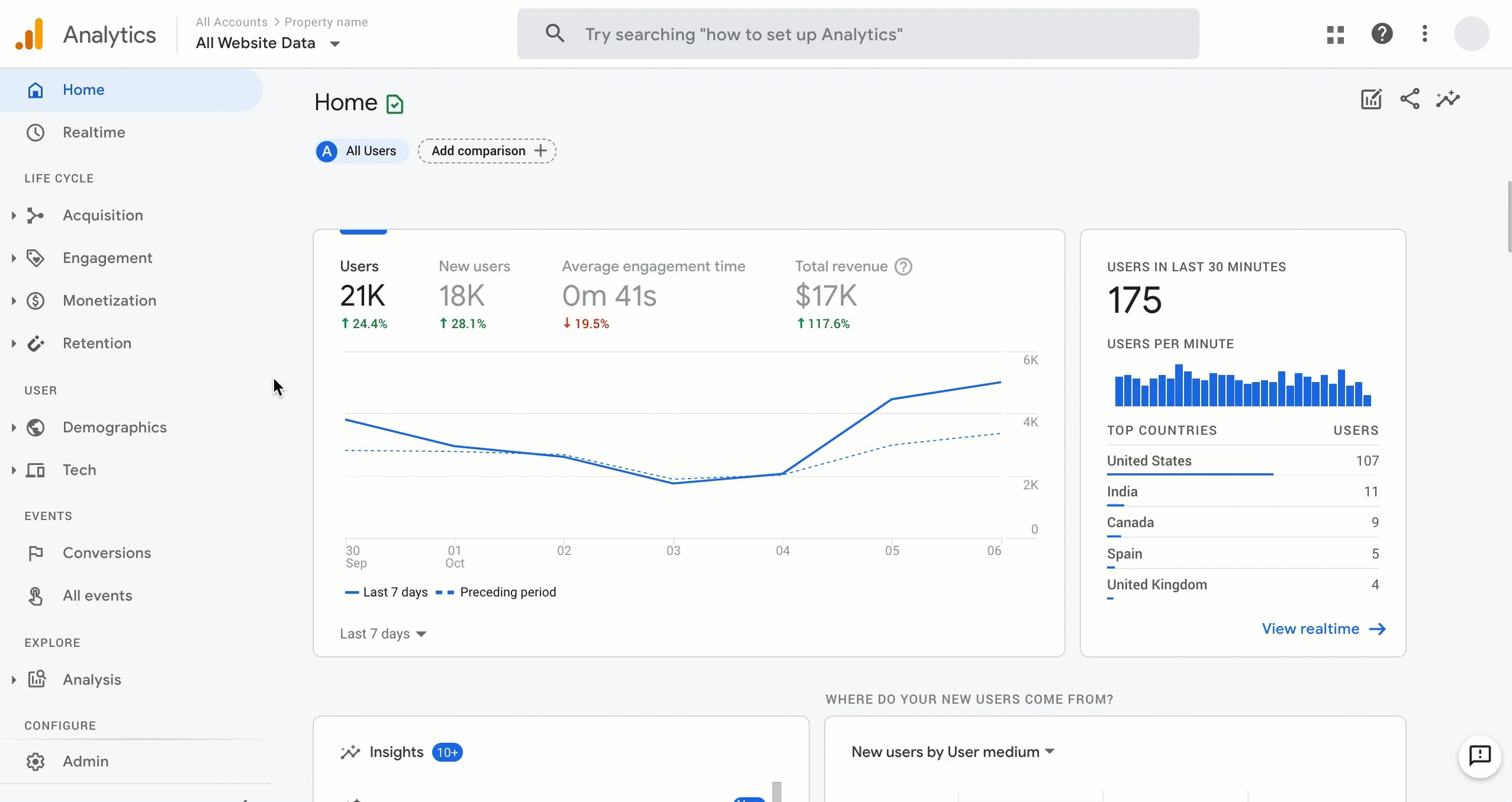 New reports within Google Analytics 4. Image: Google.
What are your immediate next steps?
1. Make a plan and implement GA4
Talk to your internal stakeholders, clarify where you are at and what your next best step is. Likely, you will need to start with by reviewing what you currently have set up in Universal Analytics. And after that: it's time to start building a proper measurement plan for GA4. This is a very important first action because the structure of GA4 is much more customized than Universal Analytics. Ensuring you have the right measurement plan in place is key to make sure your data is complete, trustworthy and useful.
Whereas Universal Analytics housed many standard reports that nearly every marketer was familiar with, GA4 is all about creating your own custom reports. This means that all end-users must be familiar with their website's tagging taxonomy to find what they need within GA4. Therefore, it is important to incorporate end users in the measurement plan phase to ensure that GA4 will be fit-for-purpose for their future needs of turning data into insights.
2. Train your teams
In line with our previous point, don't expect GA4 onboarding to be quite as easy as we had it with Universal Analytics. We were a generation of marketers that grew up with Universal Analytics, and now we will need to collectively learn a new interface and data structure. (We are old dogs learning new tricks, as they say).
As mentioned above, the measurement plan and therefore, the reporting within GA4 itself, is highly customizable. To prepare your business for using the new interface, proper user training sessions should be made mandatory.
3. Start using GA4, and see for yourself how it compares to Universal Analytics
Do you already have GA4 running in parallel with UA? Great! Now, it's time to challenge yourself to use GA4 as your primary tool. Using the GA4 data for reporting, analysis and activation is a great way to audit and compare how GA4 holds up against UA. And by already 'testing' GA4 as a single source of truth, onboarding stakeholders becomes more natural because everyone has clear goals and expectations of what is needed from the tool.
See if teams can gather all the insights they need compared to the Universal Analytics set-up. And if not, why not? Is it a problem with the tagging structure, data collection, or is it simply a matter of needing better user enablement (via training and onboarding)? Starting this transition now gives you plenty of time to iterate prior to July 2023.
4. Stay up to date
As we look back at the rapid development and evolving of the GA4 platform, we can expect many upgrades and feature enhancements from Google leading up to July 2023.
On this blog, we will be keeping a close eye on all developments and will be gathering practical information which will help with this transition period ahead, such as a migration guide and FAQ. Below we have compiled the answers to the main questions we've received from our clients and colleagues so far. For example:
Why is Google sunsetting Universal Analytics?
What impact will the transition to GA4 have on my marketing and measurement?
How long does GA4 implementation take?
What else is dentsu doing in preparation for the GA4 transition in 2023?

In order to support your transition to GA4, we at dentsu offer three tiers of support to our clients: technical implementations, user training and onboarding, and advanced analytics enablement. If you are interested in a consultation to see how we can help your business with this transition, please reach out to either Jill Laise or Sophie Bakker.
And of course, stay tuned for more information on this blog!



FAQ
Why is Google sunsetting Universal Analytics?
Given the changing digital landscape, it is no surprise that Google is now focusing heavily on GA4 as a key enabler to a future-proofed, and privacy-centric future. In their blog post they explain the reason they will no longer invest in GA4's predecessor, Universal Analytics, "Universal Analytics was built for a generation of online measurement that was anchored in the desktop web, independent sessions and more easily observable data from cookies. This measurement methodology is quickly becoming obsolete."
GA4 takes a big step towards a privacy-safe-internet. As consumers and legislators alike increase their expectations of privacy, it is imperative that the web analytics infrastructures that we rely on keep pace. GA4 is built with this privacy-first future in mind (for example: less reliance on cookies and IP addresses, and increased functionality of country-level privacy controls.)
Another challenge GA4 solves for is the unification of web + app tracking in one view.
In short- GA4 reduces dependency on older tracking practices such as cookies, minimizes the collection of user-level data, and provides additional capabilities related to multi-platform, multi-device consumer journeys.
What impact will the transition to GA4 have on my marketing and measurement?
Impact for web analytics tracking
GA4 tracking is more comprehensive than UA and, by design, is intended to better unify user journeys (for example: web + app journeys). In addition, there are new out-of-the-box metrics that will be included as standard in GA4, such as engaged sessions. The addition of this metric is good news for marketers that want to evaluate and steer their campaigns towards high-quality site landings, without the added hassle of a custom implementation.
Another exciting new feature for marketers is that GA4 will have a predictive audiences feature (eg. predicted 7-day churning users, predicted 7-day purchasers etc). This could be an interesting new audience group for remarketing or lookalike campaigns.
Finally, GA4 will unlock greater capabilities for analysis and automation due to its integration with bigQuery
Impact for online marketing
As mentioned above there will be new features available in GA4 which marketers will find interesting as it will provide greater audience insights and campaign measurement abilities.
Be aware, come July 2023 GA4 will entirely replace Universal Analytics in its functionality for online marketing. For example: GA4 will become the place to manage audiences and conversions, which can then also be used in Google Ads and Google Optimize.
But before switching entirely from Universal Analytics to GA4, you should run both in parallel so that you can make sure that you are getting similar audience sizes and conversion counts within both platforms (within 10%). There is a bit of nuance in how to set this up correctly, though, so you should work in partnership with your web analytics and media team to ensure conversions are not double counted and that your audiences are complete before making the final switch over to GA4.
How long does GA4 implementation take?
Implementing GA4 can take anywhere from 4 to 16+ weeks. This varies based on the complexity of your website and current web analytics configuration. There are several factors that will influence the implementation time, such as: dataLayer completeness, current tag management structure, how many websites you need to track (multiple brands, countries etc.), availability of web development resources, and to what extend your backend is standardized. On top of that, time and resources need to be made available to review and compare the set-ups between UA and GA4 to ensure the quality of the data.
What else is dentsu doing in preparation for the GA4 transition in 2023?
At dentsu, we have already begun the transition from UA to GA4. Now that we have the two platforms running parallel for many of our clients, we are conducting audits and working with Google to see how the data captured in GA4 compares to the data tracked in UA. Gaining this insight is an important step for us to bring trust to the GA4 data, so that we can begin the transition to GA4 as our new single source of truth.
We are now working on a transition plan with our web analytics clients: both for the technical implementation as well as the 'softer side' of the transition, including training and onboarding. Finally, we will work with our clients to tap into the new opportunities GA4 provides, such as the direct integration with Google bigQuery.