Webinar Wednesday: The Potential of Real Inclusion
Published on: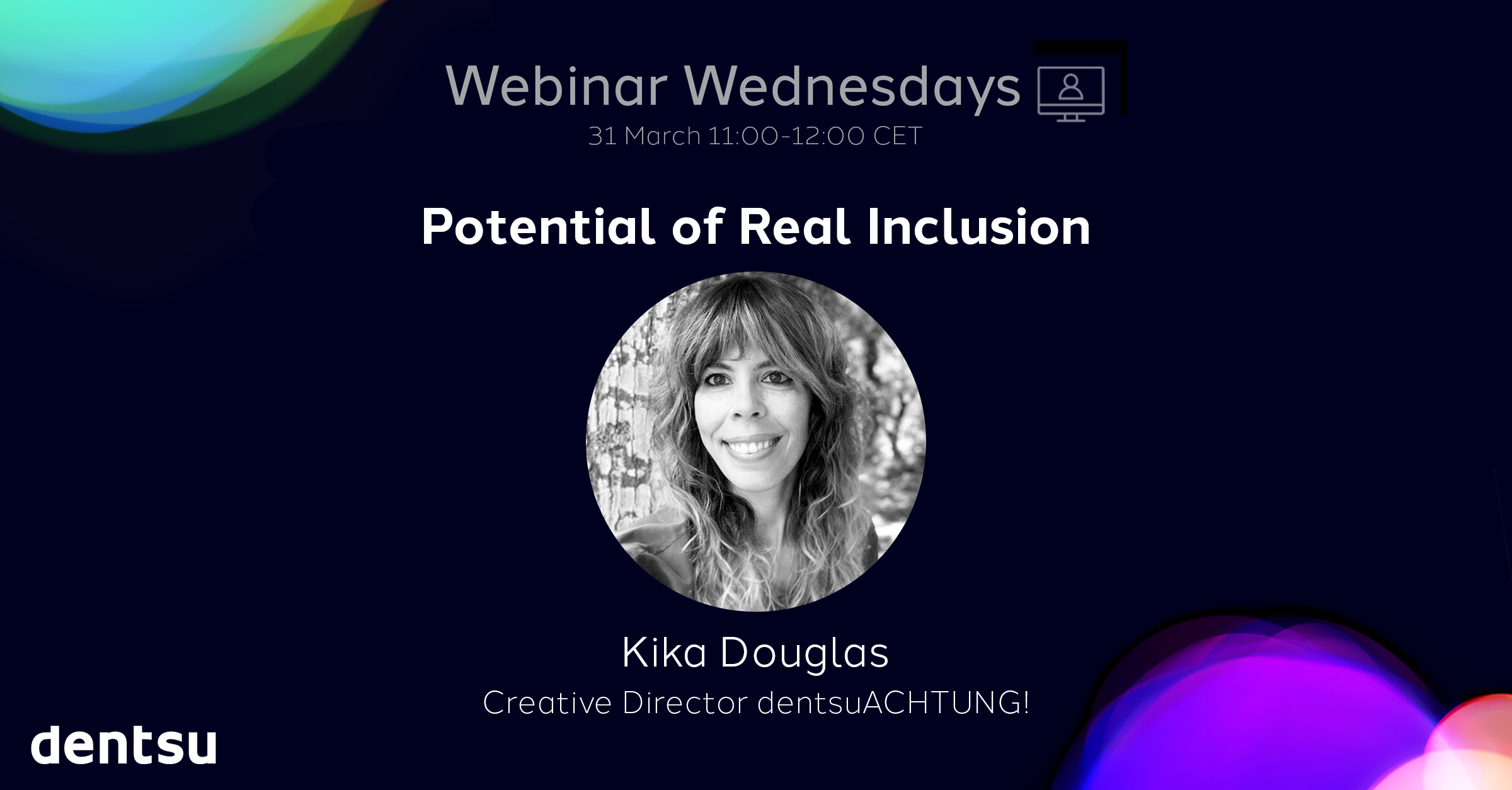 Join our host Nadine Ridder, our external Diversity, Equity & Inclusion advisor in her conversation with Kika Douglas, Creative Director at dentsuACHTUNG!, Ruben Salcedo, dentsu, member of the DEI taskforce of dentsu Netherlands and Sharon de Graaf, Senior Art Director dentsuACHTUNG!, on Wednesday March 31 at 11:00 CET to learn more about this complicated but important topic, and what we all can do to strive for better.

What can you expect from this webinar:
11:00 Introduction by Nadine Ridder on the DE&I topic and the path dentsu Netherlands is embarking on to become a more inclusive organization
"An inclusive organization requires leadership that can take a critical look at itself and the organization, places the interests of the collective above the individual and facilitates an environment in which to listen to each other, to communicate in a connecting way and to set and respect boundaries. Working on DEI is not about being right. It is about doing the right thing. It is not a fight or a challenge, but a huge opportunity to grow. As a human being. As a company. As a culture."
11:15 Ruben Salcedo, dentsu, member of the DE&I taskforce of dentsu Netherlands
Will share both the progress dentsu Netherlands has made in the field of DEI and the challenges that we face as a large media organization.
11:20 Kika Douglas, Creative Director dentsuACHTUNG!
Kika will show some examples of recent work and talk about her own personal experiences as a creative director.
11:35 Sharon de Graaf, Senior Art Director at dentsuACHTUNG!
Sharon will introduce her project that addresses the importance of language in (gender) inequality issues
We will end the interactive session with a panel discussion between all presenters, I have you any question you want to ask, let us know!
SIGN UP HERE 📣 Webinar Wednesday - The Potential of Real Inclusion