Dentsu Bulgaria: Grand Prix at B2B Media Awards 2023 for Innovative Business Development
Published on:
We are thrilled to share the incredible achievements of dentsu Bulgaria at the recent B2B Media Awards 2023: three with one blow and a Grand Prix!
Not only did we receive the CSR Campaign Award for our One Day for Change initiative, the ESG Project Award for our Force for Good program and Best Innovation in Marketing and PR award for our groundbreaking 'Cookieless' campaign for OMV but we claimed the prestigious Grand Prix Award!
This is the first time for dentsu Bulgaria to receive 4(!) accolades at once which is a true recognition of our commitment to innovation, corporate social responsibility, transformative marketing solution and excellence in the business and marketing landscape.
The Grand Prix: Celebrating Innovation in Business Organizations
We are humbled and honored to have been awarded the Grand Prix at the B2B Media Awards 2023. This prestigious recognition celebrates our excellence in innovative development of our business organizations. It is a testament to our unwavering dedication, forward-thinking approach, and our ability to shape the future of innovative business solutions. The award is not applied for but is granted based on the decision of an independent decision of a 11-member jury committee, comprised of representatives from prominent industrial and non-profit organizations. We are incredibly grateful to the Bulgarian business society for recognizing our contributions to the corporate world.
Before reaching to the above award, we paved the way to there with some more during the course of the event.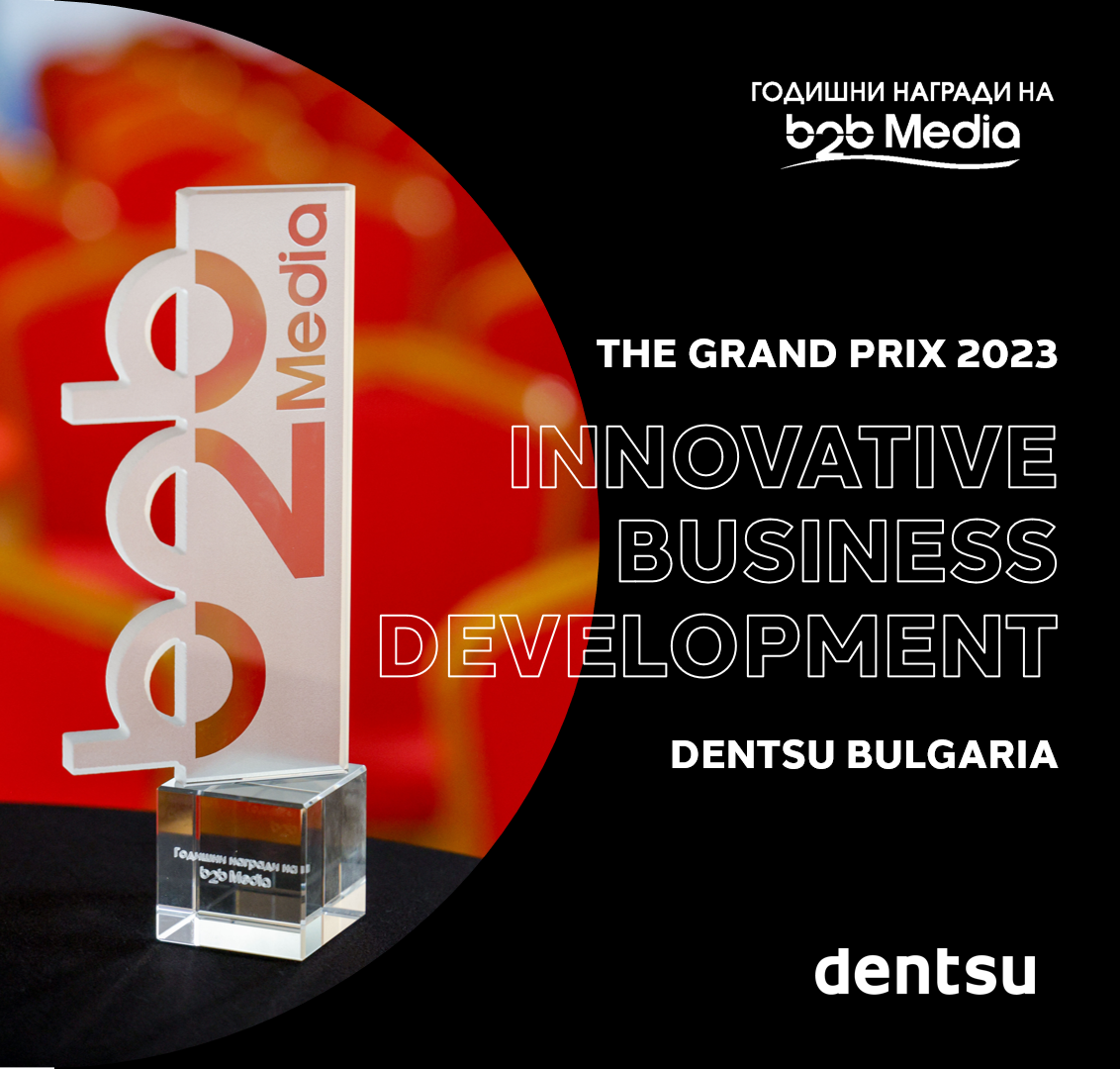 CSR Campaign Award: One Day for Change
We are thrilled to have received the prestigious CSR Campaign Award for our remarkable One Day for Change volunteering campaign. This recognition would not have been possible without the dedication and compassion of our amazing dentsu Bulgaria volunteers. Their selfless contribution of time, energy, and skills made a significant difference in four different communities across four countries – Bulgaria, Portugal, Spain and France!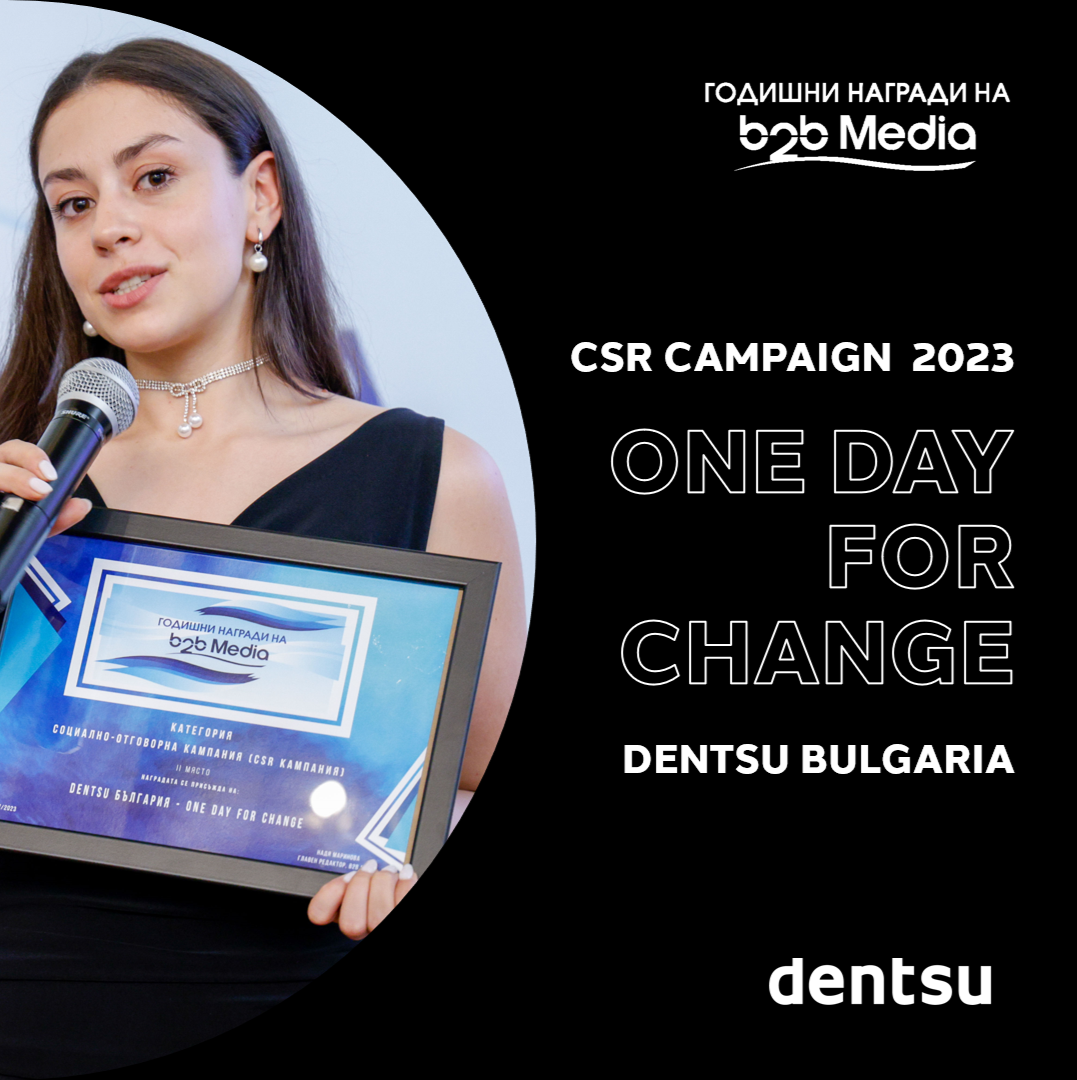 ESG Project Award: The Force for Good Program
Our company was once again honored during the ceremony with the ESG Project Award for our impactful Force for Good program. We owe this achievement to our incredible team and partners, whose dedication and passion have contributed to the success of this initiative. Through the Force for Good program, we have made a tangible difference in our industry and beyond. We remain committed to pushing the boundaries of responsible advertising and inspiring others to join us on this transformative journey. Together, we can create a better world for generations to come.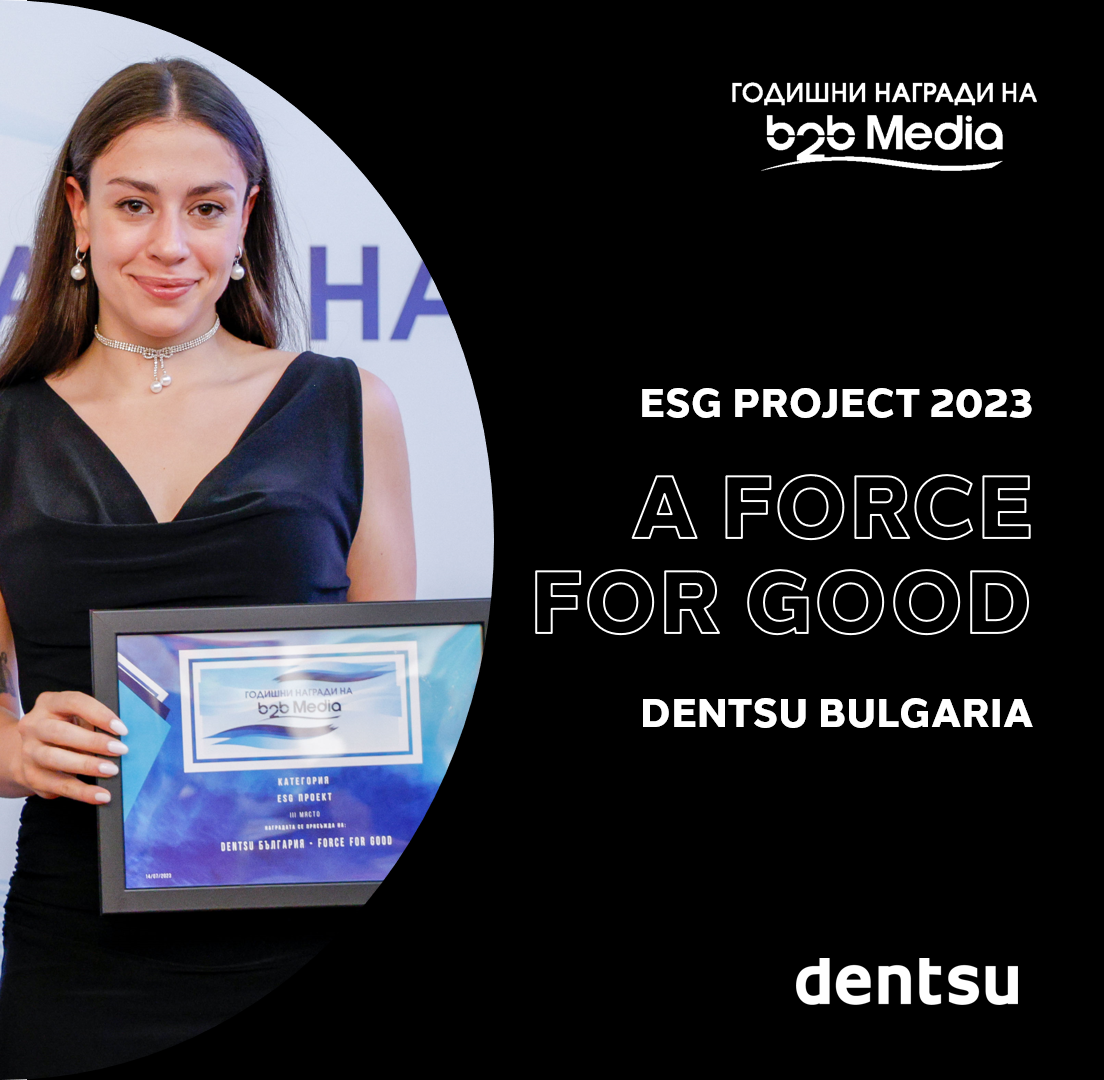 Best Innovation in Marketing and PR Award: OMV Campaign
Adding to our list of accomplishments, we were also proud recipients of the Best Innovation in Marketing and PR award for our groundbreaking campaign for OMV. This campaign signifies a bright future for the industry in the upcoming Cookieless Era. We express our gratitude to our remarkable client, OMV, for their courage in endorsing this project. Their trust and vision enabled us to uncover new opportunities within the challenges we faced. We have proven that taking risks can lead to extraordinary results, and this award is a testament to that!