CEO Grachnova to advertisers: Tell more engaging stories for lasting effect
Published on:
Maria Grachnova, Chief Executive Officer for dentsu in Southeast Europe, gave an interview to Capital magazine in Bulgaria where she highlighted the need for brands to engage with client more with emotional intelligence and storytelling.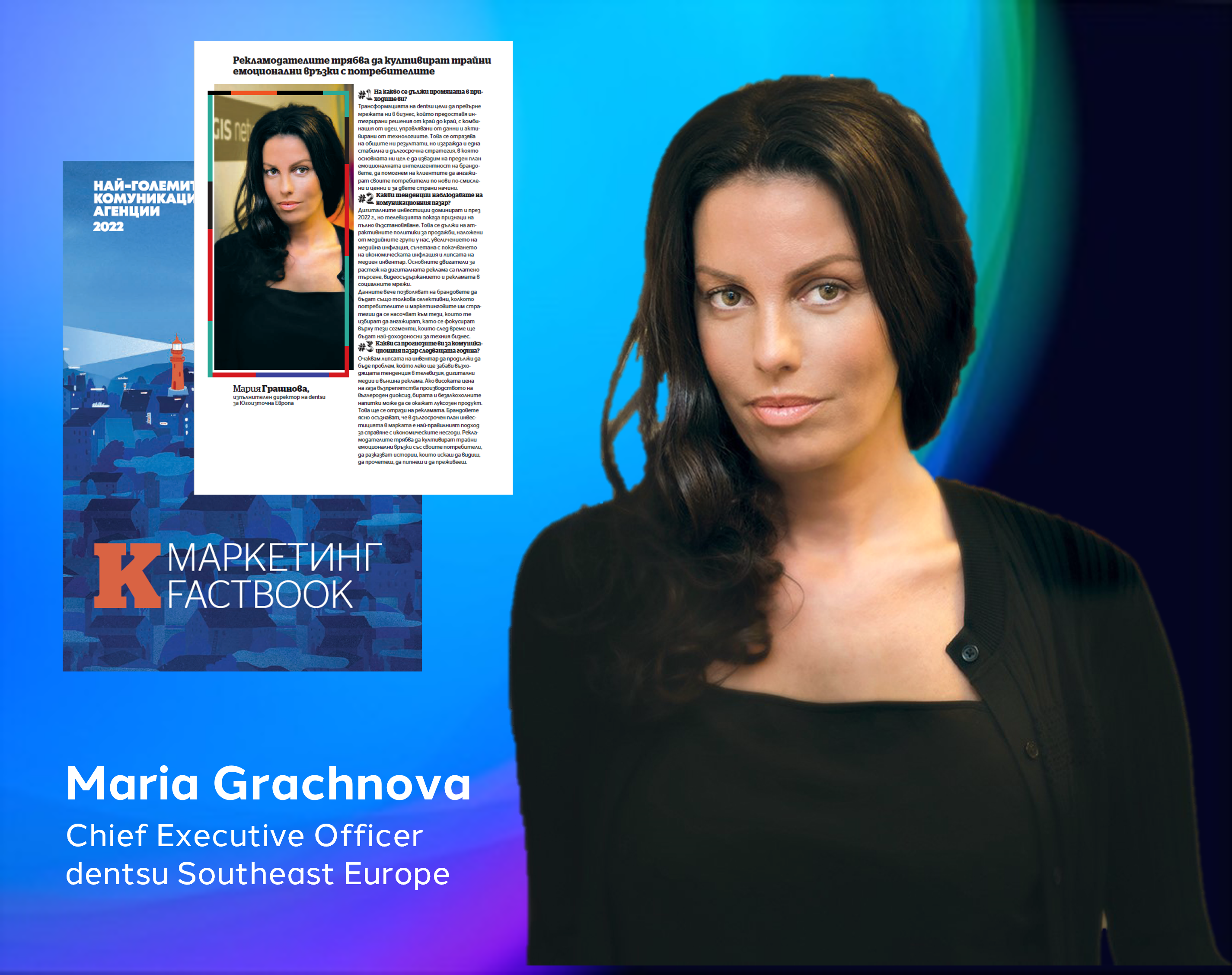 In the interview, which is published in liaison with the annual ranking of communication agencies in Bulgarian market, Grachnova talks about dentsu's transformation.
- We in dentsu transform our network into a business that delivers end-to-end integrated solutions with a combination of data-driven and technology-enabled insights. This builds a stable and long-term strategy in which our main goal is to bring the emotional intelligence of brands to the fore, to help clients engage their users in new, more meaningful, and valuable ways and to both ways.
Grachnova tells she sees the market moving more into digital, specifically paid search, video content and social media advertising, but also that TV advertising is on the grow and full recovery after the two pandemic years.
- This is due to the attractive sales policies imposed by the media groups in our country, the increase in media inflation combined with the rise in economic inflation and the lack of media inventory.
As for 2023, she sees that brands will use more data in their marketing strategies to target those they choose to engage, focusing on those segments that will be the most profitable for their business over time.
- I also expect lack of inventory to continue to be an issue that will slightly slow the upward trend in TV, digital media, and outdoor advertising. Brands are acutely aware that, in the long term, brand investment is the best approach to weather economic adversity.
- Thus, I see that advertisers must cultivate lasting emotional connections with their consumers, telling stories you want to see, read, touch and experience.
Read the whole interview in Bulgarian here.