Dentsu Croatia COO Vjeko Srednoselec: 2022 was a year of significant growth
Published on:
Vjeko Srednoselec, Chief Operating Officer of dentsu Croatia tells Media Marketing that year 2022 ended with record high client and employee satisfaction.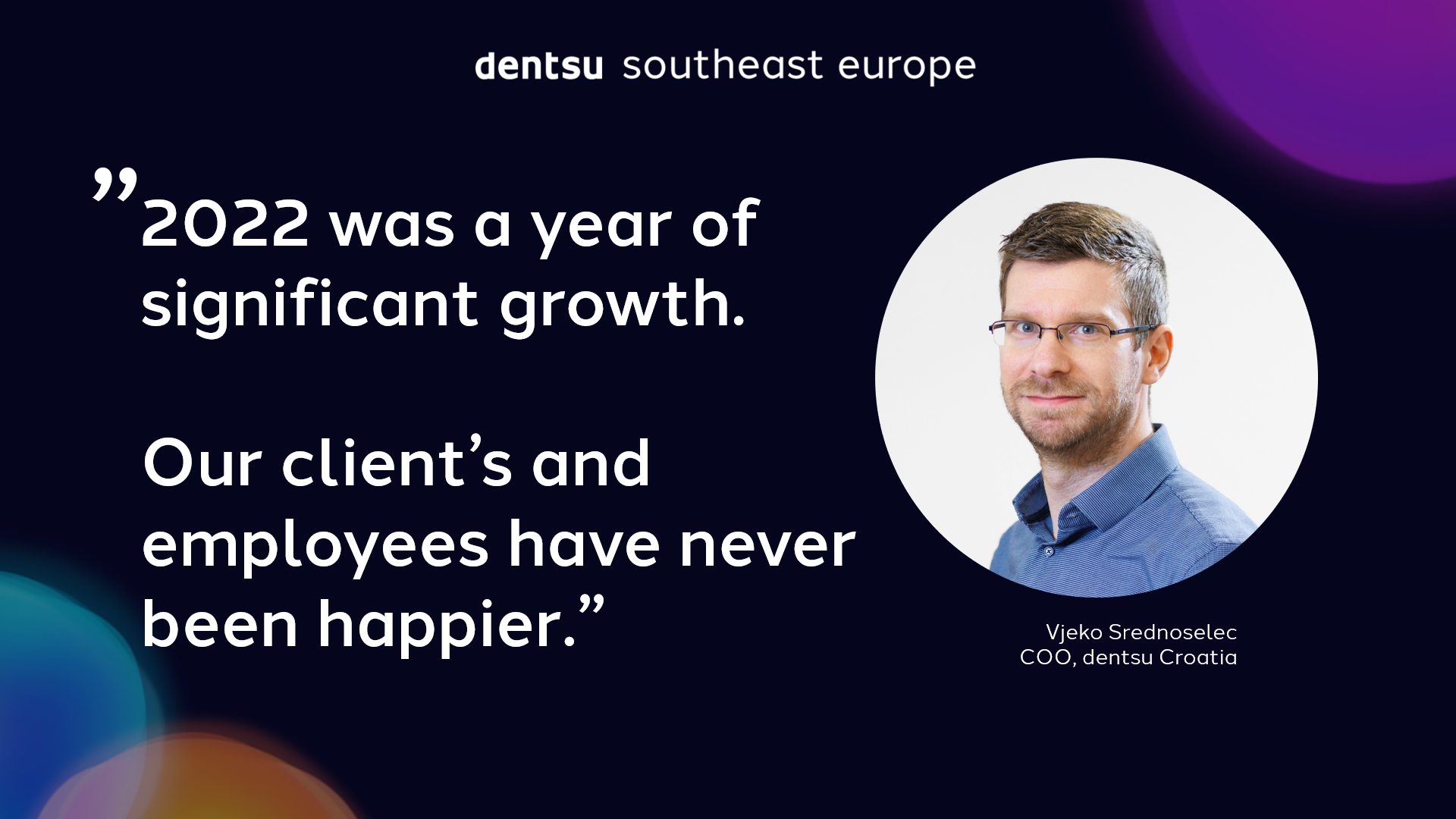 In the interview for the main marketing media in the Adriatic region, Media Marketing, Srednoselec walks through the keys for growth: Multiple new services, clients, development of the regional Performance HUB, and expanded collaboration with existing clients.
Dentsu Croatia, which comprises of media agencies Carat, dentsu X and iProspect also got a new sister brand in creative services and launched a new agency DENTSU CREATIVE also in Croatia.
Combining media and creative teams together to drive growth, new services in entertainment, content and working closer together with the gaming community have been proved to be the secret sauce. To back both big divisions up, Croatia has also put investments into own consumer research, Consumer Connection System.
We implemented the study in several markets of the Adriatic region, such as Slovenia, Croatia, and Serbia, so that we can work on integrated media and creative strategies for the entire Adriatic region, as well as benchmarking with 70 countries in the world, Srednoselec says.
A great testament to the professionalism of the team is that team has been awarded in dentsu's global awards: team won for example in iProspect global awards gold in the "Innovation at the Intersection" category and multiple awards in media effectiveness.
On top of clients, also the employees were happier than ever in 2022. The company introduced new social impact projects, and additional Wellbeing days, that have made the combination of work & private life easier to dentsu professionals.
We invest a lot in creating a pleasant working environment and working conditions, such as a flexible workplace and time, and we are very glad that all measures and efforts are paying off.
Read the whole interview here.
Dentsu Croatia is part of dentsu Southeast Europe which operates in dentsu operates in best-in-class media and creative solutions across Bulgaria, Croatia, and Romania, while also covering Albania, Bosnia & Herzegovina, Kosovo, Montenegro and North Macedonia, Serbia, and Slovenia.
Dentsu is the network designed for what's next, helping clients predict and plan for disruptive future opportunities in the sustainable economy. Taking a people-centered approach to business transformation, dentsu combines Japanese innovation with a diverse, global perspective to drive client growth and to shape society with 65,000 people in 145 markets.