Radoslav Nedelchev on wellbeing of woman in the workplace
Published on:
Radoslav Nedelchev, COO dentsu Southeast Europe, was invited to at the fourth edition of Global Shapers Sofia event to talk about wellbeing of women in the workplace.
Global Shapers is a non-profit organization and an initiative of the World Economic Forum (WEF), a network of Hubs developed and led by young people who are exceptional in their potential, their achievements and their drive to make a contribution to their communities.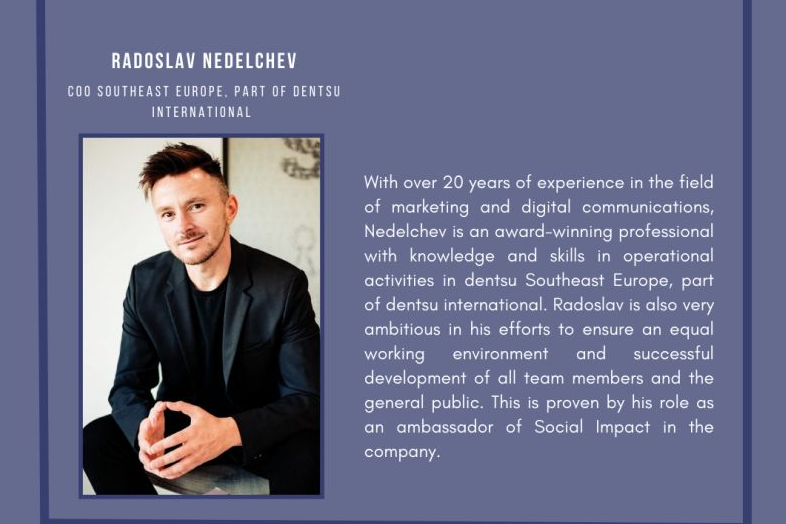 Nedelchev shared his work experience including 14 years at a radio station and at dentsu, highlighting the company's modern approach on a local and global level and the essence of open communication in the company.
"I have grown up in a female-focused environment which has shaped my actions and my thinking. It has taught me to not give different opportunities to different people just because they are from a different gender. The opportunities are the same and everyone is welcomed to step forward, take on the challenge, make mistakes, learn from them, and move on." Said Nedelchev.
Moreover, excited to share the male point of view of women in business, he expressed what he sees and how he tries to adhere to his own personal values and company policies dentsu implements to ensure equality in the workplace.
One topic he deemed important to work on is creating an environment in which women feel comfortable and safe to speak up and share their worries and give feedback to colleagues.
"One thing we should aim to change is creating a space for women to not be worried to speak up when mistreated at the workplace. I always proactively ask and search for feedback if my words and actions are appropriate to my colleagues. Maybe this is also an aim for all of us working in a professional environment – we should be open and respect others, their opinion and establish a line that should not be crossed.
On the theme of creating corporate policies for women Nedelchev pinpointed dentsu's strong Diversity Equity and Inclusion (DEI) policies in place with their aims, attitude norms, training, and expectations regardless of gender identity. He highlighted that in dentsu Bulgaria, the team is made up of more than 65% of women in a highly paid and competitive industry, providing for their success.
"Dentsu has a great DEI policy with clear goals and behavior norms for all employees regardless of gender and role. There are expectations, trainings, and webinars to ensure we keep our standards."
Watch the whole video panel here (starting from 1:05).