One brief, six teams, and a three-day learning trip – the main ingredients of the inaugural DAN Pitch Off 2019, an in-house learning competition where teams are challenged to respond to a real-life business brief, using innovative and integrated DAN solutions for Standard Chartered Bank (SCB), DAN's collaborative client partner for the competition.
Launched in July 2019, the competition brought together six teams formed by employees from different specialisations across DAN Hong Kong, who developed a range of multidisciplinary marketing and communication solutions to address a real-life business brief from SCB.
The winning title eventually went to Team Infinity made up of One Tung (Chinese Copywriter, Dentsu Hong Kong), Whitney Lau (Senior Planner, Carat), Lin Zhou (Account Executive, Same Same But Different), Connie Fong (Digital Performance Executive, iProspect) and Sharmina Tumpa (Digital Performance Executive, iProspect). Together, the team will undergo a three-day learning trip to Dentsu Inc., Japan.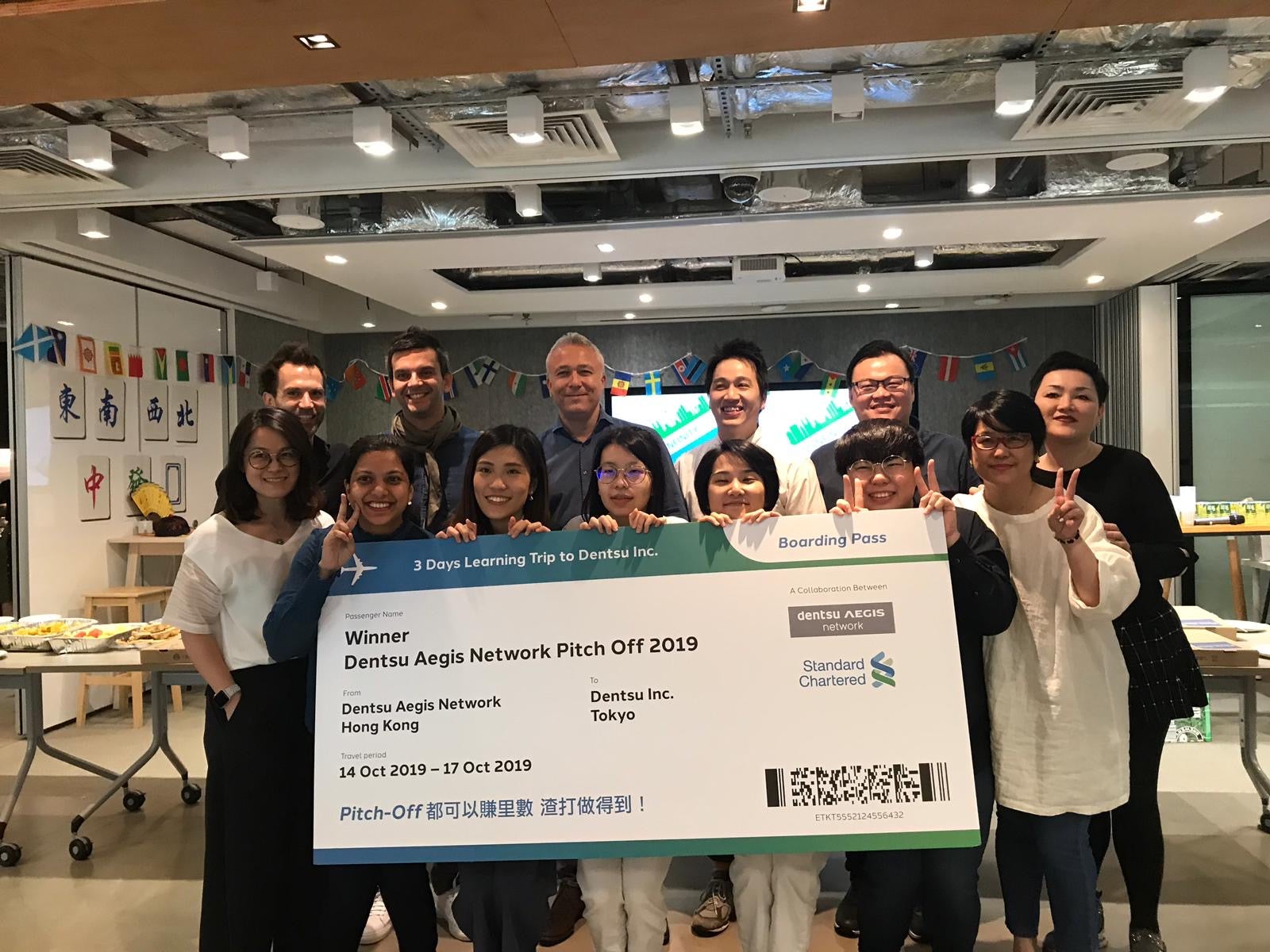 Cheuk Shum, Head of Retail & Digital Marketing at Standard Chartered Bank shares "The Pitch Off concept is very interesting. It is the first time we've done something as such with our agency partners. We've learned more about Dentsu Aegis Network, its agency mix and offerings. The best part was to see all of that from groups of young talents. Their ideas, energy and team spirit are indeed inspiring."
Pauline Chu, CEO of Dentsu Aegis Network Hong Kong, shares "To truly work as one, we need to make sure everyone feels that they have a role and something to contribute. Pitch Off is designed to drive greater collaboration across all levels. It opens a door for our young talents to go beyond their fields, broaden their thinking to come up with an integrated business solution. There is so much energy and synergy, from our brands, people and most excitingly our clients and partners. Everyone is super invested, working together to solve this business challenge sponsored by Standard Chartered Bank. A special thank you to the Global Business Center team at Dentsu Inc. for hosting our winning team in Tokyo. I cannot wait to hear about their learnings and explore future opportunities to collaborate."
Stay tuned to catch Team Infinity's insights on their three-day learning journey.
Check out the teams on Instagram :
Team Infinity (Winners)
DAN TeamFour (Profile not available)