Welcome to our round-up of the Cannes Festival of Creativity 2022 – covering the hot topics and burning debates from this year's in-person festival.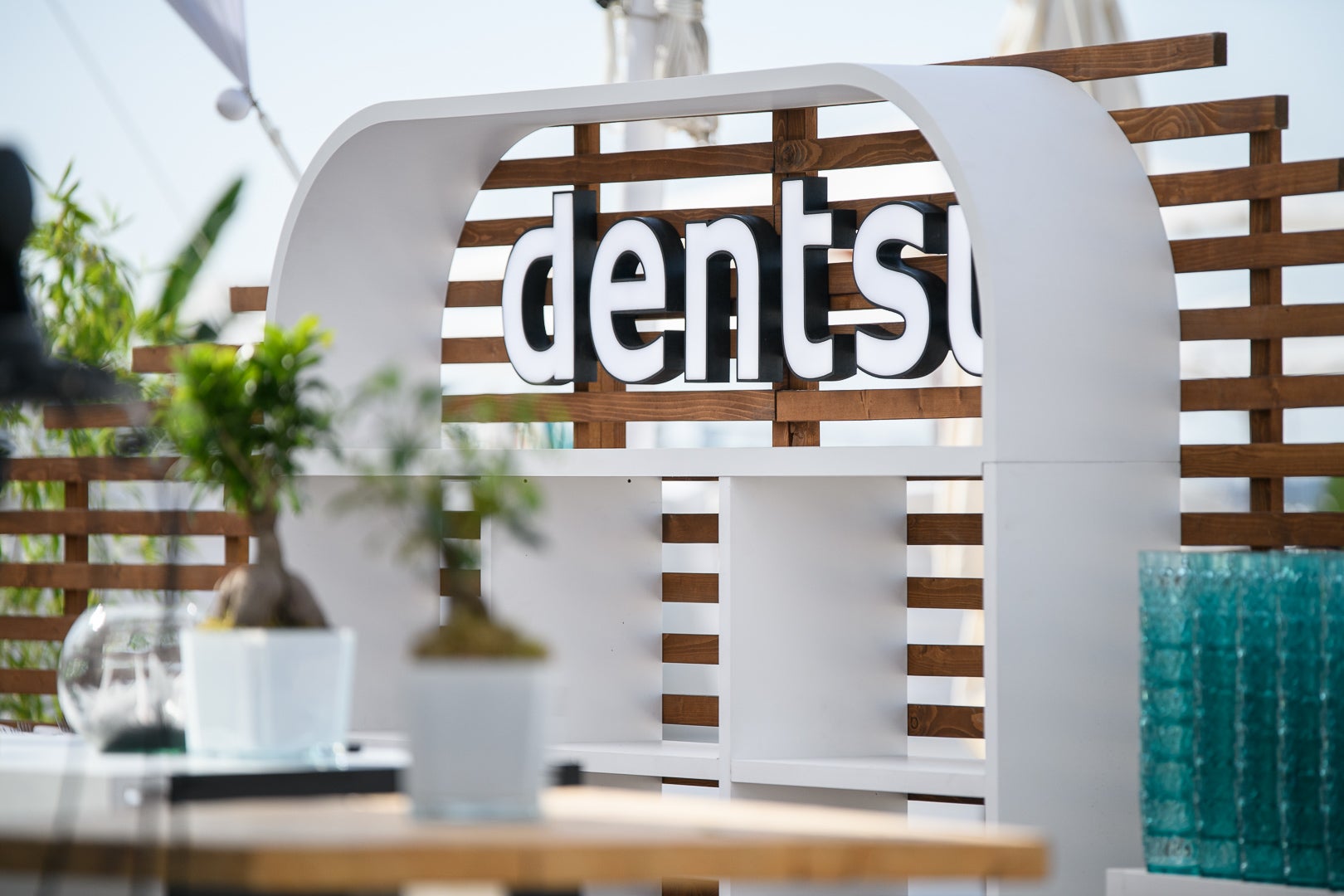 It was Edward de Bono, who observed: "There is no doubt that creativity is the most important human resource of all. Without creativity, there would be no progress, and we would be forever repeating the same patterns." The power of creativity is a known force in making headway against those goals, but it is persistence, responsibility and accountability which will ultimately underpin our collective success.
With this in mind, we tasked our team on the ground to report back on what caught their eye, which topics topped the agenda and what made them most proud to be a part of team dentsu.
Top themes from Cannes
Metaverse a great opportunity that must co-exist with the "real world"
Even if you got nowhere near a VR-headset, it was impossible to avoid the metaverse in Cannes. From tech giants to agencies, brands to the media, discussion of the metaverse and related web3 technologies was widespread, and highly polarised. Some see the metaverse as the very opposite of people's desire to live in the real world (see more below from Evan Spiegel at Snapchat), while others insist NFTs will be a driving force behind the complete disruption of the creative sectors.
Major themes surrounding the metaverse included forming authentic connections, being community-driven and enabling freedom of self-expression. Although equity and inclusion in the metaverse was a regular topic, many felt accessibility didn't feature high enough on the agenda and that the industry's desire to differentiate at all costs must be balanced with a commitment to extending experiences back onto scaled platforms in the "real world". We agree with Evan Spiegel that the real world is not a place we'll be abandoning any time soon!
There's no doubt adoption of new channels is on the rise though, so if your audience is exploring new worlds (virtual or otherwise), it is probably time to start experimenting yourself. Check out dentsu's Generation Live research for more inspiration.
Our planet is burning, advertising must play a key role
Given the urgency of the climate crisis, sustainability was a major talking point in Cannes. As dentsu's Chief Sustainability Officer, Anna Lungley, shared: "This is the biggest creative brief. We have incredible power to shift the ways we all live and consume, and ensure a more sustainable future for all. But we must act fast."
Cannes was also a chance to drive the wider agenda across ESG. Notable initiatives included: Diageo's "Brand Activism Framework" launch, aimed at teaching marketers how to avoid greenwashing in campaigns; Google's newly updated inclusive marketing playbook—developed with disability inclusion specialists; and Ad Net Zero's global launch, an industry-wide drive developed by the Advertising Association and proudly supported by Dentsu, to reduce the carbon impact of advertising to real net zero.
But perhaps the biggest call to action was during an address from Ukraine President, Volodymyr Zelensky, during which he called upon the creative industry to use the power of creativity to help his nation win the war against Russia. "Even during a time of war, you have the power to reach the depths of the human soul," he said. "Speak of Ukraine, don't let the world switch to something else…
now you can bring peace to Europe simply by applying your professional qualities. Your every success will mean saving thousands of lives."
The future of work is driven by gen-z preferences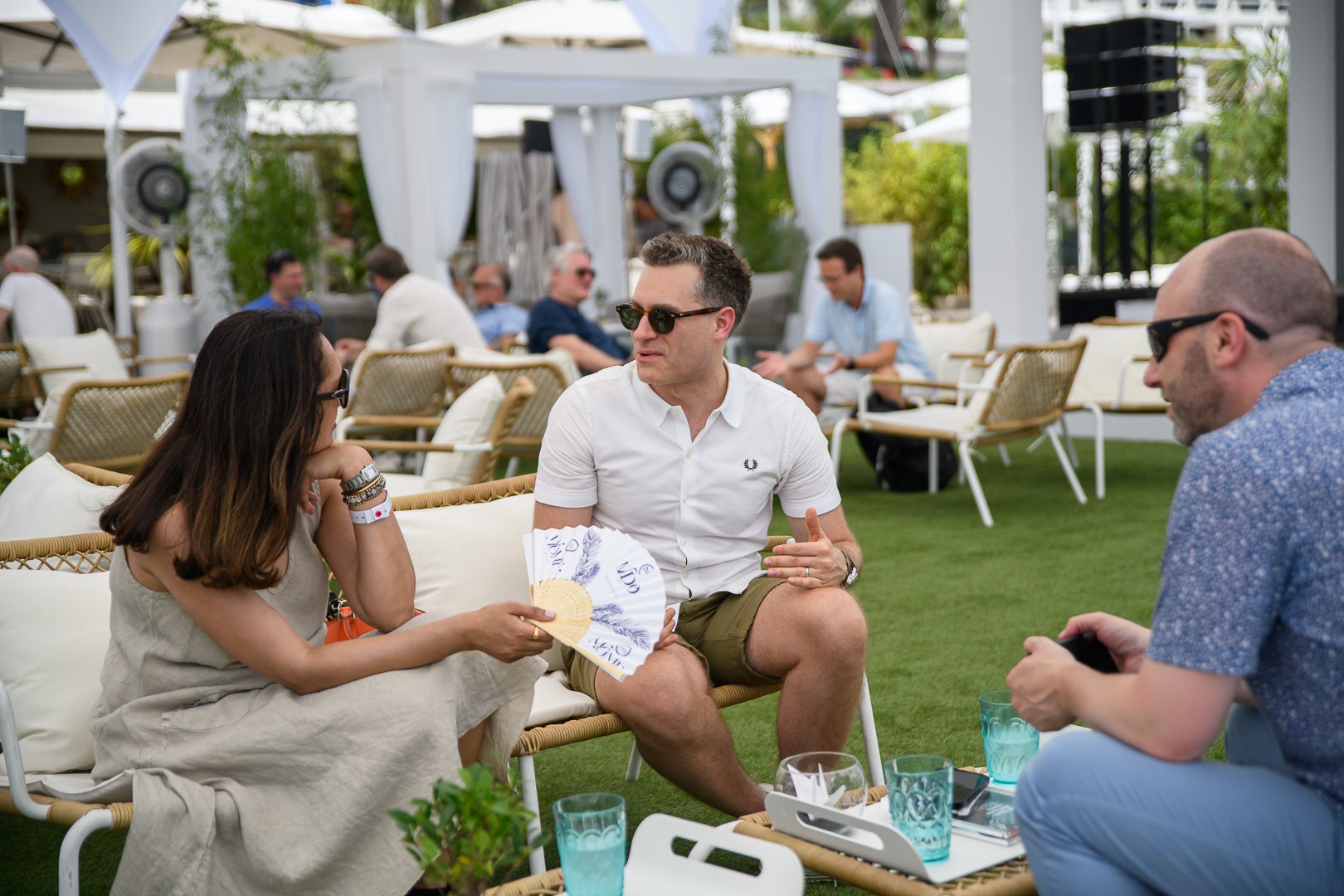 You couldn't escape the exclamations of joy as people bumped into old friends and colleagues along La Croisette. Yet many live in the same city and would once have worked in the same offices and locations. It was clear everyone was both energised and inspired by the in-person event once again. But when the awards were over and we boarded (woefully delayed or rebooked) flights, we were going back to a world of working from home and hybrid workstyles.
So, the question was: how will we be working in one year or five years' time? What will be the long and short-term trends? While no one had a definitive answer, at the WSJ New Leaders of Madison Avenue session with Mark Read, Philippe Krakowsky and Wendy Clark, the feeling was unanimous; gen-z will not, and do not want to, work like the boomers did. Wendy shared that "gen-z never worked that way, and so they don't miss it. The next generation don't want to work like we did. We need to find new ways to create fun to drive a return. How do we create FOMO?"
The clear viewpoint was that workspaces needed to be changed up to be more collaborative, creative and open environments, ideally, designed in partnership with our up-and-coming gen-z talent. The idea of satellite offices was discussed with mixed reactions, as was the idea that colleagues weren't coming back due to commute times conflicting with a new-found flexibilty. The big take-away was that home and hybrid working seems here to stay and the creative winners will be those who find the balance to collaborate through both the virtual and real worlds.
'Brand', 'Performance', 'Commerce' and the path to growth
There was a real feeling that the industry is asking some fundamental questions of the supposed laws of brand building and growth in the face of fast changing circumstances. There is nothing like a cost-of-living crisis to drive iconoclastic questions. How should resources be allocated to different types of activity and how should we connect them up to maximum effect? Some accepted truths are being subject to very robust challenges.
We heard Marisa Thalberg, CMO of US retailer Lowe's, calling for performance marketing to be rebranded as it currently implies that other activities don't work. During the same seminar Nadja Bellan-White, CMO of Vice Media stressed measurement expertise was becoming the biggest item on the marketing learning agenda as brand owners try to get to grips with big questions on brand growth.
Dom Boyd of Kantar shared a landmark study analysing the performance of BrandZ's fastest growing brands. His conclusion was that differentiation, not distinctiveness alone, drives profitable growth. He proposed a meaning-rich growth model of 'mental & physical connectivity' to replace the meaning-lite 'mental & physical availability'.
During a particularly outstanding presentation, strategy consultant, JP Castlin and James Hankins, founder of Vizer Consulting, shared their thesis on 'The gravity of ecommerce', which suggested ecommerce's 'honeymoon period' is over. Their argument is that the era of profit-free growth funded by venture capital is also over. The cost of delivery and returns mean that the current ecommerce model can never be profitable and whilst consumers demand next day delivery, businesses will increasingly have to mitigate this unprofitability with moves into retail media and smart fulfilment deals. Some serious food for thought here.
It is clear CMOs and the strategy community are preparing for a challenging period with a spirit of open enquiry and fresh thinking. We will emerge from the next twelve months with a very different view on the path to growth.
Brand purpose, what is it and does it matter?
Brand purpose was one of the most hotly debated topics in Cannes. This has definitely been the case over the last few festivals but the feeling this time was different. The argument as to whether the industry can pursue growth and good has been won. We can and we should. The question now is how to deliver both to best effect in a 'VUCA' (volatility, uncertainty, complexity, and ambiguity) world. Whether it was 'CMOs in the Spotlight' or technical presentations from strategists and researchers, purpose found a place on many stages. One of the strongest cases for brand purpose was made by Alessandro Manfredi, Global CMO of Dove. His position is that 'doing' purpose and selling are entirely complementary. It is not simply philanthropy.
However, to make it work a brand must do three things. First, ensure that purpose and purpose activities are inextricably linked to the sector or industry. Secondly, they must be authentic and be part of the solution not simply signalling a problem. Lastly, it requires sustained investment and commitment and then the sales will come.
The theme of authenticity and everyday relevance in purpose related activities was recurrent across the festival. The industry has learned some tough lessons from token campaigns and causes that don't sit easily with a brand's reason for being. Presenters urged real caution in a) confusing genuinely having a brand purpose with a CSR programme and b) communicating ahead of delivering a meaningful impact. We also heard from various speakers the paradoxical attitudes of GenZs in this area with heightened expectations of brands doing good but also a sceptical outlook on business' ability to impact society positively.
The answer? Work on your purpose, identify where you add value to everyday life and understand where this allows you to make a societal difference before you go about trying to improve lives. While you are doing this, taking some advice from Manfredi of Dove, make sure you are measuring the impact it is having on your brand equity, so good and growth become inextricably connected.
Dentsu's biggest moments of the week
Launch of Dentsu Creative, a modern creative network built for what's next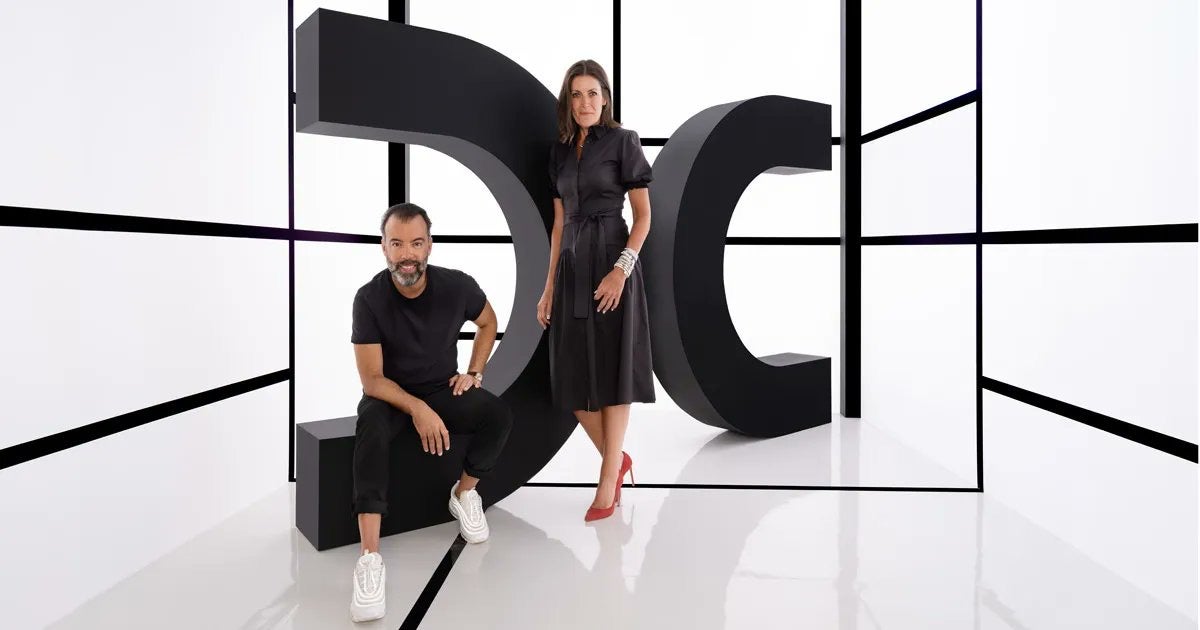 In front of a packed audience at the Palais, we kicked off Cannes Lions week by announcing the launch of Dentsu Creative, our new global creative network. CEO Wendy Clark, along with Fred Levron, global CCO, spoke on stage with Paul Kemp-Robertson of Contagious to introduce Dentsu Creative and how by design, it makes accessing the best of our global creative talent simpler and easier for clients.
Against this backdrop, we wanted to break down the barriers which stand in the way of delivering true creativity.  Our combined team of more than 9,000 creative specialists makes us the first and only organisation of our size to develop such an offering.
Founded on the principles of Modern Creativity, our intention is not to stop at driving vertical creative expertise, but to use our specialists horizontally across every part of the wider dentsu organisation, infusing creativity into everything we do including Media & CXM.
Modern Creativity means delivering ideas that are big enough to live anywhere, bold enough to chart new executional territory and rich enough to connect personally with millions.
Take a look at the new Dentsu Creative website to see how we're blending dentsu's unique DNA of 120-year-old Japanese heritage and craft with our rich experience of building brands in the modern media landscape, to deliver ideas which Create Culture, Change Society and Invent the Future.  
"We're fortunate to draw from our Japanese heritage steeped in a relentless focus on craft, innovation and creativity. This legacy inspired our vision for modern creativity that was born in Japan and raised in a connected world. We want to be the most modern creative partner out there." Fred Levron, Chief Creative Officer.
Agency of the Year, a Titanium Award and a Hattrick of Grand Prix: The Unfiltered History Tour Makes History for Dentsu and India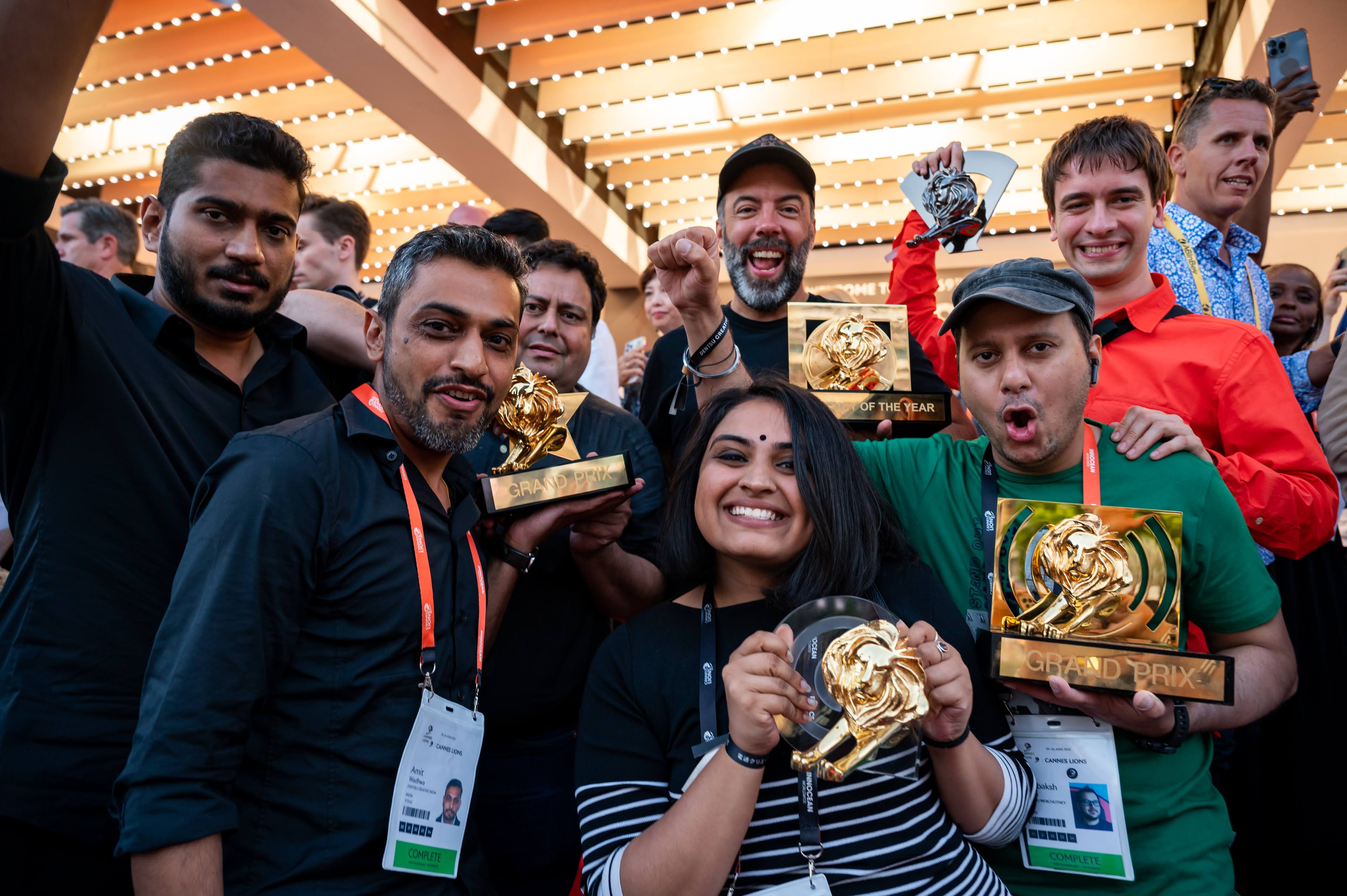 In 2021, Dentsu Creative India began work on something special for VICE Media: a secret project produced during a pandemic which had the power to re-write the history books. The Unfiltered History Tour is an unofficial guide to the British Museum, which gives visitors an immersive tour of the museum's disputed artefacts, their origins and how they were obtained. Visitors are invited to scan objects on display, such as the Rosetta Stone, or the Parthenon Marbles, and are instantly transported back to the time and place of provenance via Instagram AR filters. Through the experience, users can listen to audio guides narrated by people in the countries from which the artefacts originated. Not just an advert for justice, but an educational tool providing the real facts, too often hidden, from the public.
Well, the judges of the Cannes Lions unanimously agreed, awarding three Silver, two Gold, three Grand Prix, a Titanium AND crowning Dentsu Creative Bengaluru 'Agency of the Year', all contributing to India's most successful ever Cannes. "Unprecedented" has been much overused in the last few years but this was truly a special week for Dentsu, for our team in India and for creativity in general. All 46,000 dentsu international collaborators couldn't be more proud!
"We got the world talking about something which really matters deeply, something which will change the way that historically important artefacts are handled in the future, and in turn could change the way that history is taught to millions around the world. Now that is very special indeed." Amit Wadhwa, CEO Dentsu Creative India.
Responsible, accountable and sustainable
Social impact was a core tenet of our presence at Cannes this year, both in the build of our Dentsu Beach House and in our session programming. Ahead of the main event, Dentsu's Chief Sustainability Officer, Anna Lungley, was hard at work briefing the media on why sustainability is the industry's greatest creative brief, how to create meaningful change and how we can overcome sustainability barriers. Anna was also named one of the leading voices at Cannes on sustainability by Forbes.
During the week we were proud to host Kraft-Heinz and Heineken UK for an important discussion on sustainable consumption and how brands can shift consumer behaviour. Furthermore, we held a series of sessions on the importance of diversity, equity, and inclusion for creativity, with panellists including Cephas Williams, Ete Davies EMEA COO, Dentsu Creative and Christine Pyle, Chief Equity Officer, Dentsu Americas. Cannes was a rare opportunity to bring together these influential voices around topics which will shape the future of the creative industries, at dentsu and beyond.
Our Dentsu Labs exhibition on the final day was an example of work that drives good in, and for society, in a way we have not seen before. A frank display of client and agency partners aligning on principles and cultural beliefs. What we saw was much more than a case study of work, it was two patients, in their final stages of ALS, performing in front of a live audience – something no one could have imagined possible, until one person decided to use creativity for more than an ad.
Hear more from our dentsu colleagues on our approach to the climate crisis and diversity, equity and inclusion, and the power of digital for good.
Next generation storytelling with Ryan Reynolds
We'll admit that despite trying to play it cool, we were very excited about sharing the stage with a globally recognised movie star and advertising entrepreneur - and the session didn't disappoint! Wendy Clark and Ryan Reynolds took to the stage to discuss what makes a good ad today, how brands are getting cut-through and to hear Ryan's take on speed vs perfection.
As you might imagine, the conversation covered a lot of ground, but centred on three key points:
Firstly, that advertising has got to be fun to make an emotional connection to a brand. Consumers want authorship and this means allowing them to be a part of the joke, not just marketed to. By doing this, they are much much more likely to want to share the experience. Ryan shared how "humour and emotion travel the most virally. That's the unicorn everyone is looking for."
Secondly, that speed beats perfection every time. "The enemy of creativity is too much time and too much money," Ryan suggested, citing TikTok and Instagram as perfect examples of moving at speed with great success.
Lastly, we learnt some excellent life advice: "in order to be good at something, you have to be willing to be bad at it." By removing the fear of failure and judgement, you actually end up delivering something better than you could imagine. Sound advice which we can all use in our work and home lives!
Changing realities with Evan Spiegel, founder and CEO of Snapchat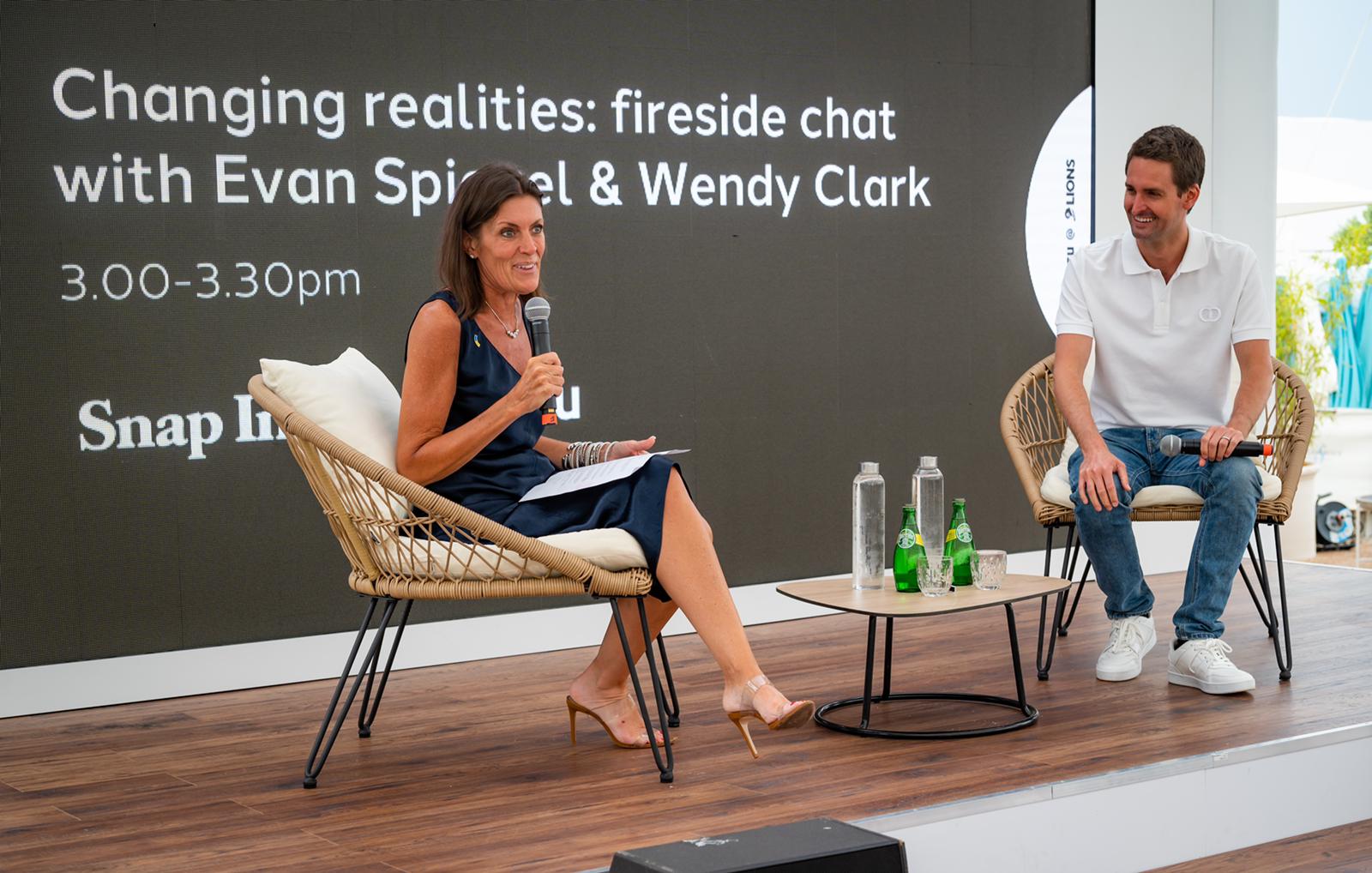 Wendy's role of hosting superstars wasn't over yet as she returned to the Dentsu Beach House to welcome Evan Spiegel, the CEO and founder of one of the world's biggest social platforms, Snapchat. In front of an audience of agencies, technology partners, clients, journalists and Dentsu colleagues, Wendy and Evan discussed how AR is changing the world we live in. From the get-go we were left with no doubt about where Snapchat is putting its bets for "what's next".
"We believe that people quite like living in the real world," Evan commented in response to a question from Wendy about the metaverse hype. "AR delivers on the promise of overlaying the real world with the power and information of the internet." While Snapchat sees AR as what's next, what was fascinating is that 250 million people per day who are using AR on the platform right now, and this early adoption will only increase the familiarity and usability of the technology.
The company is seeing real momentum from businesses in sectors like fashion and retail for AR adoption. The technology allows those brands to create engaging experiences by letting people "try on" hundreds of styles from their own home and then simply tap to buy. The outcome is that purchase conversions are going up and product returns are going down. In turn, this makes for a more sustainable way for brands to do business.
Check out dentsu's Consumer Vision 2030 report for our view on how these technologies will impact human behaviour and what we're calling Synthetic Society.