Get Real with Mixed Reality
Published on: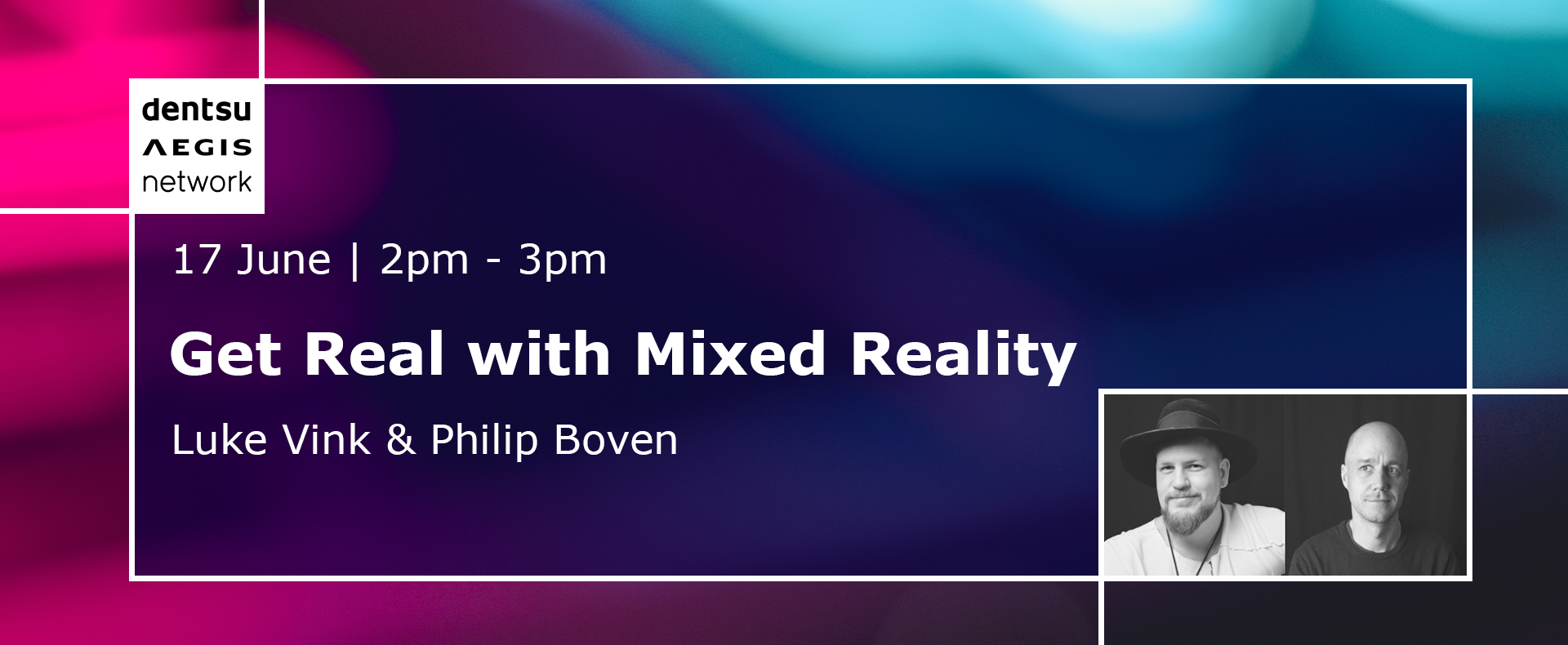 In the past few months, VR and AR have had an industry boom as customers and organizations are seeking meaningful ways to fill the gaps that social distancing has placed on society. In this webinar, we will sift through the hype and explore the facts about mixed reality interfaces, what works well on them today and where they will be headed in the near future. We will explore how they can be leveraged to connect customers to businesses in new ways and allow employees to overcome social distancing with alternative, innovative ways to work together.
Luke Vink (Creative Technologist) was responsible for building the VR model of the office: "We've built the virtual office with Mozilla hubs, an open source platform in which you can share videos, draw and talk to each other in 3D. It's completely VR with spatial audio and VR headsets. But the most important thing; you can also simply access it via your browser. In just one week we've put the model together and hosted our very first Friday afternoon drinks in our own virtual office." Check out the short video impression.
The Presentors
Luke Vink, Creative Technologist
Luke makes things happen. He's an anti-disciplinary connection between design, technology and user experience. If there's a way, he will figure out how. Luke is a creative technologist, maker and inventor at Kraftwerk linked by Isobar where he builds rapid prototypes and drives market ready solutions of products, apps, websites and experiences for Kraftwerk and Isobars clients with a focus on bringing future technology to clients, next week.
Philip Boven, Strategy & Innovation Director
Since arriving on Dutch shores from his native Canada, Philip has racked up over 10 years of strategy experience. This has spanned media, brand & creative strategy, as well as product & innovation strategy. He's worked on both agency side at Isobar NL, Isobar UK and even a brief stint in Isobar Singapore, and design consultancies like IBM iX and Mirabeau. He's now found his way back to an Isobar company as a Strategy and Innovation Director at Kraftwerk linked by Isobar where he helps guide product and service innovation projects as well as marketing strategy. This includes topics like workshop facilitation, product envisioning, agile scrum facilitation, MVP roadmapping, design validation, proposition development, as well as segmentation research.
Read about their other work:
Miss Your Office? Some Companies Are Building Virtual Replicas
"Netflix Is Not Enough": Are Virtual and Augmented Reality the Perfect Lockdown Partners?