Growing, but slowing: Ad Spend predictions Globally and to CEE region 
Published on:
In the Global ad spend report from dentsu, we are seeing a global advertising spend expected to grow by 3.8% in 2023. CEE region is expected to grow YOY 31,1 % in 2023.
Focus on Digital continues at pace, with a 57.1% share of spend planned for 2023 and 58.2% in 2024 globally.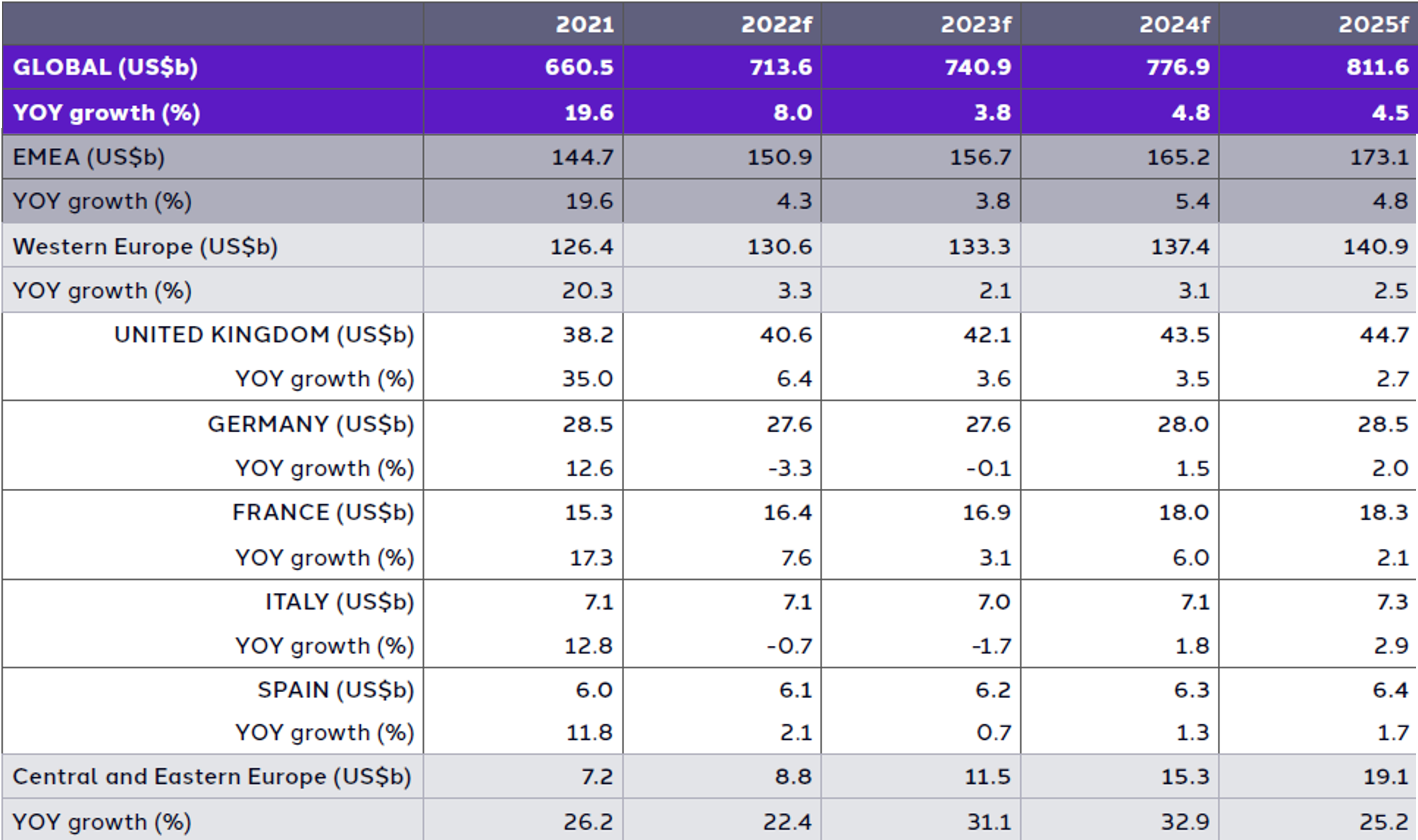 Advertising investment is forecast to grow by 3.8% globally in 2023, according to the latest dentsu Global Ad Spend Forecasts report. The twice-yearly report which combines data from close to 60 markets worldwide, anticipates US$740.9 billion will be spent globally next year.
The dentsu Global Ad Spend Forecasts for 2023 points to a continued growth, although at less than half the pace seen in 2022 (+8.0%), a trajectory which will see industry advertising investment of approximately S$713.6 billion by the end of this year.
Immediate factors including rising inflation, increased interest rates, market recessions, continued political uncertainty and the resulting impact on business and consumer spending have all led to these slower expectations for the year ahead.
At a global scale stronger growth isn't far off, with 2024 advertising spend now expected to increase by 4.8%, to reach US$776.9 billion, followed by a further 4.5% growth in 2025 to reach US$811.6 billion.
Digital spend is expected to grow to 57,1% of global ad spend, which is supported in the next year by Video (+7.1%), Paid Social (+13.5%), Search (+7.2%), and Retail Media (+22.0%).
Growth is expected in almost all other channels too: Television ad spend expected to grow by 0.2%, with gains modest gains also present with Out-of-Home (+2.0%), Cinema (+6.1%) and Audio (+2.0%).
Ad spend in newspapers and magazines will continue to decline by -3.6%, but there is growth within online news and magazine spending, as publishers start to pivot from paper traditional paper formats.
Once again, all Russian investments are omitted from the forecast, to better reflect the rest of the international ad spend trends and predictions.
The full dentsu Global Ad Spend Forecasts can be downloaded for free here.