Radoslav Nedelchev, Country Manager dentsu Romania, and Chief Operating & Client Officer dentsu Southeast Europe writes about the greater Force for Good that lies at the grassroots of One Day for Change, dentsu's global volunteering initiative.
If you're looking to make a change from the ground up, start at the grassroots. And this is exactly what best describes our One Day for Change annual event, uniting teams all over the world as a global Force for Good.
Dentsu, the global marketing and advertising company, is thrilled to announce its participation in the One Day for Change volunteer initiative, 21st of April 2023. This annual program focuses on promoting environmental sustainability and encouraging employee participation in volunteer events worldwide. With over 69,000 employees from different parts of the world, including Southeast Europe, One Day for Change will activate volunteer events in several cities, including Bucharest, Sofia, and Zagreb.
Dentsu's teams in Southeast Europe are committed to making a positive impact in their local communities through the One Day for Change initiative. By participating in One Day for Change, you can help protect and restore local nature, make a positive difference to your community, connect with new colleagues, learn about local organisations, and contribute towards a more Sustainable World.

This year, our volunteer efforts will be directed towards Nature and Circular Economy, through activities focused on habitat, wildlife and ocean protection, upcycling and second-hand retail, and food redistribution.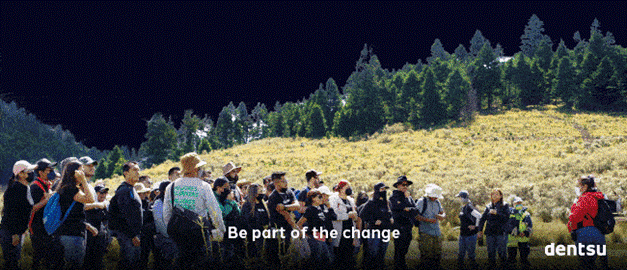 Bucharest, Romania
We are joining forces as a team to plant trees in order to support the protection of habitats together with Asociatia Padurea Copiilor.
In Romania, arid areas have expanded over the past three decades, with the most affected regions currently being those in the south and southeast of the country. According to the most recent National Strategy for Climate Change, the main adaptation measure to the effects of climate change is the intensification of afforestation. Afforestation is a long-term and long-lasting project, lasting at least 14 years (7 years for tree planting and forest maintenance, and 7 years for monitoring the evolution).
The Children's Forest Association operates in 24 communities in southern Romania, having successfully revitalized more than 113 hectares of unproductive land by planting approximately 1,000,000 saplings with the help of 14,697 planting volunteers. Through the Children's Forest program, we aim to restore forests in areas where forest vegetation has been absent for at least 50 years.
Sofia, Bulgaria
Our team is teaming up with Merkle Bulgaria to undertake a mission to clean up the Aldomirovsko and Dragoman Swamps, and provide support to the Wildlife Association BALKANS in their efforts to research, preserve and restore the natural ecosystems of flora and fauna, ensuring their protection for generations to come.
The Aldomirovsko Swamp Protected Area, covering an area of more than 130 hectares, is a karst swamp that is home to several rare species of plants and waterfowl. In 1989, it was recognized as a Protected Area due to its ecological importance. The region is inhabited by various bird species and it is also known for its marsh snowdrop with medicinal properties.
The Dragoman Marsh, on the other hand, is the biggest natural karst wetland in Bulgaria, only 35 km from Sofia. The marsh is a protected sanctuary for birds and some of them have a high conservation status. The marsh is also home to more than 140 plant species.
Many local wetlands, like the the Dragoman and Aldomirovsko Marshes, wet meadows and fishponds still suffer from drainage, poor management, contamination, and eutrophication, and therefore need further restoration. The surrounding grasslands, which contain many endemic and rare species, also require on-site management.
This project is now working to restore the natural wetlands, grasslands and forest ecosystems of the area, together with their associated flora and fauna, as well as focusing on the environmental education and active participation of local stakeholders.
Zagreb, Croatia
At dentsu Croatia, we are upcycling our website, https://nisamzabacit.com/, to promote the Zero Waste concept in everyday life. We will provide detailed information on the 5R principle (Refuse, Reduce, Reuse, Repurpose, Recycle) to help users understand and implement these practices.
How does a bookmark made from an old tie, a mirror inside a vintage tennis racket or maybe an umbrella bag that you can no longer use sound like to you? All of these are ways to make the most of what we already have and repurpose it into something completely different. This is how we reduce the amount of waste, and give old items a new shine, all in the spirit of circular economy and sustainability.
We are also expanding our content to include interviews with local individuals who up-cycle or repurpose waste and old objects into usable items or organize activities that contribute to the local circular economy. By showcasing examples of everyday people around us, we hope to raise awareness about the principles of circular economy and encourage more people to adopt them. We will restructure the website entirely to allow for continuous upgrading and potential future collaboration with our clients.
Another novelty is Sorter - a search engine that helps you if you are not sure where to sort everyday objects and materials. Just type in a term like "shoes" and the Sorter will guide you where to put them.
Dentsu's One Day for Change initiative is actively making a difference in Southeast Europe and contributing to the global sustainability movement. Through engaging employees in volunteer work that aligns with their interests and abilities, dentsu is enabling them to make a positive impact.
Our ultimate objective with One Day for Change is to foster long-term behavioural change, and increase employee awareness of volunteering opportunities, rather than just creating a short moment of action. By 2030, we aim to have at least half of our workforce participate in volunteering activities every year, either through One Day for Change, individual efforts, or team efforts.
Because when we act with compassion, the seeds we plant today can change the course of our shared tomorrow.
So, let's continue to light up the world by keeping our promise as a force for good.