Alexandru Stan, Client Director & Co-Chair DEI Council dentsu Romania writes about Diversity, Equity and Inclusion in the context of dentsu & friends for Pride campaign on May 17th, celebrating the International Day Against Homophobia, Transphobia, Biphobia (IDAHOTB).
At dentsu, we believe our strength lies in difference. We are committed to fostering a diverse and inclusive environment for our people and working with our clients and stakeholders to be a force for good in society.
So, we couldn't be more proud to walk the talk, and demonstrate this by organizing the first edition of 'dentsu & friends for Pride' campaign in Romania on a special day, 17th of May, celebrating the International Day Against Homophobia, Transphobia, Biphobia (IDAHOTB).
It is a pro bono digital out of home campaign that will run only this day throughout the city, and it is aiming to raise awareness together with our partners on gender identity and Pride, the LGBTIQA+ movement that celebrates diversity across the globe.
The campaign's tagline is: 'Diversity makes everything beautiful. Even an ad.' and its visual identity comes from the Progress Pride Flag, also called 'new pride flag', having a more inclusive design. Compared to the old, more familiar rainbow symbol of LGBTIQA+ community, the new design has added symbolism for black, indigenous, trans, transitioning, intersex and outside of gender binary people. The campaign's idea originates from dentsu Italy, where the first 'dentsu & Friends' campaign was deployed with great success in 2021.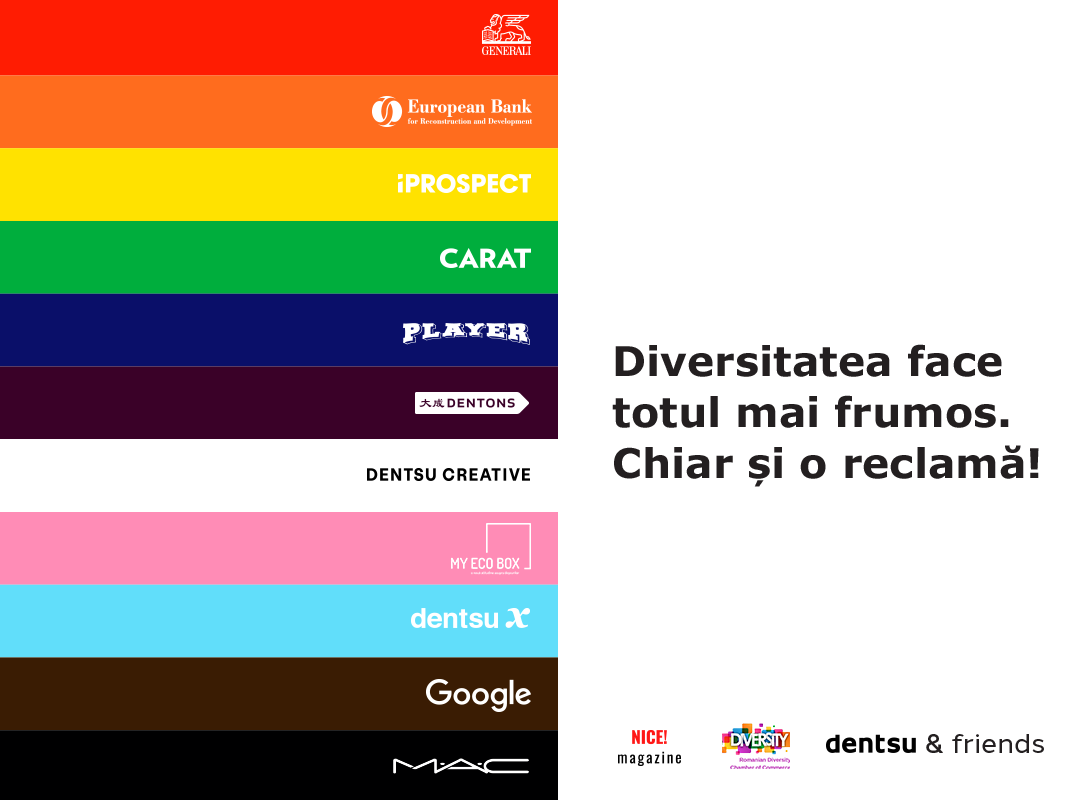 'Dentsu & Friends' is anchored by a simple and universal concept – we are stronger together. Rather than competing for share of voice, dentsu Romania wanted to bring businesses together and use our collective reach in society to create a positive social impact.
We are enthusiastic and humble to have among our friends for this first edition: Generali, MAC Cosmetics, Player, Google, The European Bank of Reconstruction and Development (EBRD), My Eco Box, The Romanian Diversity Chamber of Commerce (RDCC), and Nice! Magazine. They are all companies with strong DEI strategies and activities, and we couldn't be more proud to share the same cause with them.
Diversity, Equity, and Inclusion (DEI) are also put at the forefront of dentsu Romania's Social Impact strategy, where we have three pillars: Sustainable World, Digital for Good, and Far and Open Society.
Through diversity, one of the core principles of how the company operates in all its 145 markets across the globe, we seek out new perspectives, celebrate difference, and build an inclusive culture where everyone is empowered to bring their authentic self to work.
Opportunity and equality are a basic right, not a privilege, we say at dentsu, and in every step we take in the Diversity, Equity, and Inclusion Council of dentsu Romania, we are committed to long-term sustainable change in society and within our business to ensure a culture of fairness, equity, and equality for all.