Brands with high EQ outperform stock markets
Published on:
New Carat report reveals Google is the brand with the world's highest Emotional Intelligence score and that there is a +910% share price growth for leading emotionally intelligent (EQ) brands.
The second edition of Carat's 'Brand EQ 2022 Report' analyze how emotional intelligence drives accelerated brand growth, and it has expanded its scope to assess 51 brands and takes in the views of 15,000 respondents across 15 markets.
The original study, launched in 2020, looked at how better human understanding can drive brand performance and ranks some of the world's most emotionally intelligent brands according to five key Brand EQ drivers: Empathy, Motivation, Self-Regulation, Self-Awareness and Social Skills.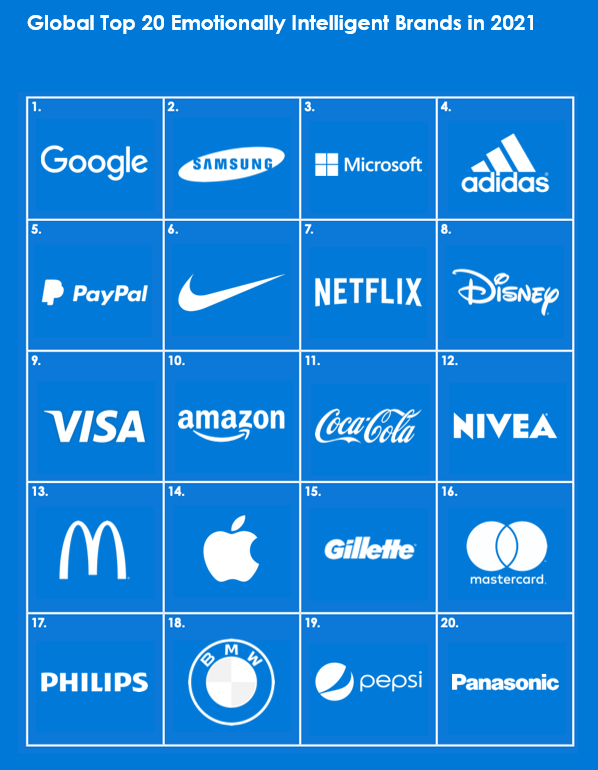 Looking at the performance of individual brands, Google comes out on top, jumping 14 places from two years ago, and thriving as the go-to brand during the pandemic. Seeing a huge leap in self-awareness, Google showed technology and innovation can have a human face, with 79% of its brand associations being deemed positive.
One of the more surprising findings from Brand EQ was Samsung's EQ category dominance.
Correlation with emotional intelligence and high growth
Carat's research shows that achieving high EQ makes clear business sense for brands, with the findings revealing an even stronger correlation between high EQ and high growth. The report found that the top 20 brand EQ performers massively outperformed in terms of the increase in shareholder value when tracked against notable indices, such as S&P 500 and the FTSE 100.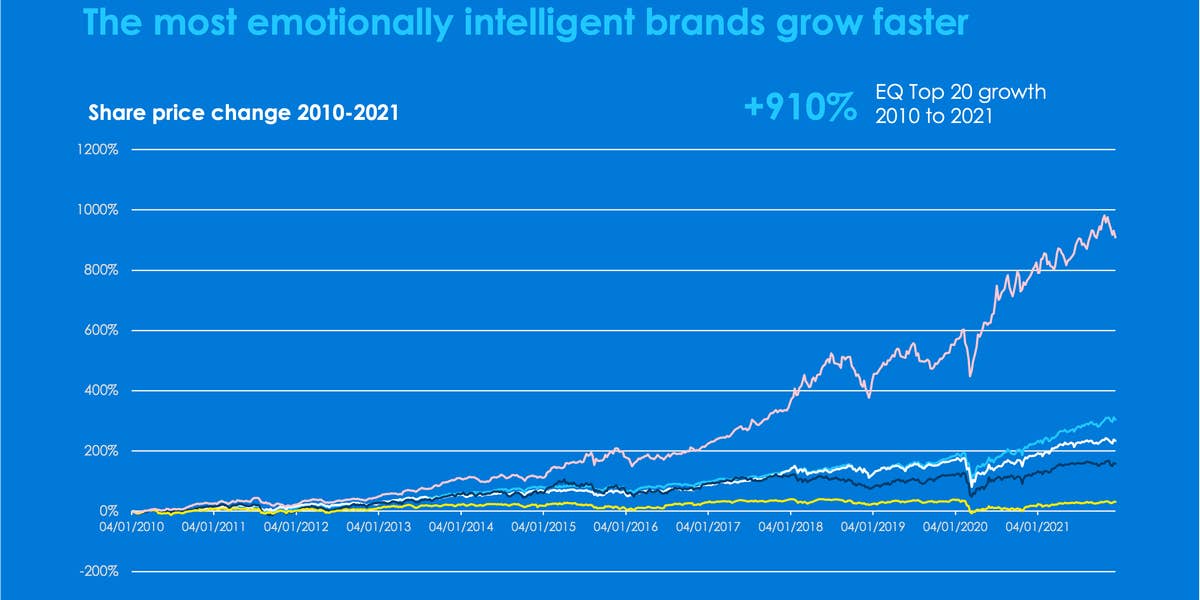 The second wave of research also found that brands that have been set up to create value for people score more highly on EQ. The new research has shown even stronger evidence of this during the pandemic, with high EQ brands acting with confidence and creativity to help people adapt to new ways of living. Examples of this included Disney's fast rollout of Disney+ to keep people entertained at home, and Mastercard's rapid shift to digital to help shoppers and retailers adapt to new ways of living.
Our study continues to show the importance of younger consumers beyond simply their spending power; they are often early adopters and advocates for the biggest businesses of tomorrow.
Those under 25 years old were found to feel most strongly about brand EQ, with the newer companies such as Netflix and Uber scoring higher among this audience. These younger respondents were also found to equate convenience and flexibility with humanity more strongly than their older siblings and parents.
Importantly, the research found the biggest determinant of emotional intelligence is a brand's Social Skills. Self-Regulation and Empathy are also now stronger drivers of overall EQ. This is not surprising, given the world has just endured a pandemic, and it further highlights the need for brands to act in an emotionally intelligent way before communicating with consumers.
Six Keys to Boost EQ
Building on the findings from Brand EQ, Carat has devised six steps to help brands boost their emotional intelligence and in turn benefit from faster growth:
1) Be purposeful. Creating higher EQ experiences starts with having a clear sense of where brands can add value to everyday life.
2) Manage your story. Speaking with a clear voice and showing social skills are essential attributes of brands with high EQ.
3) Distinguish insight from data. Brands must convert data into meaningful insights in order to have true empathy and deliver high EQ experiences.
4) Build dynamic journeys. Motivation is a key driver of EQ, so it's critical for brands to keep improving the experience people have with them.
5) Do good in the world. Invest in activities that promote social and environmental good. These must be authentic and connect back to purpose.
6) Build experiences through high EQ teams. High EQ environments enable marketing teams to have greater empathy with their audiences.
Read the report here.