"What will stick?" This is the question on every marketer's mind as they watch consumers' behavior shift in response to the crisis. This week, we look at trends that are rewriting the "rules" – at both the consumer and cultural level – as society is forced to adapt and let go of stringent ideas about "the right way" to do things. Each of the four trends, covered in detail in Dentsu's weekly COVID Pulse Report, beg the question of whether it will persist beyond these circumstances. Here are the highlights.
1.Relaxing the Rules of Screen Time
Before the pandemic, consumers questioned time spent on devices, even taking proactive "digital detoxes." Now? Stay-at-home orders have propelled consumers into digital for every interaction.
Pre-pandemic, 70% of U.S. adults have tried to moderate their screen time in some way (Global Web Index).
Now, 40% of U.S. adults are considering purchasing new media subscriptions to pass the time (Global Web Index).

Rewritten for good or just for now? This rule will be rewritten for good - but not in the way we might think. Rather than swinging decisively towards virtual or physical experiences, a mix of the two will emerge.
2. Relaxing the Rules of the Pantry
Americans are suddenly finding room in their pantries for previously shunned treats that are equal parts practical and comfort-inducing. Simple, nostalgic and shelf-stable buys have seen a spike in purchase, often at the expense of less fresh and organic produce.
Consumers are returning to legacy brands and many even purchasing for the first time: Campbells has seen a 59% increase in sales, Prego has seen a 52% increase and Congara has seen a 47% increase (The New York Times).
"We don't normally have chips at home. But now we have Doritos and Cheetos. Chips made with orange stuff… We are relaxing some of the rules during this stressful time just to get through it," says Connie Huynh (The New York Times).
Rewritten for good or just for now? This is a revision for now. While consumers may find one or two new "comforting" food brands they stay loyal to, the value of health and healthy living will only be heightened after a pandemic that has impacted those with underlying conditions unequally.
3. Relaxing the Rules of Pop Culture
As talk show hosts and celebrities find themselves impacted by COVID-19, the content they create is changing. With production teams and content creators at home, mainstream media is no longer well-lit and sleekly produced, but reflects our collective reality.
Emerging platforms like YouTube, then TikTok have given a platform to less polished-user based content.
Almost overnight, a switch has been flipped on the concept of what "professional" visual entertainment looks like: SNL produced its first remote episode this weekend, Stephen Colbert has monologued from his bathtub and Jimmy Fallon has found a new audience in an intimate, at-home Tonight Show.
Rewritten for good or just for now? Rewritten for good. The openness with which stars have given people direct access to them is compelling beyond this moment – and also has implications for brands as consumers gravitate towards more relatable and "messy" content and personalities.
4. Relaxing the Rules of Privacy
Just as privacy concerns were transforming into consumer action, COVID is challenging the right to privacy. Amid talks of collecting location data to monitor the pandemic, some surveys show that consumer willingness to give up some privacy in exchange for safety is growing.
Before the peak of the pandemic, 81% of consumers admitted to being concerned about privacy and data protection (Dentsu online consumer survey, Feb. 2020). Now, Morning Consult shows shifts in comfort levels to combat the outbreak: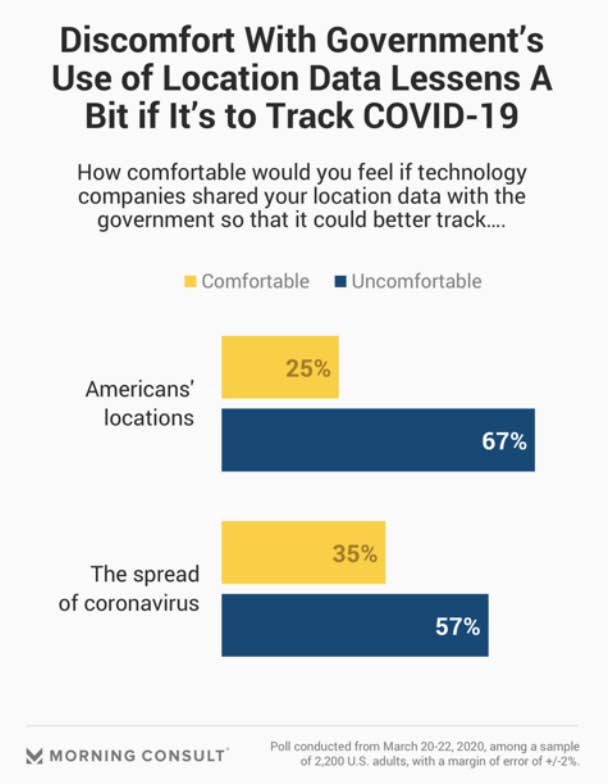 Rewritten for good or just for now? We believe this to be a temporary phenomenon. Consumer concern over privacy will remain high in the long run. There may be an impact on what consumers see as worth exchanging personal date for – personalization pales in comparison to safety.