Data is the foundation of modern marketing. The amount of data that is generated and collected has grown exponentially over the past few decades — 90% of all existing data was generated in the last two years. In 2020, 1.7 megabytes of data will be generated each second for every person on earth, and by 2025, global data is expected to grow to 175 trillion gigabytes. From a consumer standpoint, 87% of consumers believe privacy is a fundamental right (just 13% believe it's a privilege)*.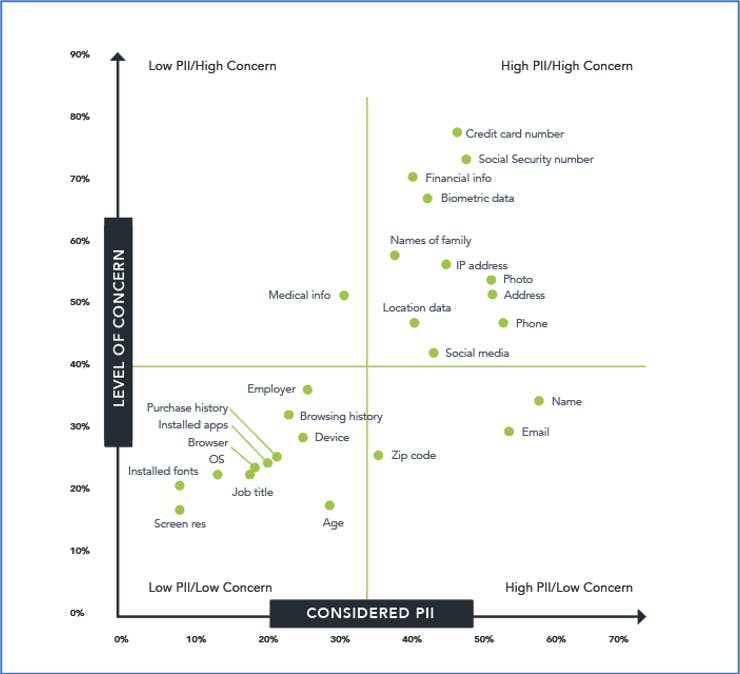 Given these stats, it's no wonder why the majority of organizations are investing in big data and Artificial Intelligence for a variety of reasons: segmentation, personalization and relevance. However, depending on their age, geographic location and experience, consumers have varying levels of understanding about how their personal data is used and protected, which results in different tolerance levels when it comes to sharing data.
This being said, one thing remains clear: It's critical that brands: 1. Focus their privacy initiatives well beyond meeting the minimum legal requirements, 2. Educate and empower their consumers by being transparent and proactive, and 3. Deliver tangible value in exchange for personal data. Here's how:
Address the differing definitions of privacy: Privacy is a chameleon because its meaning changes depending on a number of factors. Your nationality, culture, circumstance or situation all have an impact on how you view privacy and the boundaries you set around information you choose to share. As you solicit important pieces of consumer information, understand that different target audiences value data differently.
Understand the audience that you are speaking to: Regardless of who you are targeting, brands need to understand what different consumers consider to be private information, what their concerned about and proactively address those concerns in an understandable manner. The vast majority of privacy policies across the most popular websites in the U.S. exceed the college reading level and can rarely be read in less than five minutes, according to The New York Times. Consumers want shared responsibility; brands should proactively communicate compliance with new data privacy regulations to give customers peace of mind that their data is secure.
Establish trust: Businesses must earn and maintain consumers' trust to drive both business growth and revenue. Without trust, brands risk losing customers to competitors. Trust isn't static, and brands have to put long-term strategies in place to inspire consumer trust and advocacy. In order to establish trust, brands must:

Actively engage with consumers to build a relationship.
Listen to and act on customer feedback about their business, products and services.
Adhere to regulations around data privacy and protection.
Be transparent about how your using customer data.

The value exchange of data: The root of everything. It is critical that consumers understand what they are getting back. Consumers may feel their data has intrinsic value. After all, their data defines them. What constitutes a data point for a marketer, an address, for example, is someone's home. Consumers may actively work to keep other personal information private from people in their daily lives, but be willing to share it with a brand if the perceived value is high enough, and if they trust that brand to keep it private.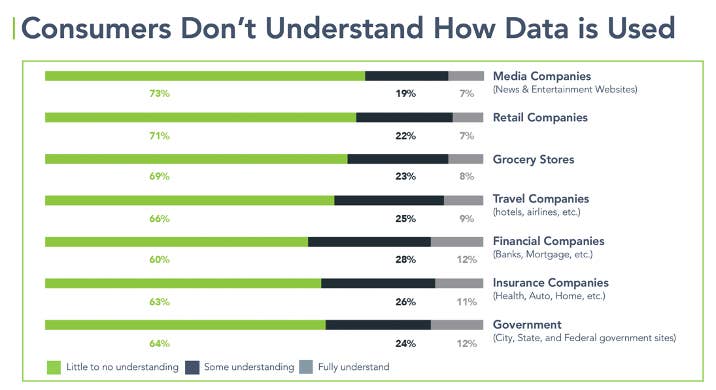 We believe education and communication will be key in the effort to earn consumer trust, and the resulting credibility will make consumers feel both comfortable sharing their data and cognizant of the value they receive in exchange.
This blog post highlights key insights from a LiveTalk hosted by iProspect: Data, Privacy and Advertising. View the on-demand webinar to learn more>